Remote Symptom Monitoring and Patient Communication Features Unburden Care Team
As COVID-19 began its deadly surge across the globe, Varian's Noona® application is helping cancer clinics remotely monitor and communicate with patients. In this article, we hear from Tennessee Oncology, one of the first cancer treatment center networks in the United States to implement this powerful tool for remote symptom monitoring and patient engagement.
When Tennessee Oncology first implemented Noona to connect with patients across its 32-clinic network, administrators could never have foreseen the potential for this useful solution to serve on the frontlines of protecting cancer patients from the potentially deadly COVID-19 virus.  As new cases began to rapidly rise, Tennessee Oncology clinicians encountered difficulty getting access to protective health equipment and found that early infection rate projections had been underestimated. 
"To protect our very vulnerable patients and our staff, we limited visitors, pushed back appointments for non-acute patients, and further embraced telemedicine to help keep patients at home," explains Dr. Jeff Patton, former CEO of Tennessee Oncology and current CEO of its parent organization, OneOncology. "Communication with patients during a crisis can be a challenge, but Noona has given us an opportunity to communicate updates, follow-up instructions, and other key information quickly, and give our patients the timely reassurance they need at this very stressful time."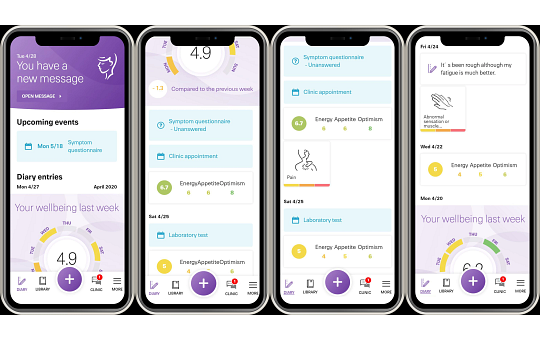 Tennessee Oncology treats about 25,000 new cancer cases each year. With the onset of the pandemic, they initiated an outreach program to encourage even broader patient adoption of Noona. In the last several months, they've added about 1,000 new patient users each month to the platform. Today, almost 10,000 patients in the network have adopted the Noona patient application and care teams are using it to manage more than 31,000 patients with its telephone triage feature. 
"With Noona, we've been able to be more proactive and quickly respond to the need for increased patient communication in a way that is much more efficient for our personnel," Dr. Patton says. "It took some of the burden off our triage nurses who were answering calls from patients and had started to feel a little overwhelmed. Noona has helped us manage the massive increase in calls."
Noona comprises a number of key features designed to help ensure resource efficiency, improve communication and connectivity with patients, and reduce patient visits to the clinic, thereby reducing patients' exposure to the virus. Through the web-based app, patients can report symptoms in real time, and access important information through secure messaging, general announcements, and other educational materials provided by their care teams. Patients can respond to questionnaires electronically and Noona will automatically prioritize and flag patients for care team evaluation based on patient responses. Tennessee Oncology is also leveraging Noona to share telehealth visit information and scheduled appointments with patients, which has been critical to remotely alleviating patient concerns and reducing clinic visits.
"With a cancer diagnosis, patients are often afraid of the outcome and are dealing with a plethora of disease and treatment-related symptoms," says Jani Ahonala, co-founder of Noona and current vice president of global patient outcomes at Varian. "We originally developed Noona to help oncology patients feel more connected to their care teams. This pandemic truly highlights the critical need for this solution, enabling a connection with care teams even when patients are isolated at home and even more at-risk than the general population."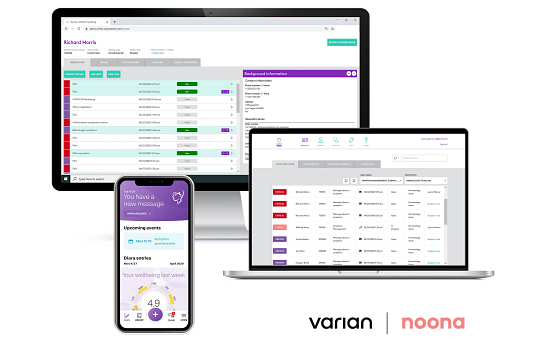 "With Noona, we are more prepared to deal with the current crisis and any other similar crises that happen in the future," said Dr. Patton. "This experience has confirmed, reaffirmed, and emphasized how important it is to have digital patient communication tools and that we have the right strategy in place."
"Telemedicine and digital communication are here to stay, so do it now and do it forever," Dr. Patton advises. "Noona has helped us reduce the risk of exposure for patients and staff, while keeping our healthcare communities fully informed. Since the COVID-19 outbreak first hit, we've found our 'new abnormal' and at the moment it's stable so we can function in a steady state."
In his new role as CEO of OneOncology, the parent organization of Tennessee Oncology, Dr. Patton and his staff are looking to implement a similar approach to remote patient monitoring and patient outcome management across the entire OneOncology network.
"Our patients love it, so now it's time for us to look at what has worked well and spread that across our entire network," Dr. Patton says. "For example, we have a bone marrow transplant program that required some patients to travel two hours or more every six months for checkups. Now, they can enjoy the convenience and safety of having their blood work done locally with follow-up communication done digitally instead of in-person."
---
The information captured herein represents the genuine experience of the attributed individuals and may not necessarily represent the views of Varian or the above referenced institution. Individuals were not compensated for their participation.