A clinical trial using Varian's Noona® solution for patient engagement assesses the impact of ePROs on healthcare utilization and clinical burden.
A recent study1 that examined the implementation of an electronic application for capturing patient reported outcomes (ePROs) concluded that such ePRO tools can be used with patients receiving treatment for advanced cancer without unduly burdening the clinical team. In addition, the study, which was conducted using Varian's Noona® ePRO application, reports that 93 percent of patients and 87.5 percent of clinicians felt neutral or positive about the tool's ease of use.  Furthermore, the authors state that 47% of clinicians (n=15/32) and 56% of patients (n=26/46) would probably or definitely recommend the platform to others. 
In their report, which was published by the Journal of Patient-Reported Outcomes, the study research team describes a randomized trial that compares the Noona ePRO to "standard of care" for patients with advanced thoracic, gastrointestinal, and genitourinary cancer. In addition to listing key lessons learned, the authors conclude that web-based tools for these patients were feasible and acceptable and did not increase the burden on clinical resources.
Previous studies2,3,4,5,6 have suggested that there are significant benefits to the use of ePROs, including enhanced quality of life, improved communications between patients and care teams, reduced risk of treatment complications, and earlier detection of relapse compared with standard of care, but until now, no research had been published on whether ePRO technology increases the burden on clinical resources and patients or whether there are issues with electronic health record (EHR) integration.

"This study confirms that when all the right steps are taken, such as testing, stakeholder engagement, and patient onboarding, ePRO implementation does not increase clinical burden, and can lead to high levels of satisfaction in both staff and patients," said Veera Hellen, director of Noona customer success at Varian. "This is why our implementation teams work closely with clinical care teams to help with any needed platform customizations and establish appropriate clinical workflows for full system integration."
Throughout the clinical trial, patients were asked to complete a symptom questionnaire at regular intervals, with a 70 percent completion rate as the threshold for feasibility. A total of 617 ePRO questionnaires were completed by patients with advanced cancer. After excluding patients who withdrew, passed away, or entered hospice, this represented a completion rate of 82 percent. As a result, the research team concluded that the implementation of an ePRO tool in an at-risk patient population was both feasible and acceptable.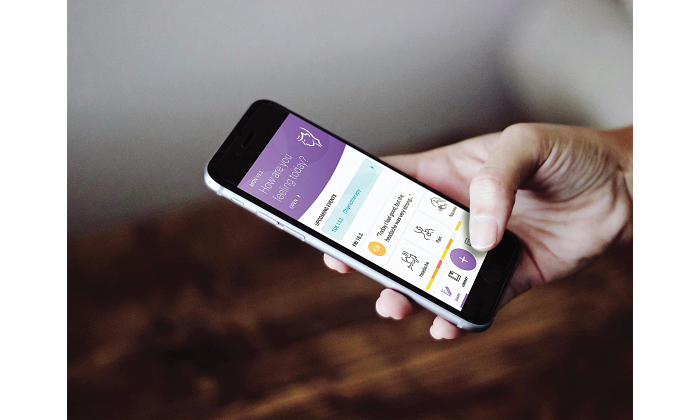 To examine healthcare utilization during the trial, 90 patients from both arms of the study were asked to complete a 24-week follow-up questionnaire. Data from the questionnaires showed no significant differences between the ePRO and standard-of-care control groups, which averaged 1 to 2 phone encounters, 5 to 6 portal messages, and 0 to 1 care referrals throughout the trial duration.
"We know that many clinicians feel very passionate about using ePROs as a way to better understand how treatment affects their patients' quality of life, but ePROs are still relatively new and they're understandably concerned about the burden this technology might place on patients and clinical resources, especially as we continue to deal with the repercussions of the COVID pandemic," said Hellen. "This study shows that Noona does not increase clinical burden or change ambulatory healthcare utilization for patients with advanced cancer, which is good news for any clinic looking to benefit from the Noona patient engagement solution."
References
1 Generalova O, Roy M, Hall E. et al. Implementation of a cloud-based electronic patient-reported outcome (ePRO) platform in patients with advanced cancer. J Patient Rep Outcomes, 2021 5(91).  
2 Absolom K, Warrington, L,  et al. Phase III Randomized Controlled Trial of eRAPID: eHealth Intervention During Chemotherapy. J Clin Oncol, 2021 39:7, 734-747.  
3  Basch E, Deal AM, et al. Symptom Monitoring with Patient-Reported Outcomes During Routine Cancer Treatment: A Randomized Controlled Trial. J Clin Oncol, 2016 Feb 20;34(6):557-65.  
4  Denis F, Lethrosne C, et al. Randomized Trial Comparing a Web-Mediated Follow-up with Routine Surveillance in Lung Cancer Patients. J Natl Cancer Inst., 2017 Sep 1;109(9).   
5 Laconi E, Marongiu, F. & DeGregori, J. Cancer as a disease of old age: changing mutational and microenvironmental landscapes. Br J Cancer 2020 122:943–952.  
6 Takala L. et al. Electronic Patient-reported Outcomes During Breast Cancer Adjuvant Radiotherapy. Clin Breast Cancer 2021 21:3, E252-E270.
Related reading:
A New White Paper Shows: NOONA® Patient Engagement Platform is Intuitive and Easy-to-Use for Patients of all Ages (May 26, 2021)

Varian's Noona® ePRO Solution Improves Symptom Reporting for Breast Cancer Patients Receiving Radiotherapy (May 26, 2021)

Noona is Vital Solution for Tennessee Oncology During COVID-19 Emergency (May 11, 2020)

Achieving High Patient Adoption with Noona for Remote Symptom Monitoring (April 24, 2020)

The Rise of Noona - Digitizing Cancer Care So No Patient is Left Behind (October 17, 2019)