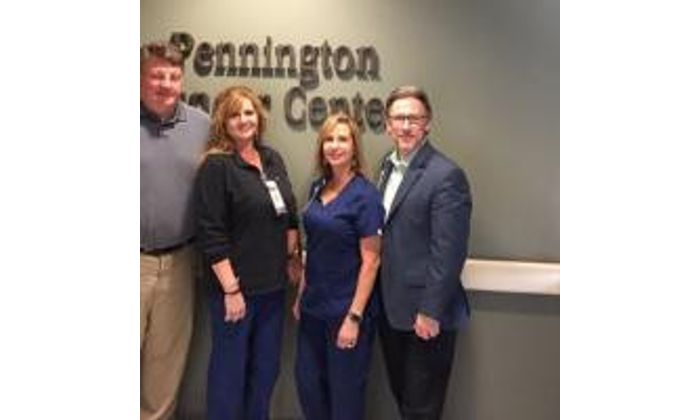 Varian Consulting shepherds OIS transition
After 20 years with one oncology information system (OIS), migrating to a new one is a serious step, but it's one that Baton Rouge General took in the summer of 2016 with an eye to the future for its three hospitals. The transition forged ahead, even in the face of catastrophic flooding.
The impetus for the change was the quality of treatment delivery systems offered by Varian and their tight integration with the ARIA® oncology information system (OIS). "We wanted to make certain that, as we purchased new units in the future, we could get maximal performance from them," explained Zachary Smith, R.T.(R)(T), MBA, director of Radiation Oncology. "The more we explored the options and the pros and cons of both information systems—our legacy system versus ARIA—it became apparent that we needed to make a change to obtain the most value from our investment."
Though none of staff at Baton Rouge General's three treatment facilities had previous experience with ARIA, they soon became adept and enthusiastic users, assisted by Varian migration consultants. "There was some apprehension at first, but our dedicated people were motivated to make the new system work as well or better than the previous one," said Tracey McDowell, RT (R)(T), chief therapist, Radiation Oncology.
Varian consultants focused on ensuring a successful migration. "Varian looked at our existing resources and workflow. They listened to what we wanted to bring over from the existing platform. They keyed in on what we needed immediately and proposed how to phase in capabilities, month by month," said Smith. 
"I was very impressed with the Varian database migration team." said Brad Barhorst, MS, medical physicist.  "Varian database analysts provided a detailed report that summarized data that was entered in a non-standard format.  Who knew there were so many ways to abbreviate Louisiana?  With our permission, non-standard data was migrated in a standard format.  This would allow us to accurately analyze 20 years of data." said Barhorst.
The Baton Rouge General team set the first-phase go-live milestone for August 2016 and essentially met it, in spite of flash flooding in August that forced key team leaders out of their homes. "Our progress was delayed by a couple of weeks, but the team plowed through. We did what we had to do despite not being in our homes." It was that important. 
Quickly, the benefits of their effort began to show.
Efficient workflow with tightly coupled processes
With ARIA, processes are now more tightly coupled. "We are no longer performing our different roles inside black boxes," said McDowell. "We have more cross-functional communication within the department."
Streamlined physics and planning processes have improved patient care at Baton Rouge General. "We have been able to shave days off planning, which means patients can start treatment sooner—always a good thing," said Smith. The improved efficiency comes from a shift in approach from "pushing" to "pulling," as Smith describes it. "We used to push tasks from one point to another. The process required the person upstream to complete a task in a timely manner and move it forward. We waited for tasks to arrive on our desks." Now there is more visibility into the entire workflow. "We live by our task lists," added Smith. "Staff can see what is completed and ready for them and can pull it forward. As a result, tasks are completed faster all the way along." Smith estimates that IMRT planning has been shortened from six days to four or less. "The shorter wait to start treatment is a benefit to our patients."
Smith added, "We are exploiting every facet of ARIA to tie our processes together so that we move patients through radiation therapy as quickly and efficiently as we can. I don't think anyone uses the full capabilities of ARIA more extensively than we do." He expects to see improved daily throughput from the combination of the new TrueBeam® platform, with RapidArc® volumetric modulated arc therapy (VMAT) and flattening-filter-free capability, and the workflow efficiency enabled by ARIA.
Processes "hardwired" in Encounters
The Encounters feature of ARIA has been a significant help to the Baton Rouge staff. Encounters keeps Baton Rouge General users on task. Users can go to different places within the ARIA system without navigating away from the Encounters workspace. "For example, if you want to complete a document, it populates in the Encounters workspace. You complete it and then carry on to the next task item. Encounters simplifies the thought process and helps keep you on task," explained McDowell. Tying Encounters to activities, tasks, and reminders prevents inadvertent omissions and delays. Processes for each "encounter" are hardwired into prompts that staff can choose to complete or decline. "We don't have to rely on fallible human memory to keep track of outliers versus process," added McDowell.
Encounters also helps Baton Rouge General with communication. A completed task automatically triggers the next dependent tasks. Conversely, an uncompleted task hard-stops the process. Rather than picking up the phone and tracking down the hold-up, the information is available in the Encounter. Encounters eliminates phone calling back and forth, which can slow things down significantly.
"A lot of moving parts"
Becoming proficient with the new OIS involved "a lot of moving parts," recalled Smith. These "moving parts" included schedules for installation times, down times, and training times for super users. They included defining roles and creating templates. "We had to understand the size of the database and its components. Varian ran various processes to show what the migrated data would look like and reveal what we needed to clean up in our original database to make the transition smoother," he explained. Varian assistance was also vital in producing job aids, showing diagrams of the various workspaces and step-by-step processes for accomplishing tasks, such as scheduling an appointment, assigning a Care Path, or completing an Encounter. "The objective was always to simplify things for the staff because we were adopting not only a new electronic medical record, but also a new planning system [Eclipse™] and a new treatment machine [TrueBeam] all at the same time."
Eighteen months later, and growing
The transition to ARIA took five months. Now, after eighteen months of using ARIA, the Baton Rouge team is fully proficient and enthusiastic going forward. "We're finding new things for the system to do for us. In fact, we are making a big push this year to find ways that the system can make our jobs a little bit easier. We are digging deeper into what ARIA can do."
The information captured herein represents the genuine experience of the attributed individuals and may not necessarily represent the views of Varian or the above referenced institutions. Individuals were not compensated for their participation.