Brain metastases account for the majority of intracranial tumors and constitute the disease course of anywhere from 15-20% of adults and 5–10% of children with malignancies. The incidence of brain metastases has been steadily rising, likely due to longer survival from newer systemic therapies and increased utilization of magnetic resonance imaging.
In recent years, radiation oncology clinics have been turning to new, more focal treatment methods to improve outcomes and reduce the side effects associated with whole-brain irradiation. Varian's HyperArc® high-definition linac-based radiotherapy simplifies and expedites stereotactic treatment for multiple brain lesions, making this form of treatment easier to implement and more accessible for patients.
Here we spotlight a few of the many cancer treatment centers that are using HyperArc to routinely treat patients with multiple brain metastases. Use the links below to access each profile:
Stereotactic treatment of multiple brain lesions becomes "business as usual" at New Zealand's third largest cancer center
Waikato Regional Cancer Centre, the 3rd largest cancer center in New Zealand, serves a region of over 575,000 people. Annually, the radiation oncology department treats 1,600 patients in 22,300 attendances, using advanced techniques including volumetric modulated arc therapy (VMAT), stereotactic radiotherapy (SRT), and stereotactic radiosurgery (SRS) to deliver treatments in line with international best practice guidelines.
For the treatment of multiple brain metastases, Waikato uses Varian's HyperArc high-definition radiotherapy for delivering single-isocenter, multi-lesion, non-coplanar SRT for the treatment of metastases in the cerebellum, cerebrum, and brain stem. The solution comprises end-to-end planning, simulation, immobilization, and delivery. "We chose HyperArc for intracranial stereotactic radiotherapy as an extension to our existing platform without a huge investment in new SRS equipment," explained Michael Taylor, radiation therapy team leader.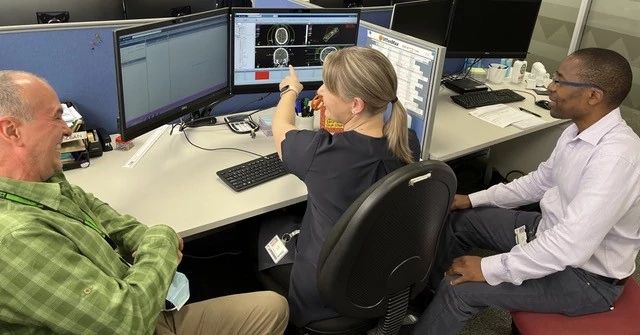 Dr. Charles de Groot (far left) confers with Megan Taylor, dosimetrist and Koki Mugabe, chief medical physicist.
Previously, when a patient presented with multiple brain lesions, a separate treatment plan would be created and delivered individually for each target. "The planning and delivery process to treat three brain metastases with three separate plans is incredibly long and complex," said Charles de Groot, MD. "As a radiation oncologist, I could spend three hours at the linac to treat three lesions. With HyperArc, we can treat three lesions—or more—in 25 minutes." De Groot focuses on the benefit to the patients. "It becomes far more likely that the patient receives stereotactic treatment rather than whole-brain radiation. The biggest benefit of a single-isocenter, multi-lesion treatment that takes minutes, rather than hours, is that stereotactic treatment becomes business as usual."
Treating multiple brain lesions stereotactically is "business as usual" for Waikato because HyperArc provides what dosimetrist Megan Taylor characterized as a prescriptive planning process. "Everything is guided by the computer system, so high-quality, safe, deliverable plans are produced very quickly. The plan delivery is guided and automated. The actual treatment duration is reduced quite significantly for the patient."
Waikato now treats all brain met cases with HyperArc; but, before going clinical, the team confirmed that the solution would meet the objectives of delivering quality treatment more efficiently and comfortably for patients. Eleven patients previously treated for brain metastases with VMAT plans on a TrueBeam® system were retrospectively planned with HyperArc. Comparison of the VMAT and HyperArc plans revealed the following:
The HyperArc technique improved both conformity index and gradient index compared to VMAT plans.
Using the 6 megavolt (MV) flattening filter free (6MV-FFF) beam improved gradient index in HyperArc plans compared to using a 6MV flattening filter (FF) beam.
Jaw tracking reduces the size of the low-dose volume while maintaining similar target coverage, conformity index, and gradient index.
Dosimetric verification by ion chamber and film measurement indicates no significant difference between VMAT and HyperArc plans.
Koki Mugabe, chief medical physicist, summed up the study: "HyperArc simplifies planning of stereotactic treatment for brain and improves the dosimetry in treatment plans. HyperArc provides an efficient treatment delivery system for stereotactic treatments to brain."
Utah's largest provider of cancer care expands access to precision radiosurgery
Intermountain Health Care is Utah's largest healthcare system, serving more cancer patients than any other provider in the state of Utah. With nine clinics, it covers the state's main population centers along the nearly 400-mile stretch of Interstate 15 from Logan in the north to St. George in the south. Until two years ago, the Intermountain network had one dedicated radiosurgery platform, located in Salt Lake City. For the southernmost patients needing radiosurgery for multitarget SRS, that could mean an eight-hour drive round trip for care—until a TrueBeam® radiotherapy system in St. George was outfitted with HyperArc high-definition radiotherapy.
"We wanted to be able to provide patients with an opportunity to receive state-of-the-art, high-quality radiosurgery closer to home, if at all feasible," said Brandon Barney, MD, Radiation Oncology. "HyperArc, we felt, provided us with this opportunity to provide an accurate, reproducible plan for brain radiosurgery similar to that achievable with our existing SRS platform." Since Intermountain added HyperArc high-definition radiotherapy to its clinic-based TrueBeam systems, Intermountain patients with brain metastases are being treated locally.
The Intermountain Cancer Center in St. George, Utah. Inset: Brandon Barney, MD
"HyperArc has allowed us to expand patient access and to deliver the treatments we want to give to people and keep them closer to home," said Craig Nielsen, Director for Radiation Oncology. However, expanding access means more than mere geographical location.
Access means freeing the radiation oncologist to see more patients. "HyperArc offers a significant improvement for physician workflow," said Barney. "With HyperArc, my time at the console to treat multiple targets is only 15 or 20 minutes."
Nielsen ties this clinical efficiency back to the concept of access. "Having more consulting appointments for patients to be seen by Dr. Barney is more valuable to our community. By minimizing the time that he spends supervising, we can maximize his utility to our patients. It's a big difference," Nielsen said.
Access also means improving the efficiency of treatment planning and delivery. "HyperArc has turned SRS from one of the most laborious treatment techniques to one of the easiest," said Ryan Hecox, lead medical physicist. "The value of HyperArc comes from its regimented simplicity. You follow the guided path one decision at a time to a plan that you have confidence in." Furthermore, Hecox believes that HyperArc workflows are engineered to improve consistency of care across all patients. "I want this same consistency and confidence for everything that we treat everywhere in the body."
Beyond increasing access to radiosurgery for brain mets, HyperArc also offers an excellent patient experience. "I want to make sure that the patients I treat have the best possible experience they can in dealing with such challenging clinical situations," concluded Dr. Barney. "HyperArc delivers outstanding radiotherapy treatment plans and does it in such a short period of time. The quick treatment delivery time achievable with HyperArc is optimal for patient convenience and comfort."
Malaysian Cancer Centre of Excellence treats brain metastases faster and more comfortably with HyperArc
Beacon Hospital is a 100-bed "Cancer Centre of Excellence" in western Malaysia with a focus on providing advanced medical technology, specialist doctors, and professional nursing care for patients. The radiation oncology practice at Beacon is equipped with a Halcyon® system, and a TrueBeam® system that is equipped for HyperArc high-definition radiotherapy. The staff of nine medical physicists and 12 radiation therapists, working together with the oncologists, have been actively using HyperArc for about three years to treat a range of benign and malignant brain lesions, including recurrent primary brain tumors, meningioma, acoustic neuroma, pituitary adenoma, and arteriovenous malformation (AVM). However, patients with brain metastases account for the majority of the hospital's HyperArc treatments.
The team at Beacon cited several integral reasons for selecting HyperArc for brain radiosurgery. First is simplicity. "It is a great system that automates and simplifies the entire SRS workflow from treatment planning to treatment delivery. The HyperArc features make planning SRT and SRS very easy and fast. With little effort, planners are able to get an above average plan," explained Lum Liang Soo, medical physicist. He adds that HyperArc makes the quality of the plan less dependent on the skill of the planner.
Second is plan quality. "HyperArc has superior dosimetric advantages over normal VMAT planning, allowing steep dose gradient to spare more surrounding normal tissue whilst delivering high dose to the target," said Jasmin Pei Yuin Loh, MD, consultant radiation oncologist. In addition, the physicists who do the planning find the virtual dry run feature very helpful to ensure the plan is collision-free before proceeding to optimize the plan. "We always perform patient-specific QA for all our stereotactic plans before treatment starts. None of our QA results have indicated that quality is below standard," reported Mr. Lum.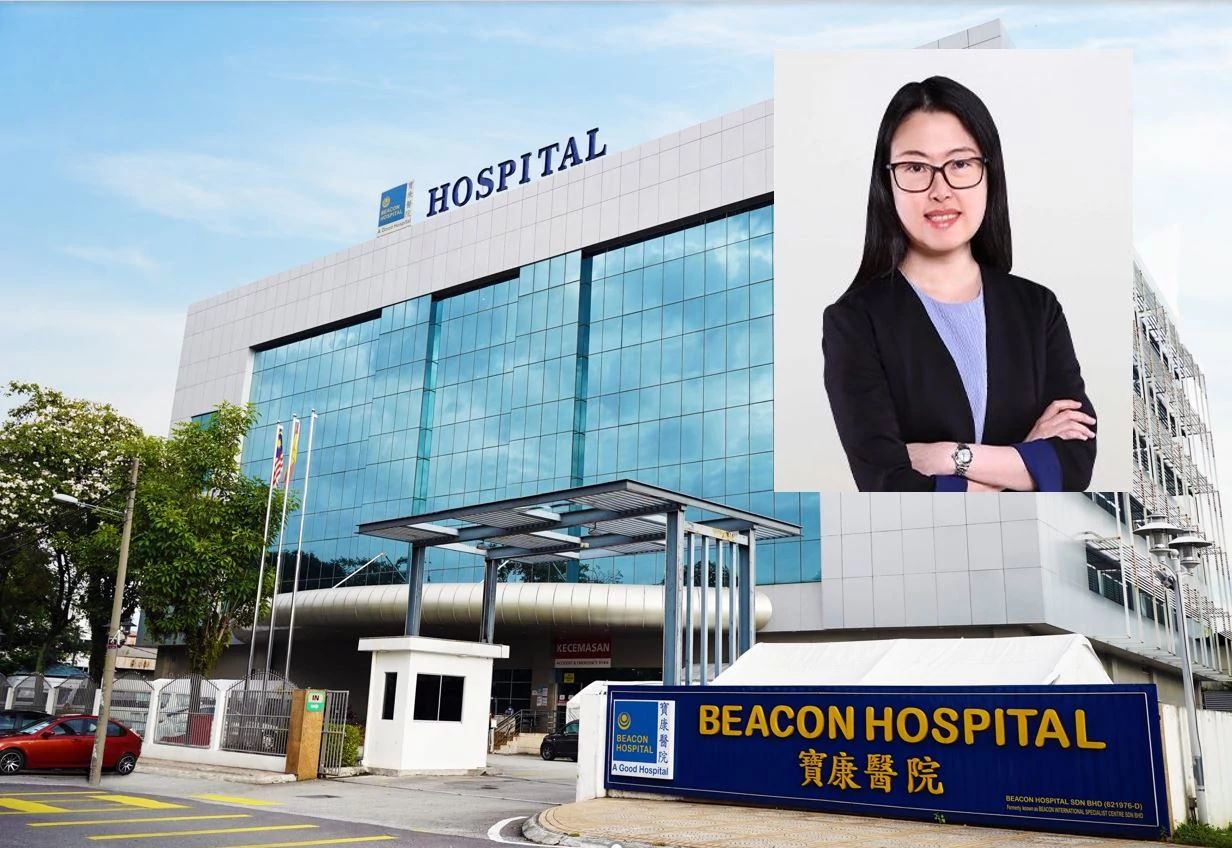 Beacon Hospital in western Malaysia. Inset: Dr. Jasmin Pei Yuin Loh, consultant radiation oncologist
Third is the improved patient experience. "The combination of frameless mobilization with shorter overall treatment time makes treatment more comfortable and tolerable for patients," said Dr. Loh.
Fourth is clinical efficiency. "The average time taken for each patient treatment is 20 minutes as compared to other dedicated radiosurgery system that on an average takes an hour per treatment session. Single isocenter treatment of multiple targets plus automation of the entire treatment delivery enables the treatment of more patients per day, which is important for a busy center like ours," concluded Dr. Loh.
Stereotactic brain treatment becomes "commonplace" close to home in West Texas
Residents of San Angelo and surrounding rural communities of West Texas don't have to travel hours to San Antonio or Dallas for advanced stereotactic treatment of multiple brain metastases. Equipped with Varian's Edge® radiosurgery system with HyperArc high-definition radiotherapy, Shannon Radiation Oncology can treat from two to as many 15 metastases with a single isocenter in a 20-minute session. Formerly a small independent regional radiation center with a staff of 12, Shannon Radiation Oncology recently joined Shannon Medical Center, a 26-location network of in- and out-patient services serving 25 counties with more than 300,000 people. Shannon Radiation Oncology will soon occupy a new facility that brings radiation and medical oncology under one roof.

Rendering of the Shannon facility that will soon house the new cancer center. Inset: Gina Tanner, chief radiation therapist
Shannon Radiation Oncology currently uses HyperArc to treat about 20 patients per year, most for metastatic brain cancer and some for meningioma. The team prides itself on minimizing the time between simulation and treatment, so that patients don't wait long for their treatments to start. The radiation oncologist turns contours around in 24 hours. Dosimetrist Roger Aguilar plans all radiotherapy treatment, including HyperArc radiotherapy. "HyperArc planning is a little more time-intensive than other radiotherapy planning, depending on the number of mets we are treating. But it's not excessive," he said. He credits the efficiency of the HyperArc algorithm for making it possible to quickly reach an optimized plan.
According to Ana Mihail, medical physicist, simulation, planning, and robust QA takes about 72 hours at Shannon. "However, we usually give ourselves five business days to start treatment. Often our bottleneck is getting the volumetric MRIs for fusion and contouring," said Gina Tanner, chief radiation therapist.
Once treatment begins, Mihail emphasized the quality of the set-up. "Set-ups are precise. That shortens the time of the patient being on the table. Cary Johansen, radiation therapist, concurred, "Delivery is smooth and automated. By not having to go in and out of the room to kick the couch, we save a lot of time."
Shorter treatments translate into more relaxed and comfortable patients, said Tanner. "When you are able to assure patients that they are going be off the table in 20 minutes and deliver on that, that is a huge relief for them and for the therapist."
The Shannon team agrees that brain SRT with HyperArc has become routine. "Initially it was amazing, but now treating brain metastases has become commonplace," said Aguilar. Tanner concluded, "As whole-brain radiation goes away and stereotactic radiotherapy becomes more accessible, we will be able to retreat some patients multiple times for metastases for improved outcomes and quality of life."
---
The information captured herein represents the genuine experience of the attributed individuals and may not necessarily represent the views of Varian or the above-referenced institution. Individuals were not compensated for their participation. Radiation treatment may not be appropriate for all cancers. Individual results may vary. For more information, please visit www.varian.com/safety.

1Singh R, Stoltzfus KC, Chen H et al. Epidemiology of synchronous brain metastases, Neuro-Oncology Advances, 2020;2(1):1-10.
2Wang TJC, Brown PD. Brain metastases: fractionated whole-brain radiotherapy. Handb Clin Neurol. 2018;149:123-127.