Cancer care centers across the globe are taking advantage of HyperArc® high-definition linac-based radiotherapy for frameless cranial radiosurgery to treat benign lesions of the brain quickly and with flexible fractionation schedules tailored to each patient's condition. Here we spotlight centers in Latin America, the United States, Europe, and Asia.
Brazil
For 167 years, Real Hospital Portugues de Beneficiancia has been caring for the people of Recife, today the fourth largest urban area in Brazil. The radiation oncology department treats approximately 2,000 patients per year. Over the past 15 years, the hospital has made significant investments in oncology, including the acquisition in 2020 of HyperArc high-definition radiotherapy for linac-based, frameless cranial radiosurgery. In addition to metastatic brain tumors, the department uses HyperArc to treat many benign lesions of the brain, including acoustic neuroma, meningioma, and arteriovenous malformation. "At our center, HyperArc is now the standard of care for nearly all intracranial radiosurgery, except for trigeminal neuralgia," clarified Ernesto Roesler, MD, Radiation Oncologist.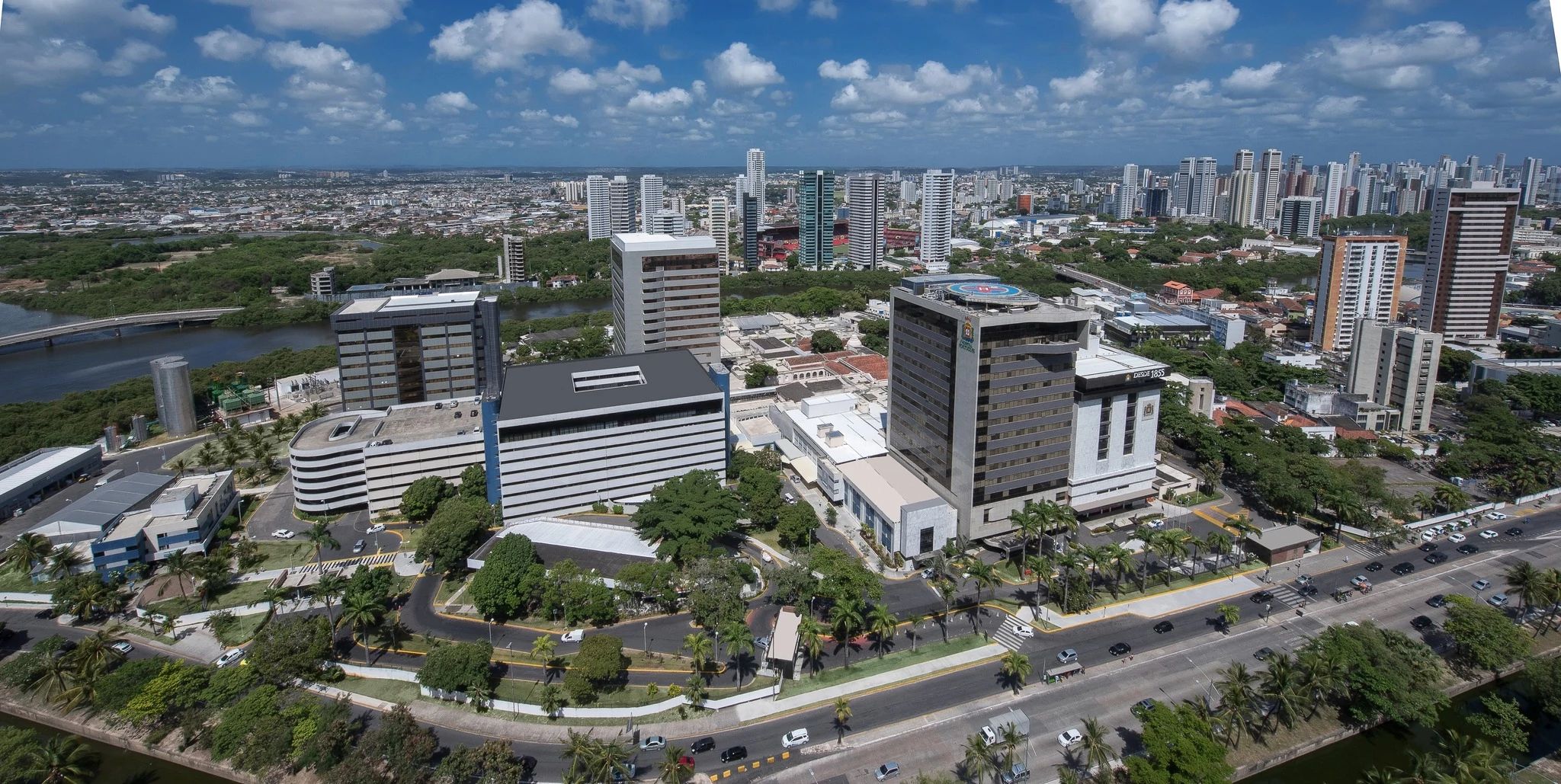 Retrospective statistical analyses performed at Real Hospital indicated that clinicians planning HyperArc treatments could produce, in a single iteration, plans that are consistent in quality metrics to SRS plans that had taken three or more rounds to optimize. The team compared plans based on internationally accepted indices of conformity, homogeneity, and gradient. In most cases HyperArc plans equaled or improved upon the benchmark SRS plans. "Most importantly, we saw a sharper dose fall-off in the HyperArc plans that can spare healthy tissue, which is important for the quality of life of the patient," noted Roesler.
In addition, HyperArc planning is much easier for the physicists. "It has reduced our planning time as much as fourfold," reported Matheus Fernando, resident physicist. "In addition, the outcome is less subject to individual differences in planning because the software guides each step of the process and automatically arrives at the best arrangement of fields."
While the most common application of HyperArc is treating multiple brain metastases, Dr. Roesler finds that HyperArc is equally well suited to treating acoustic neuroma, for example, enabling a sharp dose gradient for sparing of the vestibulocochlear nerve. In such cases, neurosurgeons and radiation oncologists collaborate closely. "We see patients together, plan together, and look from both perspectives to determine what is clinically best for the patients," said Roesler.

United States
At The Ohio State University (OSU) Wexner Medical Center in Columbus, Ohio, when radiosurgery is indicated for patients with acoustic neuroma, neurosurgeon Douglas Hardesty, MD, and radiation oncologist Evan Thomas, MD, prefer a hypo-fractionated scheme of three to five sessions. "I believe that hearing preservation is better with that regimen," said Dr. Thomas. "By hypofractionating, we can avoid putting the hot spot of the plan in the center of the tumor where the vestibulocochlear nerve passes through." For these cases, doctors Thomas and Hardesty use HyperArc on the Varian Edge® radiosurgery system. "Because we can do hypo-fractionated stereotactic radiotherapy (SRT) with HyperArc, it is great for 'bridging the divide' between one-session stereotactic radiosurgery (SRS) and traditional 30-fraction VMAT approaches. Some tumors, such as acoustics and pituitary adenoma, benefit from the fractionation due to proximity of critical structures, but clearly do better with SRS-type dosing rather than VMAT," explained Dr. Hardesty.
Dr. Thomas includes meningiomas, pituitary adenomas, pilocytic astrocytomas, intracranial meningeal hemangiopericytomas, and arteriovenous malformations among the brain conditions that are appropriate for treatment with HyperArc. "HyperArc delivers a clinically equivalent plan, with substantially improved delivery and efficiency over our other SRS options," said Thomas. "With the more efficient workflow, we can perform ten stereotactic radiosurgeries and ten conventional treatments all in one day on an Edge linear accelerator."
Dr. Hardesty concurs. "We are always seeking the most minimally invasive treatments. So being able to deliver high-dose, high-accuracy frameless radiation is a huge plus. Because HyperArc is fast, I worry less about patient movement during the treatment compared to maskless cobalt treatment. And because the day of treatment is much shorter, it allows us to use resources more effectively and treat more patients. This is helpful as we are a high-volume center."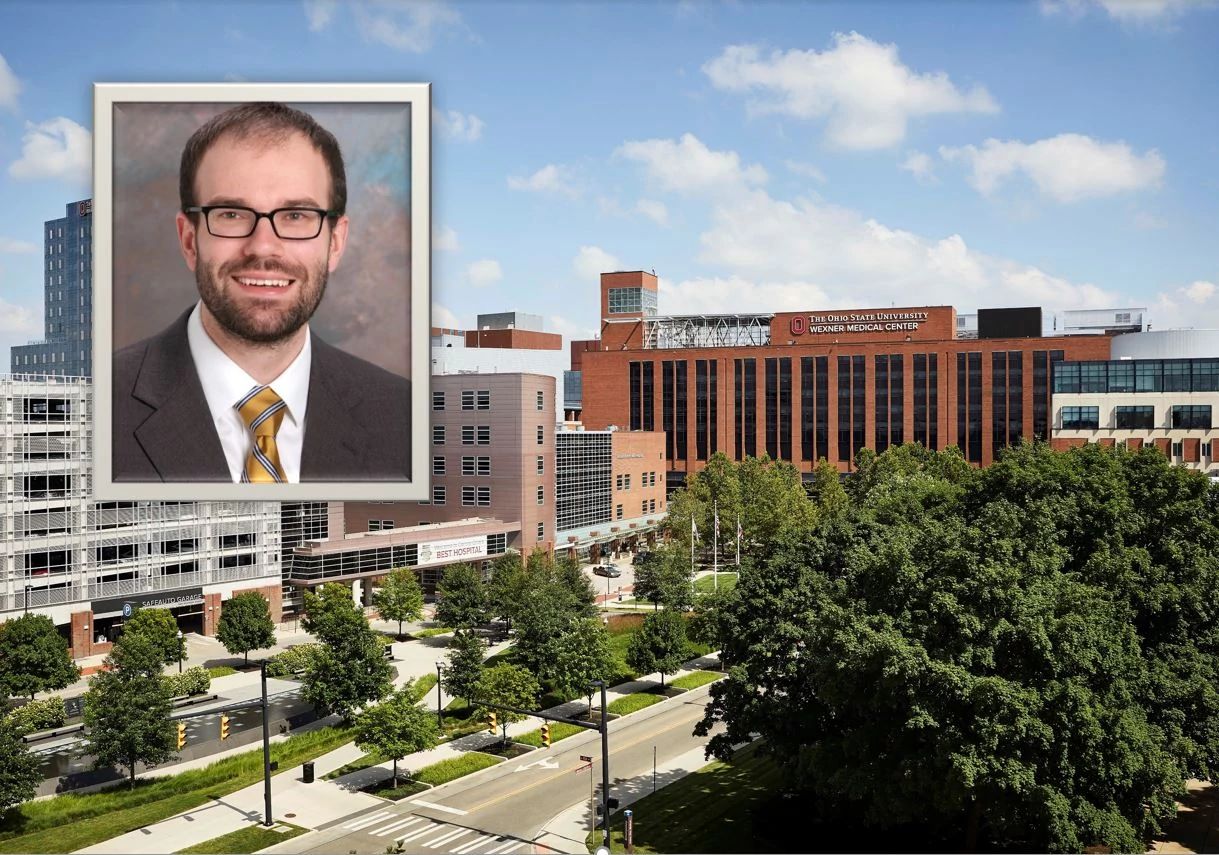 Ohio State University (OSU) Wexner Medical Center. Inset: Douglas Hardesty, MD, neurosurgeon
Belgium
At University Hospitals (UZ) Leuven, Belgium's largest university hospital, Jean-Francois Daisne, MD, is a radiation oncologist specializing in neuro-oncology. He uses HyperArc to treat benign tumors of the brain, including acoustic neuroma. Though acoustic neuroma is a rare tumor, these cases are frequently referred to UZ Leuven. "We merge strong expertise in radiotherapy and neurosurgery. We take multidisciplinary decisions about the best treatment to propose to the patient," said Prof. Daisne. Patients with acoustic neuroma are offered treatment if there is a growing tumor or if there is a decrease in useful hearing. Radiosurgery is proposed if the distance between the tumor and the brainstem is not too narrow.
"The advantage of stereotactic radiotherapy on a linear accelerator platform is the flexibility to choose the fractionation scheme for the situation of the patient, be it one fraction of 12 Gy, three fractions of 6 Gy, or five fractions of 5 Gy, or even thirty fractions of 1.8 Gy," said Prof. Daisne. Decisions about the best fractionation scheme depend on accurate delineation of targets and surrounding tissue. For this reason, Prof. Daisne emphasizes that multimodal image registration and contouring is essential for benign lesions that are often complex and irregular. "Having an accurate delineation is very important, not only for tumor control, but also for organs at risk protection, to offer the best possible fractionation schedule to the patient."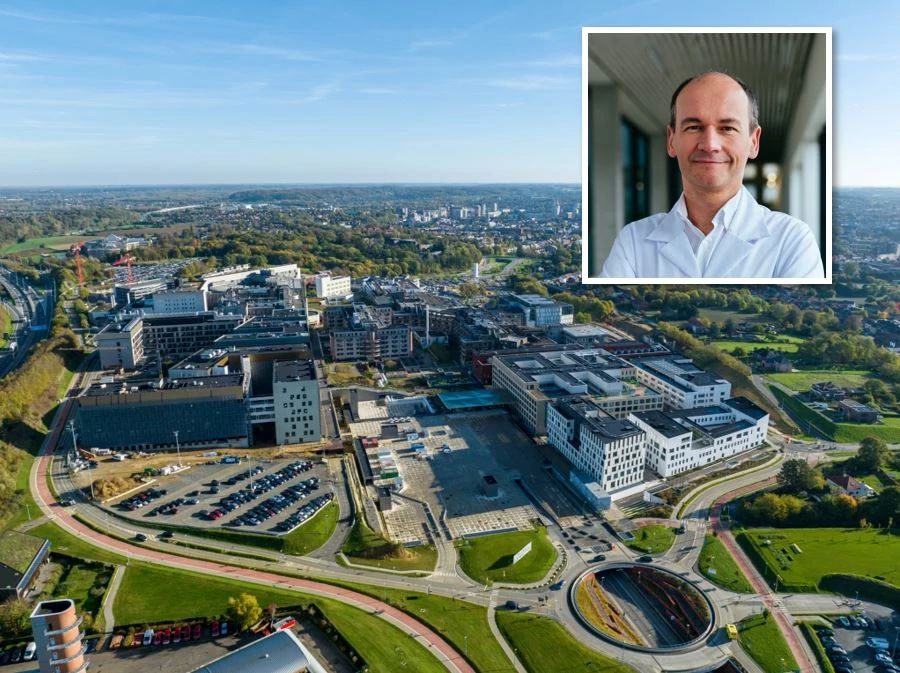 University Hospitals (UZ) Leuven. Inset: Prof. Jean-Francois Daisne, MD
In 2020, UZ Leuven introduced HyperArc for treating multiple brain metastases and benign brain tumors. "HyperArc is a Varian product and is fully integrated to our full Varian workflow."
The UZ Leuven team found many aspects of HyperArc surprising, starting with the speed of optimization. "In less than half an hour, the dosimetrist can provide me a fully compliant and satisfactory plan," reported Prof. Daisne.
Also surprising were the steepness of the dose gradient and the speed of delivery at the machine. "The most significant impact of HyperArc is the reduction of the timeslot at the machine, from one hour to 24 minutes. The four arcs themselves are delivered in 11 minutes on average. It has had a significant operational impact also for us, for the nurses at the linear accelerators, and of course, for the patient," Prof. Daisne said.

Malaysia
At Beacon Hospital, a 100-bed "Cancer Centre of Excellence" in western Malaysia, a staff of nine medical physicists and 12 radiation therapists, working together with a team of oncologists, have been actively using HyperArc for about three years to treat a range of benign and malignant brain lesions, including meningioma, acoustic neuroma, pituitary adenoma, and arteriovenous malformations, using either stereotactic radiosurgery (SRS) or stereotactic radiotherapy (SRT).
The team at Beacon cited several integral reasons for selecting HyperArc for brain radiosurgery. The first reason is simplicity. "It is a great system that automates and simplifies the entire SRS workflow from treatment planning to treatment delivery. The HyperArc features make planning SRT and SRS very easy and fast. With little effort, planners are able to get an above average plan," explained Lum Liang Soo, Senior Manager, Radiotherapy Department. He adds that HyperArc makes the quality of the plan less dependent on the skill of the planner.
The second reason for choosing HyperArc had to do with plan quality. "HyperArc has superior dosimetric advantages over normal VMAT planning, allowing steep dose gradients to spare more surrounding normal tissue while delivering a high dose to the target," said Jasmin Pei Yuin Loh, consultant radiation oncologist. In addition, the physicists who do the planning find the virtual dry run feature very helpful to ensure the plan is collision-free before proceeding to plan optimization. "We always perform patient-specific QA for all our stereotactic plans before treatment starts. None of our QA results have indicated that quality is below standard," reported Mr. Lum.
The third reason for implementing HyperArc was an improved patient experience. "The combination of frameless immobilization with shorter overall treatment time makes treatment more comfortable and tolerable for patients," said Dr. Loh.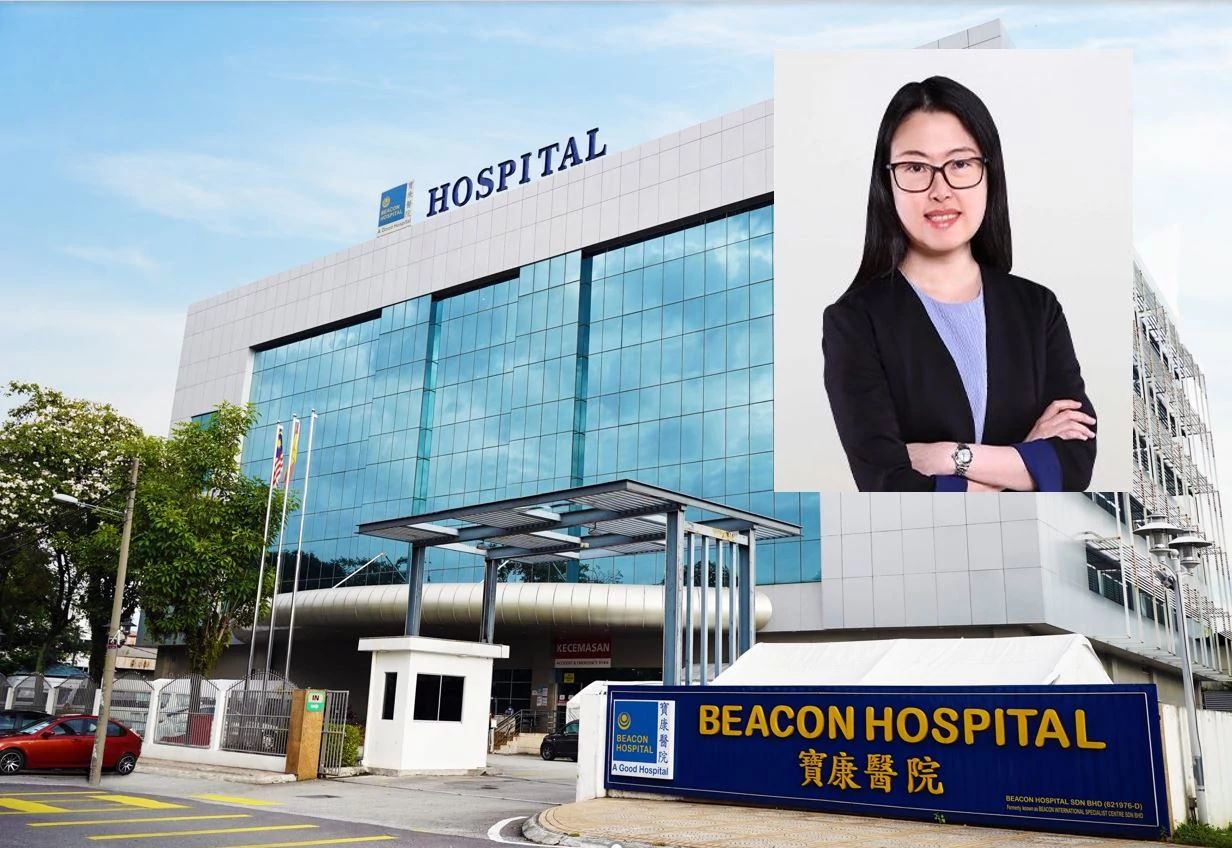 Beacon Hospital in western Malaysia. Inset: Dr. Jasmin Pei Yuin Loh, consultant radiation oncologist
Finally, the fourth reason for using HyperArc is efficiency. "The average time taken for each patient treatment is 20 minutes compared to other dedicated radiosurgery systems that on average take an hour per treatment session. Single isocenter treatment of multiple targets plus automation of the entire treatment delivery enables the treatment of more patients per day, which is important for a busy center like ours," concluded Dr. Loh.
Taiwan
Chi Mei Medical Center in Taiwan has performed HyperArc dosimetric studies and recently launched a clinical program.
In October 2021, the radiation oncology team of Chi Mei Medical Center in Taiwan, published its evaluation of the potential benefit of HyperArc for fractionated stereotactic radiotherapy (FSRT) for the treatment of benign brain lesions.1 "Stereotactic radiosurgery (SRS) or fractionated stereotactic radiotherapy (FSRT) has been demonstrated over the past decades to be a valuable modality in the management of patients with benign intracranial tumors," said Hsiu-Wen Ho, medical physicist. "In general, for benign brain lesions, the rationale of SRS or FRST is to control the growth of the lesion without damage to the brain or other organs at risk. Therefore, the prescription dose is relatively lower than [for] malignant lesions and fractionating the prescription doses makes it more tolerable to the organs at risk. Treating benign intracranial lesions with FSRT is advantageous because it provides a theoretical radiobiological benefit and a lower rate of symptomatic edema than single-fraction SRS." 2, 3, 4, 5
Sixteen patients who had been previously treated with FSRT for a single deep-seated, centrally located benign brain lesion were enrolled in the Chi Mei HyperArc study for dosimetric comparison. For each patient, HyperArc treatment plans with two different optimization algorithms (SRS NTO and ALDO) were generated to meet the corresponding treatment plan criteria.
HyperArc plans calculated with SRS NTO showed excellent results in conformity index, high and intermediate dose spillage, and gradient radius. HyperArc plans calculated with ALDO exhibited superior PTV coverage levels with better sparing of organs at risk, as compared with other technologies for radiosurgery. "Good dosimetric distributions make HyperArc an attractive FSRT technique for the treatment of benign brain lesions," said Ho. "A vital factor for successful SRS/FSRT treatment of benign brain tumors is the quality of the treatment plan. Currently, improvements in hardware and software have made the quality of the HyperArc treatment plan higher than ever." Read the full details of the study.
Encouraged by the positive results from the dosimetric study, the Chi Mei team began using HyperArc to treat patients. From September 2018 to the present, 125 patients have been treated with HyperArc, for metastases, benign tumors, recurrent nasopharyngeal cancer, and recurrent glioblastoma multiforme. Thirty-eight of these cases involved patients with benign tumors. "The effective and automatic delivery system and excellent dose distributions have been the greatest advantages of HyperArc," concluded Ho.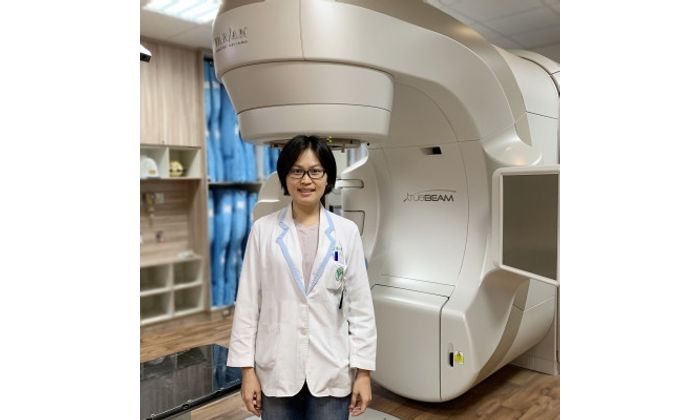 Hsiu-Wen Ho, medical physicist at the Chi Mei Medical Center
"HyperArc was specifically designed to automate and simplify sophisticated treatments like stereotactic radiosurgery and make them more readily available to cancer patients around the world," said Kevin O'Reilly, President, Radiation Oncology Solutions at Varian. "We are very gratified to hear from clinical teams that they are realizing the gains in simplicity and efficiency, and that patients are benefitting."
---
The information captured herein represents the genuine experience of the attributed individuals and may not necessarily represent the views of Varian or the above-referenced institution. Individuals were not compensated for their participation. Radiation treatment may not be appropriate for all cancers. Individual results may vary. For more information, please visit www.varian.com/safety.
1Hsiu Wen Ho, et al. The new SRS/FSRT technique HyperArc for benign brain lesions: a dosimetric analysis. Sci Rep. 2021 Oct 26;11(1):21029.
2Pollock, B. E. Stereotactic radiosurgery of benign intracranial tumors. J. Neurooncol. 92, 337–343 (2009).
3Ernst-Stecken, A., Ganslandt, O., Lambrecht, U., Sauer, R. & Grabenbauer, G. Phase II trial of hypofractionated stereotactic radiotherapy for brain metastases: Results and toxicity. Radiother. Oncol. 81, 18–24 (2006)
4Gevaert, T. et al. Dosimetric comparison of different treatment modalities for stereotactic radiosurgery of arteriovenous malformations and acoustic neuromas. Radiother. Oncol. 106, 192–197 (2013)
5Manning, M. A. et al. Hypofractionated stereotactic radiotherapy as an alternative to radiosurgery for the treatment of patients with brain metastases. Int. J. Radiat. Oncol. Biol. Phys. 47, 603–608 (2000)