Varian's Advanced Oncology Solutions helps transform a busy provider network and support future growth
For City of Hope, a multi-facility cancer care provider, turning to Varian's Advanced Oncology Solutions (AOS) for physics and dosimetry services offered the ability to leverage expertise quickly, increase patient access to the latest cancer treatment modalities, ensure standardization and scalability across all sites, and accelerate the adoption of Varian's latest software systems and solutions.
The City of Hope network, formerly Cancer Treatment Centers of America (CTCA), consists of three hospitals located in Chicago, Atlanta, and Phoenix, as well as outpatient sites in Phoenix and Chicago. For several years, these state-of-the-art cancer centers had been supported by a third-party physics staffing group, but management issues at that company had impacted relations and City of Hope was looking for alternatives.
What they found was Varian's Advanced Oncology Solutions (AOS), which offers a wide range of services designed to support customers in achieving their operational and clinical goals.  AOS partners with clinics by providing services in a way that takes advantage of economies of scale and resource sharing.  This offers many benefits, especially at sites that are challenged to hire and retain radiotherapy professionals—medical physicists and dosimetrists—who are experienced with complex and advanced treatment techniques. 
AOS-Provided Physics, Dosimetry, Radiation Safety and Administrative Support
City of Hope contracted with AOS for onsite and remote physicists and dosimetrists, a radiation safety officer, and a physics and dosimetry coordinator to work across all of the treatment sites. Areas of service include external beam dosimetry, quality assurance, brachytherapy, and radiation safety. An arrangement was made for Varian to hire the existing contracted personnel wherever feasible and augment that team with members of its own world-class pool of skilled personnel as necessary.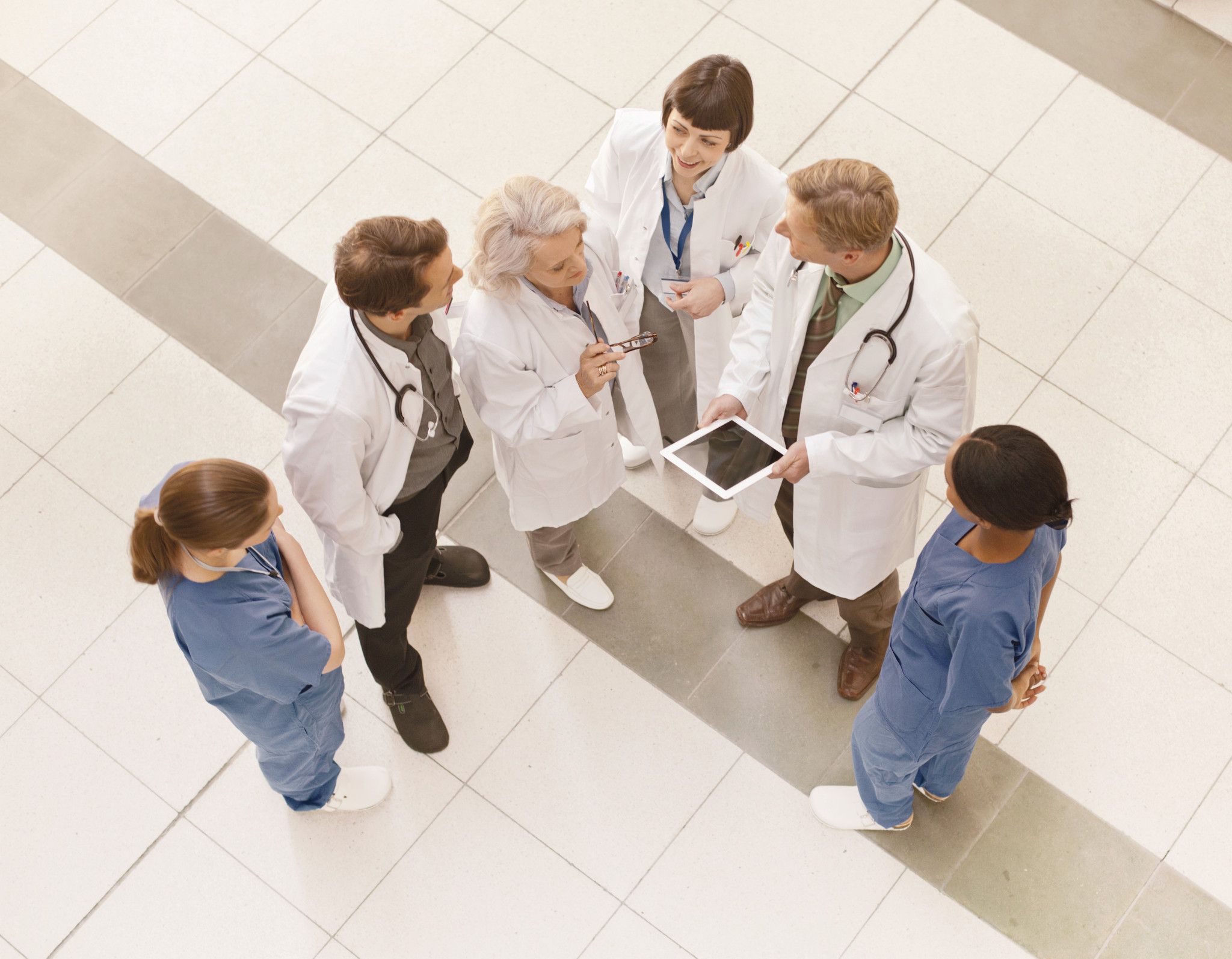 "We have more than 65 physicists on our staff, and 140 plus dosimetrists," says Ryan Lipscomb, Senior Director of Physics Clinical Operations for AOS.  "The team assigned to City of Hope has access to the collective expertise of the entire organization. Once we added many of the personnel who had been supporting clinical activities at City of Hope, we began sharing best practices in a bi-directional way.  There have been opportunities for us to learn from them and for them to learn from our group.  As our network continues to expand, we make it a practice to share best practices to really inform how we develop programs for client organizations."
Smooth 30-day Transition Period 
The immediate challenge facing the AOS team was the project's compressed timeframe. The previous contract was going to expire in 30 days, and the outgoing contractor was not able to extend. This meant the project team had to be ready to take over functions in 30 days, rather than the 60 to 90 days it typically takes to transition a network of this size.
"On day one, the AOS team hit the ground running and set up daily meetings to figure out the transition in such a short time," says Karan Shah, MD, radiation oncologist at City of Hope. "They found solutions for every issue we faced, and everything went remarkably smoothly and without any clinical disruption."
This smooth transition was due in part to the Varian team's flexibility and commitment to best management practices, as well as the collaborative culture within AOS, which emphasizes ongoing staff development. Within its diverse pool of specialists, staff development is encouraged through subspecialty committees, speaker programs, and other educational opportunities. Furthermore, AOS's physicist and dosimetrist management structure helps remove the administrative burden from the local centers so administrators can focus on other aspects of performance, growth, and the needs of patients. 
"We don't have to worry about managing schedules for the dosimetrists and physicists, which I particularly appreciate," Dr. Shah says. "If we're down a dosimetrist, for example, we can pull in a remote dosimetrist to help out and avoid any downtime."
Standardization Across Sites and Seamless Ongoing Support
Before AOS took over physics and dosimetry services at City of Hope, each site was using disparate services that were not fully aligned. The AOS team collaborated with colleagues at City of Hope to standardize operations.  The dosimetry and physics teams meet weekly to agree on protocols and keep each other updated.  AOS experts also stay in touch with the wider Varian community nationwide and across the globe, to help clients like City of Hope stay up to date with national guidelines and techniques.  
"When physicists or dosimetrists need a question answered, they can quickly reach out to colleagues in the AOS network," Dr. Shah says. "I've also learned newer techniques thanks to the weekly meetings where they share information. Varian also does a lot around educating the AOS team members and staying up to date, including hosting speaker presentations. The collaboration is excellent, and I think it's helped us to standardize and come together as one City of Hope, operating as an Enterprise rather than as individual sites."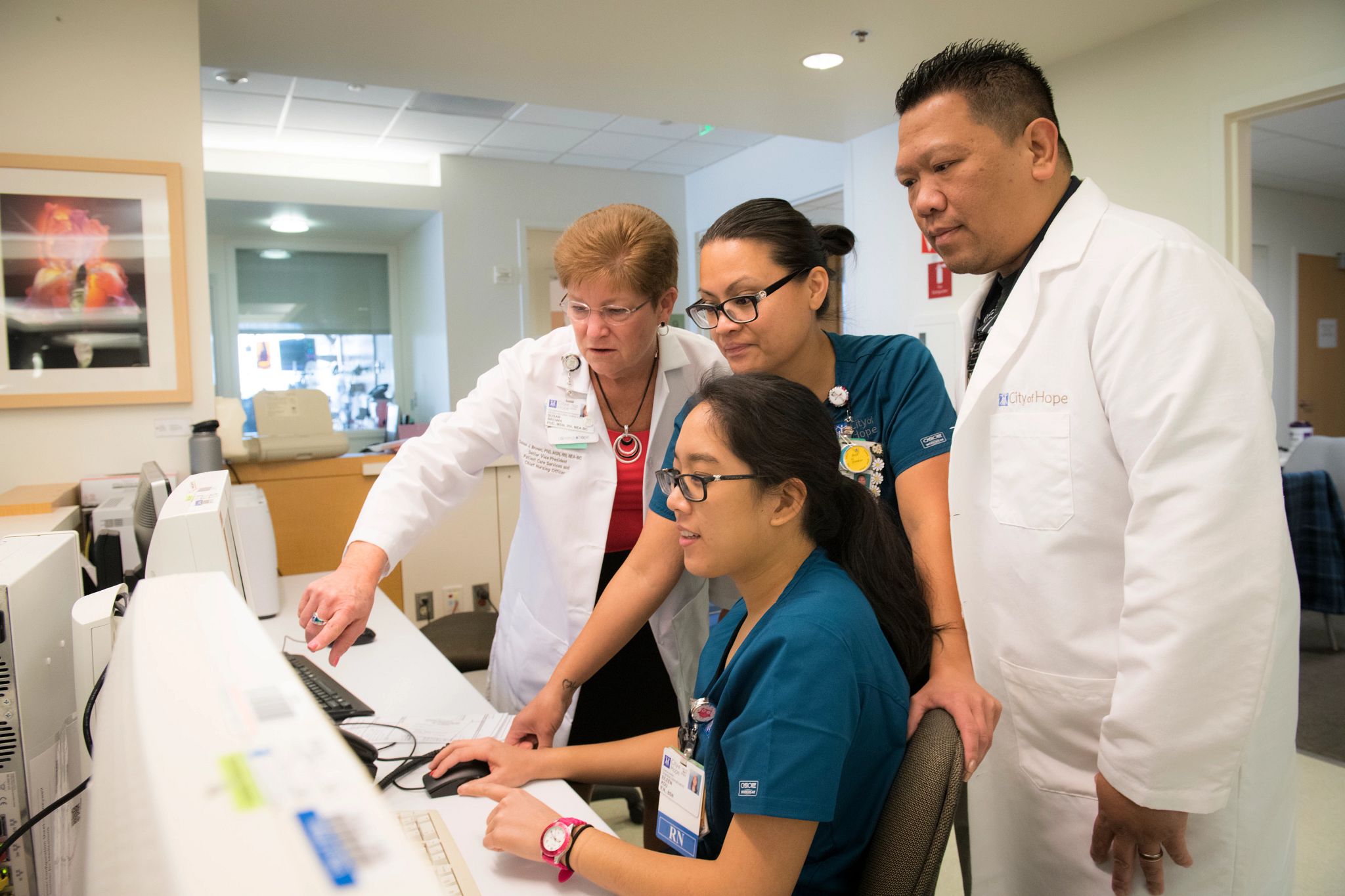 City of Hope nurses and staff confer to provide patient-centered care.
Another benefit for City of Hope has been having Varian-trained staff involved during important equipment upgrades such as a recent Halcyon® system deployment.  "For that project, we brought in an experienced implementation team—people who have lots of experience installing and configuring a system like that and also at maintaining it long term," says Lipscomb.  "We were able to apply our standards and best practices, bring the new system up quickly, and commence patient treatments on an accelerated timeframe from install to go-live," he says.   
"Many of our best practices focus on efficiency and growth potential—how can we take care of an expanding patient base in the most cost-effective, resource-effective, and efficient way possible," Lipscomb adds. "That includes leveraging our remote and traveling physics teams, taking full advantage of our software to make sure it's fully implemented, and helping our clients achieve optimum clinical efficiencies."
Another project just now being launched as part of the City of Hope engagement will involve the replacement of VariSource HDR brachytherapy systems with Varian's newer BRAVOS® afterloader systems.  "We can offer our tried-and-true methods for using BRAVOS across a network," Lipscomb says.  "We have accelerated and standardized the way we do things.  We can bring a well understood, tested and vetted process for going live with these new afterloaders and help our clients take full advantage of upgraded features for safety and quality that have been engineered into the system."
At the Forefront of Innovation
Keeping up with innovations in the field is another important benefit of being part of the larger Varian community, which is constantly creating innovative software and new services designed to either improve patient outcomes, simplify workflows, or streamline aspects of the patient journey from screening to treatment to survivorship.  Under its contract terms, City of Hope is among the first centers to receive new software offerings from Varian and has early access to new technologies and solutions.
"Knowing that Varian is expanding, we can be confident in a bright future for our clinics, and we benefit from a preliminary view of innovative software coming down the line," Dr. Shah concludes. "AOS is helping to put us at the forefront of delivering excellent patient care."
To learn more about Varian's AOS services: Advanced Oncology Solutions
Related stories:
Partnering for Excellence with Alliance Cancer Care: The Varian Executive Partnership Program
Varian's Advanced Oncology Solutions Provides Remote Physics Services to Increase Access to Care in Northern Maine 
The information captured herein represents the genuine experience of the attributed individuals and may not necessarily represent the views of Varian or the above-referenced institution. Individuals were not compensated for their participation. Radiation treatment may not be appropriate for all cancers. Individual results may vary. For more information, please visit www.varian.com/safety.