RapidPlan™ knowledge-based planning, introduced in September 2014, is helping clinicians at centers around the world achieve greater consistency, efficiency, and quality in their radiotherapy treatment planning.
Conventional treatment planning relies heavily on the experience of the planner. It frequently involves educated guesswork and several "trial and error" iterations before an acceptable plan can be generated and approved. RapidPlan was designed to streamline the process by enabling clinicians to use standard models as a baseline for developing high quality treatment plans. Planners can also create their own models to reflect preferred treatment methodologies and protocols. This can reduce or even eliminate the need for multiple, time-consuming iterations.
A number of studies have shown that knowledge-based treatment planning both increases planning efficiency and results in higher quality, more consistent plans—making the art and experience of the planner less of a factor in the quality of the result.1,2
Early adopters report impressive results
Royal Surrey County Hospital, England
In early 2015, specialists at Royal Surrey County Hospital in Guildford, England were the first in the world to use RapidPlan to plan treatment for a 76-year-old man with prostate cancer.
"We planned the patient's treatment both conventionally and using RapidPlan. Compared to the conventional plan, RapidPlan produced a better dose distribution," explains Tom Jordan, head of radiotherapy physics at Royal Surrey County Hospital. "It also greatly speeded up the planning process by automating the selection of planning parameters."
The team at Royal Surrey County Hospital is using RapidPlan software to generate standard models for developing new intensity-modulated radiation therapy (IMRT) treatment plans. According to Jordan, once a model has been created for a particular disease site by inputting a library of historical plans into the system, the RapidPlan system then typically suggests a better plan. So far, Jordan and his team have used the tool to develop a case model for cervical cancer.
"It can take practitioners a number of years to gain the necessary experience to plan complex cases, but RapidPlan simplifies the process by allowing us to work from standard models," adds Jordan.
University of Pittsburgh Medical Center, United States
Like the team at Royal Surrey County Hospital, practitioners at the University of Pittsburgh Medical Center (UPMC) found that RapidPlan greatly enhanced their treatment planning.
"We are a large network of hospitals and 24 cancer centers with many people who work on treatment plans—clinicians, dosimetrists, planners—so maintaining consistency and quality is very important. RapidPlan not only enhanced consistency and quality, but also efficiency," says Ron Lalonde, PhD, associate chair of medical physics, UPMC CancerCenter, and chief scientific officer, D3 Oncology Solutions, a physics consulting company within the UPMC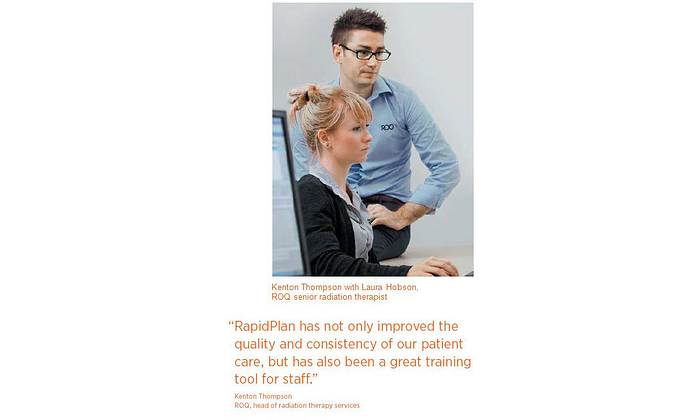 CancerCenter.
One area of improvement was the modeling process. "RapidPlan has increased the quality of our plans by making it possible to incorporate many more constraints than we see in conventional planning," says Lalonde. "An excellent plan might require attention to 20 or more different parameters. With conventional planning, we can only pay attention to a few constraints at a time, but the RapidPlan algorithm pays attention to every constraint specified and pushes us towards an ideal plan."
In addition, RapidPlan enabled Lalonde and his colleagues to quickly identify unrealistic constraints before they invested a lot of time trying to create a treatment plan that wouldn't work. "You can use RapidPlan to get a quick summary that tells you: 'Here's what you'll get, using those parameters.' You can quickly see if you're asking the system to do something unrealistic, and then provide feedback to the doctor about how the treatment strategy might be adjusted before you go through a whole planning cycle and produce a plan that fails to meet the doctor's goals," he explains.
Radiation Oncology Queensland, Australia
Radiation Oncology Queensland (ROQ) offers a comprehensive range of specialist and general radiotherapy services to patients in Southern, Western, and Far North Queensland, Australia.
"We are a growing organization and want to provide the same exceptional patient care across our network," says Kenton Thompson, head of radiation therapy services at ROQ. "RapidPlan has not only improved the quality and consistency of our patient care, but has also been a great training tool for staff."
In March 2015, Thompson and his team began using RapidPlan for their prostate cancer patients, using plans based on the Washington University in St. Louis (WUSTL) model. "RapidPlan accurately predicts achievable dose volume histograms and can also be used to generate optimization objectives to achieve the prediction—removing trial and error and streamlining the whole treatment planning process," observes Thompson.
ROQ practitioners also noticed that RapidPlan greatly reduced optimization time. "Without RapidPlan, optimization times ranged from 7 to more than 25 minutes, and often this included reoptimizing several times," says Thompson. "With RapidPlan, we can reduce the time for optimization to 1.5 to 5.5 minutes." Using the WUSTL model is allowing Thompson and his team to devise their own robust model by benchmarking their cases against those of WUSTL.
As a learning system and evolving knowledge base, RapidPlan is changing clinical practice for the better by allowing institutions to create new, improved practice models based on their own best cases, or on those created by communities of experts from around the globe.
Note: RapidPlan knowledge-based planning and its models are not intended to replace clinical decisions, provide medical advice, or endorse any particular radiation plan or treatment procedure. The patient's medical professionals are solely responsible for and must rely on their professional clinical judgment when deciding how to plan and provide radiation therapy.
References
1. Weksberg, David C. et al. Generalizable class solutions for treatment planning of spinal stereotactic body radiation therapy. Int J Radiation Oncol Biol Phys. 2012; 84(3):847-853.
2. Good, David et al. A knowledge-based approach to improving and homogenizing intensity modulated radiation therapy planning quality among treatment centers: An example application to prostate cancer planning. Int J Radiation Oncol Biol Phys. 2013;87(1):176-181.