Clinicians worldwide have long wanted the ability to adapt radiotherapy treatments to changes in patient anatomy over time, but to date, achieving such treatments has typically required time-consuming re-planning between treatment sessions or monopolizing a linac for an extended period while a patient waits on the table for new plans to be generated. Neither of these alternatives has been deemed practical or affordable at scale, as very often clinics don't have the resources even if they have the tools.
Varian's Ethos™ therapy system was designed to address these challenges. Ethos makes it possible to deliver an adaptive treatment in a typical 15-minute timeslot, from patient setup through treatment delivery. It creates contours and generates plans for review within minutes, while a patient is on the treatment couch.
In September 2019, Herlev Hospital in Denmark became the first site in the world to commence patient treatments with the newly introduced Ethos therapy system from Varian. Serving the country's capital city, Herlev is a busy hospital where 3,000 cancer patients a year are treated using nine Varian treatment systems. Department head Poul Geertsen, MD, has embraced the new Ethos system.
At Herlev, bladder cancer patients were the first to be treated using online adaptation, with more than 130 fractions delivered to date using this approach. "We've so far focused on patients with cancer in the pelvic region – particularly bladder cancer patients – where we are seeing significant treatment volume reductions using online adaptation," says Dr. Geertsen. "We've treated 11 such patients using the Ethos system and we have obtained treatment volume reductions of close to 50 percent, which is impressive. As we start to run protocols, we will be seeking to prove the clinical benefits for the patients in terms of reduced side effects. We certainly believe online adaptation is another important tool in our toolbox."
David Sjöström, Ph.D., deputy chief physicist, says, "Such a reduction in margins would not be possible without online adaptation. As the bladder varies in size and shape from day to day it's necessary to have rather large margins in your initial plan to ensure we irradiate the bladder with the intended dose. By using online adaptation, we are able to decrease these margins and therefore reduce the treatment volume."
Sjöström says the early indications are that the Ethos system will be a valuable online adaptation tool for larger patient groups such as pelvic and head & neck patients with conventional fractionation schemes.
"The speed and simplicity of Ethos means treatments are in the 15- to 20-minute range which should be compared with adaptive treatments using an MR-linac, which generally is more complex and takes longer," he says. "There's a role for both systems but, due to this time difference, it would be too time-consuming to deliver 30 to 35 fractions using an MR-linac. Also, Ethos automates plan generation, using what Varian calls the 'intelligent optimization engine,' which is a real time saver."
This automated generation of treatment plans is equally applicable to 'conventional' IGRT treatments, which constitute most of the treatments taking place on the Ethos system at Herlev. "We're routinely using the Ethos machine for many different lesions in IGRT mode, rather than using online adaptation for everything," says Sjöström. "The ability to 3D-prescribe and automate plan generation is equally valuable in non-adaptive and adaptive modes."
Ethos therapy integrates multi-modality diagnostic quality imaging: at each treatment, Ethos can show that day's anatomy with iteratively reconstructed CBCT images, along with existing diagnostic-quality CT, PET, MR, and CBCT images. The system also allows the user to compare the 3D radiation doses from the scheduled plan, recalculated on today's anatomy; and the 3D doses from the adapted plan, reoptimized on today's anatomy. The user can make a decision based on clinical data presented in a structured, logical, and easy-to-understand manner.
This simplicity is important to the future plans of the team at Herlev. For these early Ethos adaptive treatments, both doctors and physicists have been heavily involved in decision-making based on the online adaptation approach. But the goal is for therapists and nurses to routinely carry out online adaptation in the future.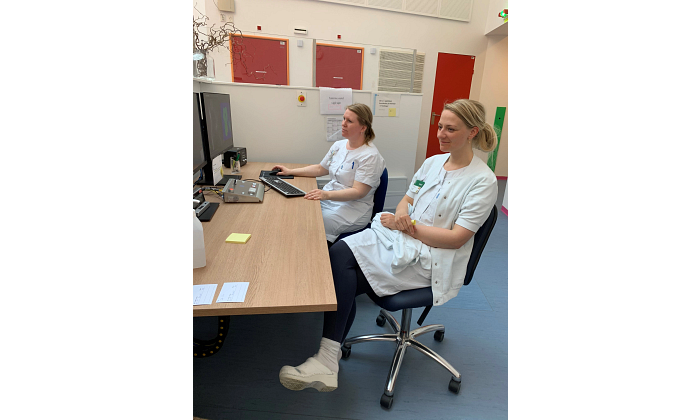 Radiation therapists Anja Nielsen, RTT (left) and Camilla Hansen, RTT (right)
Therapist Anja Nielsen believes this should be possible. "Ethos is very intuitive and user-friendly and with proper training, there is no reason why therapists cannot operate the system without the constant supervision of physicists and doctors," she says. "We received up to eight hours training on the new system, so when we started to use it clinically, we were well trained and fully understood the strategy of faster treatments and enhanced precision."
For Sjöström, it will take time to integrate Ethos into the department's clinical workflow, but he believes the results will be worth the effort. "This routine implementation of online adaptation doesn't happen overnight but we believe over time the system's user-friendliness will mean online adaptation can be carried out in the same way as CBCT-based IGRT is carried out today, and adaptation will become available to many more patients around the world."
"We are happy and proud to be the first in the world to implement Ethos therapy" he adds. "It has been an exciting journey in close collaboration with Varian. Of course, this comes with a huge responsibility but being the first gives us a unique opportunity to further improve the product."
---
The information captured herein represents the genuine experience of the attributed individuals and may not necessarily represent the views of Varian or the above-referenced institution. Individuals were not compensated for their participation. Radiation treatment may not be appropriate for all cancers. Individual results may vary.