University College London (UCL), one of the premier research institutions in the world, is offering a new PhD program in Therapeutic Radiography. Endorsed by the Society and College of Radiographers and supported by Cancer Research UK through the CRUK RadNet initiative, the new program aims to equip qualified radiographers to push beyond what is currently encompassed within their scope of practice.  
In the United Kingdom, therapeutic radiographers plan and deliver radiation treatment; they can also become advanced practitioners who consult on streamlining patient pathways and improving their outcomes. "We are seeing the expansion of the therapeutic radiography role within the UK into areas of advanced and consultant practice to include autonomously managing their own patient cohorts from diagnosis through to treatment and follow up," says Professor Andrew Nisbet, head of the UCL Medical Physics and Biomedical Engineering department. "By optimising the skill mix in the workforce, radiographers can help to transform services, improve efficiency and meet the demand where there is a shortage of oncologists."  
The UCL doctoral program is designed to support the growth and career development of therapeutic radiographers to meet another need as well. "UCL has strong research groups in medicine, physics and engineering, but we have a gap in translating rapidly advancing technologies into evidenced-based benefit for patients," says Nisbet. "Because therapeutic radiographers are patient-focused, they are ideally placed to do this research. We believe many radiographers are interested in research, and this programme can help them develop into very successful independent researchers." The College of Radiographers has projected that 1 percent of UK therapeutic radiographers will soon hold a PhD.
One of the first PhD candidates, Sairanne Wickers (pictured above), a consultant therapeutic radiographer* with her own practice specializing in breast cancer, is interested in finding alternatives to permanent tattoos and improving on field-based breast treatment for sparing the heart. She wants to continue direct care of patients while gaining opportunities for collaborative research, which the PhD and association with UCL will create. "As consulting radiographers, we have unique advantages to contribute as researchers. We know what the technology can do now, and where it is going, plus we have our own cohort of patients for research data."
Will Kinnaird, a urology research and development therapeutic radiographer, agrees that radiographers are poised to make significant contributions to translational research. "Treatments are technically so complex now. Because clinical radiographers are the ones on the treatment floor, we have gained a high degree of technical expertise and knowledge. This is an area where radiographers can lead."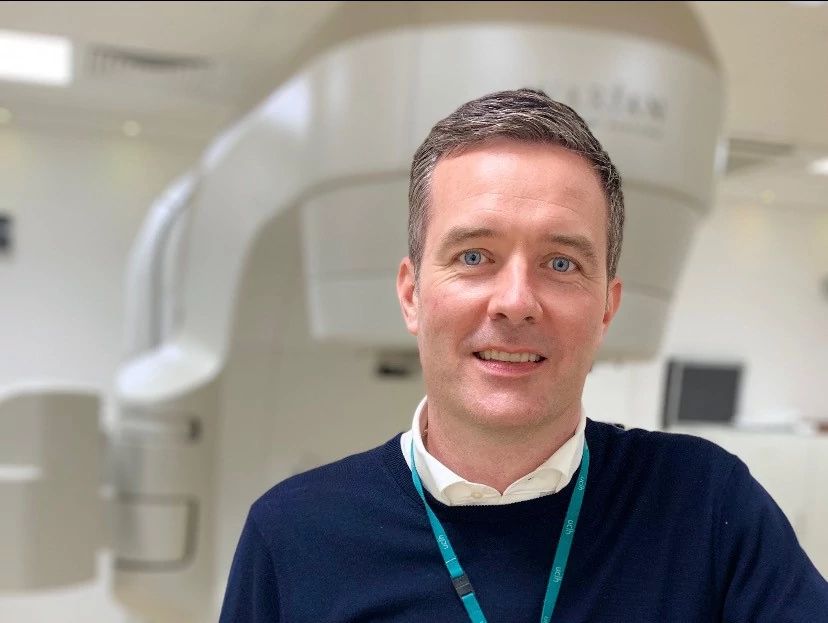 William Kinnaird, Senior Radiographer UCL Hospitals NHS Foundation Trust
The UCL PhD program will run from the Medical Physics and Biomedical Engineering department, which is the focus of technically driven cancer research with extensive radiotherapy research activity. The program operates in close cooperation with the radiotherapy team at the UCL Hospital (UCLH) Cancer Division, where some of the doctoral researchers will be based. UCLH hosts a wealth of state-of-the-art radiation technology, including a new 4-room proton therapy center. It is a leader in treating complex cancers and has particularly large pediatric, brain and sarcoma caseloads.
For more information about the UCL Therapeutic Radiography MPhil/PhD, see https://www.ucl.ac.uk/medical-physics-biomedical-engineering/study/post… 
*According to authors Booth, Henwood, and Miller, a consultant radiographer is defined as an individual who: (a) provides clinical leadership within a specialism, and (b) brings strategic direction, innovation and influence through practice, research and education.  From: Reflections on the role of consultant radiographers in the UK: What is a consultant radiographer?  Radiography.  2015; 22:1, 38-43.