A team of head and neck cancer specialists at UT Southwestern Medical Center recently launched the first randomized study of daily adaptive radiation therapy using Ethos™ technology from Varian for the treatment of head and neck cancer patients. The clinical trial, known as DARTBOARD— Daily Adaptive Radiotherapy to Better Organ-at-Risk Doses in Head and Neck Cancer—is using the center's two Varian Ethos™ adaptive therapy systems at its clinic in Dallas, Texas, to deliver treatment as part of the study.
The primary goal is to evaluate whether daily adaptive radiation therapy can help reduce xerostomia (dry mouth caused by damage to nearby salivary glands) compared to traditional radiation therapy, thereby improving treatment for patients by sparing more healthy tissue and reducing side effects.  "By generating a treatment plan for the patient's anatomy each day, we believe we can reduce treatment margins for setup error dramatically to 1 mm, significantly reducing dose to normal tissue," said David Sher, M.D. (pictured below) , Chief of Head and Neck Radiation Oncology Service at UT Southwestern Medical Center.  "The lymph node treatment is based on the department's novel involved nodal radiotherapy platform, which leverages an AI algorithm developed by the team. The combination of this contouring regimen plus the Ethos-enabled reduced treatment margin has led to some of the smallest volumes of normal tissue irradiated in any prospective head and neck radiotherapy trial."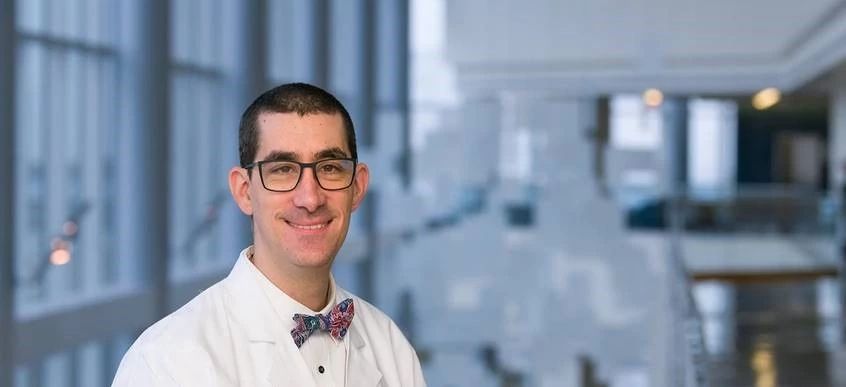 The research team estimates that about 75 percent of the clinic's non-surgical head and neck cancer patients will be eligible to enroll in the DARTBOARD trial, aiming to show this paradigm would be accessible to most patients treated with definitive radiotherapy. Eligible patients must have previously untreated Stage I-IVB oropharyngeal, laryngeal, or hypopharyngeal squamous cell carcinoma.    
"We're very excited about this study because, ultimately, we want to maximize our chance of cure, but also, we want to provide the best opportunity for short- and long-term quality of life," said Dr. Sher, in a videotaped statement that appears as part of a blog about the study posted on the UT Southwestern Medical Center website.
All patients participating in the study will receive treatment with involved nodal radiotherapy and will be randomly assigned to one of two arms; half will receive treatment with standard expansions without adaptation and the other half will undergo daily adaptation with markedly smaller margins.  
As a sponsor of the DARTBOARD study, Varian is committed to developing personalized treatment and care for cancer patients and enhancing patients' quality of life. The DARTBOARD study will inform the development of daily adaptive radiotherapy delivery techniques that may help reduce radiation dose and lessen side effects, such as xerostomia and other normal tissue damage, as a result of treatment.