By Stephanie Loo, Warangkana Punjapratheep and Candy Chan
                                                                                                                        
New standards and technologies are needed to meet rapidly evolving demands for cancer patients in Southeast Asia.  Radiation therapy is usually part of cancer care for around 50-60% of patients, but less than 10% have access in low-middle income countries1. Patients in rural areas are up to 35% more likely to die within five years of a cancer diagnosis2. 
  
Part of our role at Varian is to create sustainable solutions that can be easily customized and used to address patients' unique needs. This means reducing barriers to new technologies fast enough to meet a rapidly changing landscape, and helping establish better coordinated, better informed, and better managed journeys for each cancer patient. 
Cancer care providers in Thailand will be able to use alternative approaches to treatment thanks to new guidance for image-guided radiation therapy (IGRT) developed by Varian and The Thai Society of Radiological Technologists (TSRT). The guidance is designed for Varian products, including the Halcyon® and TrueBeam® radiotherapy systems.
Designed by experts to improve clinical efficiencies
Having centralized standards and clinical practices helps hospitals and clinicians build greater efficiencies when preparing and executing treatments. This is designed to enable new levels of precision and makes treatments more effective.  
Radiation Therapy Technologists (RTTs) use image-guidance to verify the patient's position prior to treatment delivery, helping to ensure the treatment area treated is accurately targeted and radiotherapy is delivered as planned. IGRT plays a key role in advanced techniques like intensity modulated radiotherapy (IMRT) and volumetric modulated arc therapy (VMAT), a technique for completing an IMRT treatment quickly by delivering the dose from different angles around the patient. This is useful when tighter margins are used, compared to conventional 2D and 3D conformal techniques.
In Thailand, the IMRT technique was first used in Bangkok in 2005. Fifteen years later, it was adopted by 82% of Thai radiotherapy centers3. Most hospitals relied on department specific IGRT protocols, which meant there was need for a wider, more consistent form of IGRT guidance.
The reference guide for IGRT was developed to harmonize approaches and create a foundation for more advanced forms of treatment. Dr. Taweap Sanghangthum, Project Coordinator and Chief Medical Physicist at the King Chulalongkorn Memorial Hospital, describes the guidelines development process: 

"This guidance took over a year to develop. Varian initiated the project with TSRT in 2020. We started out with radiotherapy technologists, medical physicists, and radiation oncologists from 22 voluntary radiotherapy centers focusing on the use of cone-beam CT (CBCT) in IGRT for IMRT/VMAT treatments. We also worked with members from teaching hospitals, the government sector, and private hospitals to help identify and solve issues and improve efficiencies in their clinical processes. We were grateful to have Varian's technical expertise and product insights.  Our review committee, consisting of representatives from medical and teaching institutions in Thailand, approved the final guidance, which is now being used by RTTs across the country."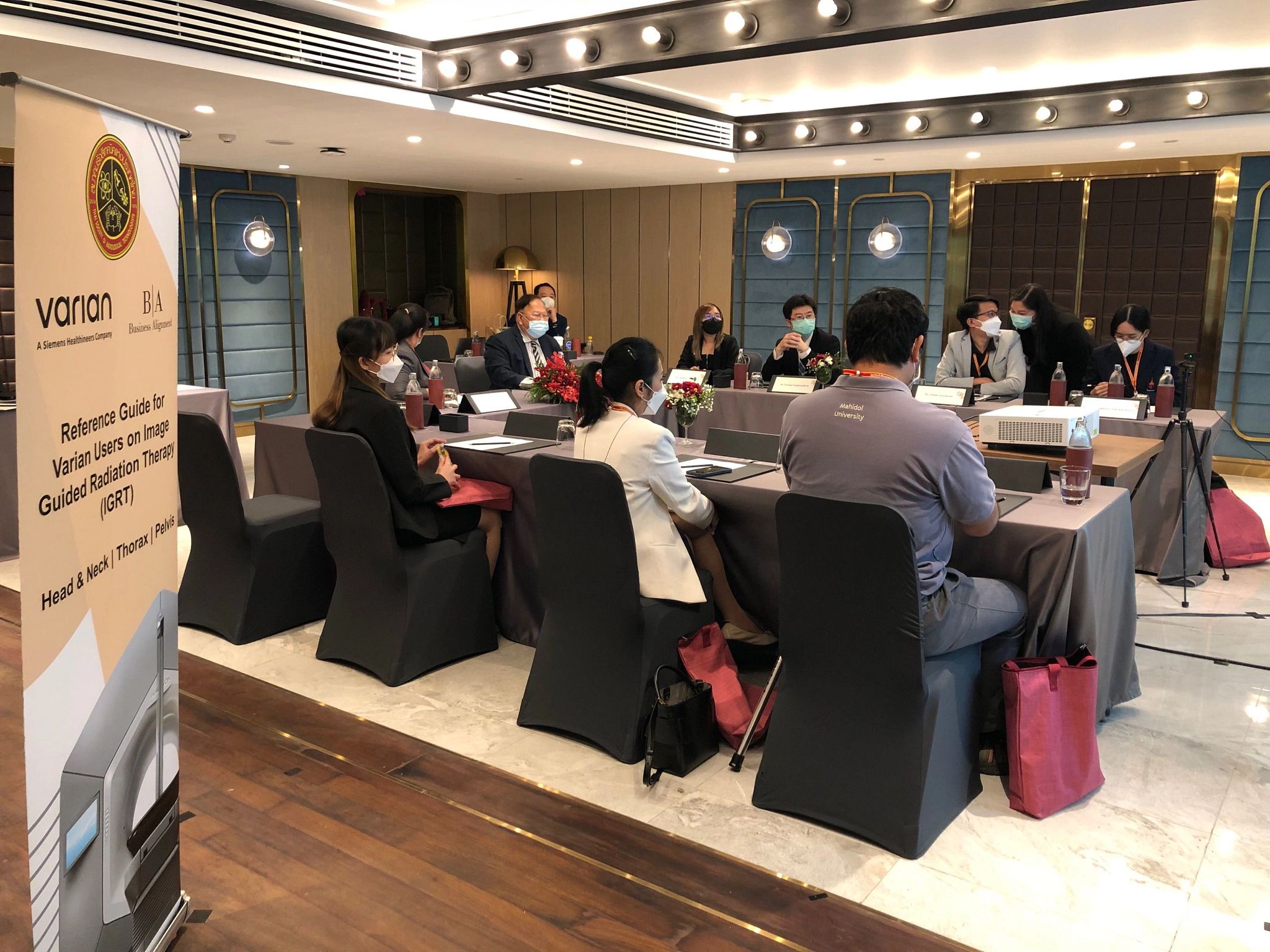 Varian and collaborators from The Thai Society of Radiological Technologists (TSRT), during a working session to develop IGRT guidance.
Creating adaptive guidance that meets local needs
Varying levels of capability and technology, combined with the array of different cancers, means any guidance must be flexible to meet a practitioner's local needs. According to Mr. Sala Ubolchai, President of TSRT, ensuring the guidance was adaptable and served multiple purposes is critical to the design:  
"Technology infrastructure can vary in different parts of the country. When we first discussed a uniformed approach, it became apparent that different machines and technologies are in use. Ensuring the protocols can be modified according to the local infrastructure meant they can be used by radiation therapists across Thailand, providing confidence to execute complex techniques on different types of radiotherapy equipment." 
The guidance is split by treatment region: head & neck, thorax (breast and lung diseases), and pelvis (cervix, rectum, and prostate diseases), covering the top five types of cancer disease in Thailand. 
Dr. Taweap explained: "The IGRT guidelines are designed to help users target cancers in the pelvic cavity area more effectively. For example, in prostate cancer cases, there are high variations in the volume of the bowel, bladder, and also the rectum. With IGRT, this should help the RTTs manage daily fluctuations in the area." 
Before this, cervix and rectum cases were largely treated with 3D conformal techniques, so the guidance should expand the use of IMRT/VMAT techniques for these cancer sites.
The time taken for imaging, registration, and verification as well as other IGRT protocols for these diseases were evaluated for best practices and placed in the guidance. 
"This project gave us the opportunity to evaluate suitable IGRT processes for our head & neck treatments with data from other hospitals. We are using it now to revise our own protocols," explained Ms. Bualookkaew Sakchatchawan, Chief Radiation Therapist, Chulabhorn Hospital.
Ms. Julaluck Chanayota, Radiation Therapist, King Chulalongkorn Memorial Hospital, said "Cervix, rectum, and prostate cases are one of the top types of radiation treatment in our department. The review with teaching institutions gave us the opportunity to refine our protocols and clarify them with our department team members. This is a great testament to the collaborative work achieved between clinical teams."
 
Mr. Adisak Teerakaew, Head of Radiation Therapists, Wattanosoth Hospital, said the initiative is a good launch pad for the future: "Image-guided RT protocols and motion management help to better deliver the radiation dose to the site. In the future, we would also like to see specific IGRT protocols being developed for lung stereotactic body radiation therapy (SBRT)".
Primed for the future
Professionals now have a platform to learn from one another and enhance their treatment techniques. Some customers have already upgraded their Halcyon systems by adding kV-CBCT, giving them better visibility of the anatomy for complex treatment techniques. 
The guidance is also available as a resource to radiological technologist students and newly joined members. RTTs are required to collect continuous professional development (CPD) credits regulated by the Department of Health Service Support in Thailand. Participating in further image guidance meetings and contributing to the development of the guidance will provide them with credits, helping with their ongoing development and the annual renewal of their professional practice license. Ultimately, this will help centers in Thailand transition to updated techniques and prepare for new technologies as they become available. 
By connecting and leveraging data, teams, technologies and workflows, Varian and the TSRT were able to deliver insights aimed at improving clinician collaboration, streamlining operations, and enhancing the overall patient experience.
1Expanding global access to radiotherapy - The Lancet Oncology
2Cancer in rural Australia, Fact Sheet 8 from the National Rural Health Alliance Inc.
3Thai Association of Radiology and Radiotherapeutic Oncology (THASTRO), Evaluation of Radiotherapy Technologists 2020