At Northern Light AR Gould Hospital (AR Gould), the consistent provision of on-site physics services was proving to be a challenge.  The hospital's remote location in Presque Isle, Maine, and the harsh winter weather of the region were making it hard for physics staff to be present in person, and this threatened to disrupt the efficient delivery of important cancer treatments like stereotactic body radiation therapy (SBRT). 
 
"This is a treatment center in rural Maine that is close to the Canadian border and two and a half hours away from the nearest major airport," said Brice Hamilton, a physics program director with Varian's Advanced Oncology Services (AOS), who helped set up remote physics services for the team at AR Gould.  "They've had a hard time over the years finding qualified clinical staff to work fulltime at their center.  It was an ideal place for us to create a supportive partnership and fill in some of those gaps so that patients in the region could have access to advanced care."
According to Hamilton, Charles Hechtman, MD, the radiation oncologist at AR Gould, sought support from the AOS team for implementing an SBRT program at the site.  After visiting the site to assess the technology and determining that an SBRT program was feasible, Hamilton worked with the AR Gould team to set up a partnership encompassing a range of onsite and remote support services that would empower the team to continue offering SBRT as necessary.  
"A stereotactic program requires a high degree of cooperation across the entire clinic," Hamilton says.  "The physician makes a clinical assessment and determines, based on best practices, that SBRT is the most appropriate approach for treating a particular patient.  From there, the patient gets simulated.  In our tele-physics arrangement, treatments are scheduled to allow us to be physically present for the first day of treatment so we can assist with any issues that come up.  For subsequent treatments, we help monitor the treatment in real time via videoconference, and we interact with the clinical staff if we see any issues. The physician is always physically present."
Varian's AOS remote physics services have made it possible for Dr. Hechtman and his team to establish an SBRT program that is available on any day of the week as needed.  They can offer it to patients who would have otherwise needed to travel for many hours in difficult winter conditions to the larger city of Bangor to receive care.
"For a remote site such as ours, especially during an unprecedented time such as the current pandemic, the AOS remote physics support has allowed us to continue to provide our patients with the best care possible by minimizing delays in treatment and increasing access to advanced care," said Dr. Hechtman.
"We recommended the AOS remote physics services to our sister hospital because we had such a great experience with the team, and because of the positive impact it has on our patients," said Deirdre Ames, lead radiation therapist at AR Gould.
"We are delighted to support Northern Light AR Gould Hospital in bringing high quality advanced care to cancer patients," Hamilton concludes.  "The AOS physics team is proud to support Dr. Hechtman with hands-on, as well as remote support and guidance, to ensure smooth, effective delivery of SBRT as a treatment option."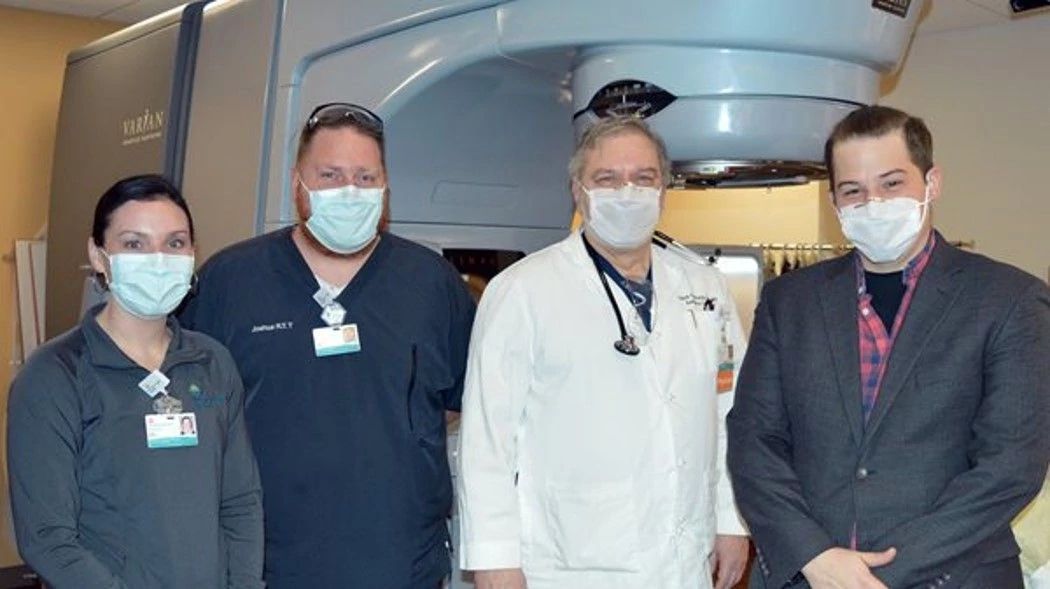 The team providing the SBRT treatments at AR Gould Hospital includes, from left: Deirdre Ames, RT(R)(T) and Joshua Trainer, RT(T), radiation therapy technicians; Charles Hechtman, PhD, MD, radiation oncologist; and Brice Hamilton, MS, DABR, Physicist, AOS
Hamilton is in charge of the AOS remote physics team, and he believes that this approach—the use of remote physics support for radiation oncology—is an access-to-care solution.  "It would be nice to have physics onsite in every radiation oncology department, but it's costly and it's also not practical," he said.  "There just aren't enough trained medical physicists to make that realistic.  Also, our physics team is populated with experts who really know the technology and how to use it.  This is about patient access—providing great access to quality care anywhere in the world."
---
The information captured herein represents the genuine experience of the attributed individuals and may not necessarily represent the views of Varian or the above-referenced institution. Individuals were not compensated for their participation. Radiation treatment may not be appropriate for all cancers. Individual results may vary. For more information, please see Important Safety Information.