After 21 years the Clinac 2300, a soldier in the fight against cancer, has accomplished its mission
After 20 years and having been used to treat approximately 15,000 cancer patients, a Clinac 2300 at the National Cancer Institute José Alencar Gomes da Silva (INCA) in Rio de Janeiro, Brazil, has been deactivated.  Installed in 1998, the Clinac 2300 has now retired and is being replaced by a Clinac® CX machine, as part of Brazil's Governmental Radiotherapy Expansion Program, funded by the Ministry of Health. INCA is the largest public institution in the country with multidisciplinary services for oncology patients.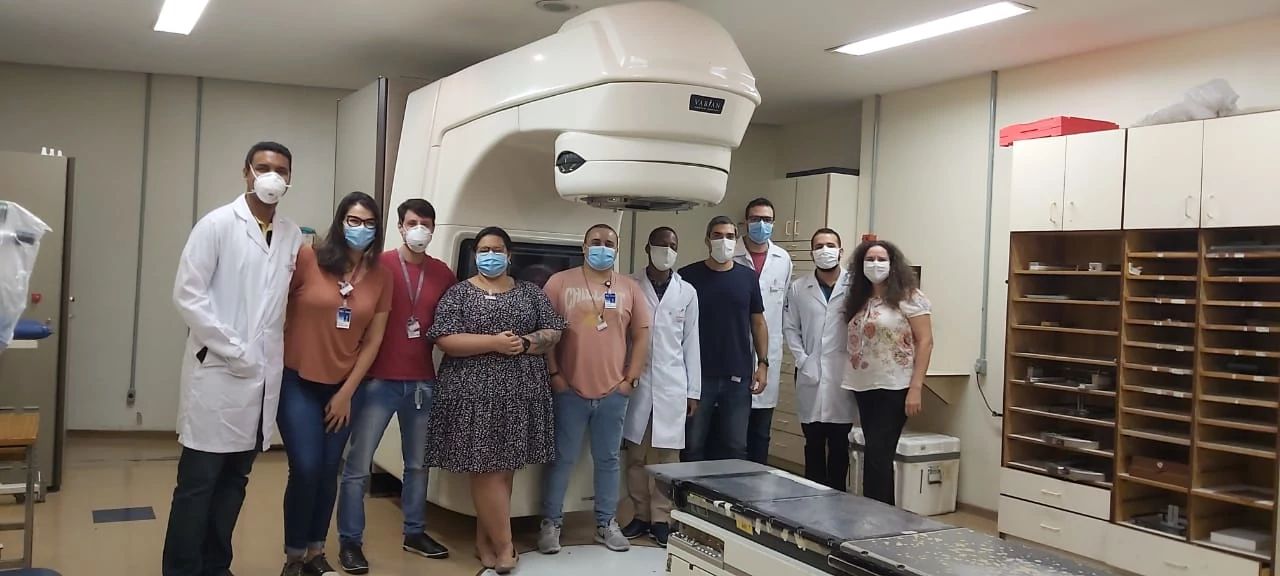 "The Clinac 2300 machine had a major impact in so many ways," said Lúcia Helena Bardella, medical physicist at INCA.  "It changed how we saw and thought about radiation therapy.  Prior to its arrival, radiation therapy involved cumbersome manual procedures, including the use of Cerrobend blocks, which were made in a customization lab, as well as wedges filters. The Clinac 2300 included one of the first three multileaf collimators in Brazil—the first in a public health clinic.  It took us in the direction of digital processes that enabled radiosurgery and intensity-modulated radiation therapy (IMRT)." 
In the year following its installation, the Clinac 2300 at INCA received its first upgrade to enable the use of BrainLab radiosurgery cones.  Then, in 2005, it became the first accelerator at a Brazilian public health facility to offer IMRT using a multileaf collimator.  "Both of these updates made it possible to treat complex cases more easily and with greater quality," said Bardella.  "In 2011, the machine received its last upgrade and was outfitted with Varian's Millennium™ 120-leaf multileaf collimator, which enabled a significant expansion of our IMRT program to include approximately 50% of the cases treated during its last years of operation."
More than 50% of cancer patients who receive radiation therapy in Rio de Janeiro are treated at the INCA facility.  "We have a deep appreciation for this equipment, as it enabled us to provide treatment for an average of 700 patients a year for 21 years," said Bardella.
The arrival of the Clinac 2300 also became the main accelerator for the training of radiation oncologists, medical physicists, and radiation therapy technicians in Brazil.  "INCA is the reference institute and technical arm of the Brazilian Ministry of Health, involved in establishing protocols and guidelines for use across the nation," said Thiago Bernardino, medical physicist at INCA.  "We have helped to establish best practices on a national and international level.  We have also trained over 20% of the radiation oncology professionals in Brazil, as well as those from other Portuguese-speaking countries such as Angola and Mozambique. Today, these former students and residents are spread out and benefitting cancer patients across Brazil, Latin America, and beyond, through the knowledge they gained working with this technology." 
According to Bernardino, while a linear accelerator is a big investment, ultimately the cost of radiation therapy is an order of magnitude lower than other treatment modalities when amortized across so many years and so many patients.  "Compared with chemotherapy and surgery, radiation therapy does require a sizable upfront investment," he observed.  "But the investment is almost entirely in that initial period prior to treatments.  With good management and planning, linear accelerators have a wide scope of utility, and they are economically viable once the initial implementation challenges are overcome."
"In talking with our partners at INCA, we realized that we should celebrate the retirement of the Clinac 2300, which has operated in Rio de Janeiro for such a long time, impacting so many lives," said Humberto Izidoro, Varian Latin America Managing Director.  "We are also very excited about the future at INCA and look forward to seeing the new Varian linear accelerator serve cancer patients in the region for a long, long time to come."  
---
The information captured herein represents the genuine experience of the attributed individuals and may not necessarily represent the views of Varian or the above-referenced institution. Individuals were not compensated for their participation. Radiation treatment may not be appropriate for all cancers. Individual results may vary. For more information, please visit www.varian.com/safety.