Dr. Catherine Khamphan is a medical physicist who also treats cancer patients at a regional center based in Avignon, France. Although the town is relatively small, the Institut Sainte Catherine is one of the three busiest cancer treatment centers in France, treating about 2,600 cancer patients each year.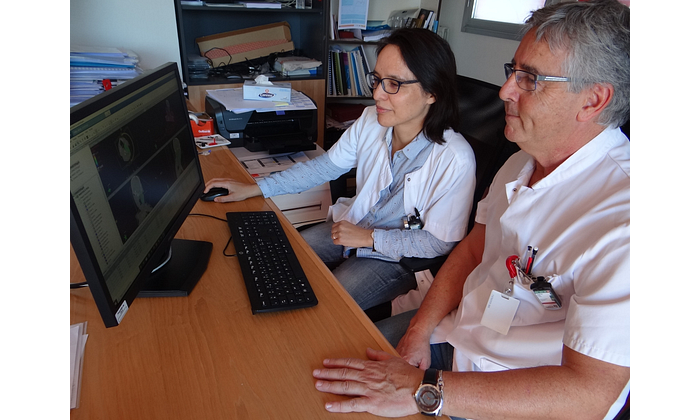 Dr. Catherine Khamphan and Dr. Robin Garcia, medical physicists at the Institut Sainte Catherine
Khamphan and her team started using RapidPlan™ knowledge-based treatment planning software for planning prostate and head and neck treatments in 2015.
"When we started using RapidPlan for prostate, we saw an immediate reduction in the number of planning cycles, from multiple plans down to just one optimization in about 90 percent of cases," Khamphan explains. "For head and neck models, we realized we had great guidelines, but were seeing a lot of discrepancies due to the variation in dosimetrist skills and experience. After RapidPlan, there was a noticeable improvement in the quality and consistency of plans."
Now the team plans to expand to lung, breast, and cervix, and is exploring collaboration with other centers in Europe, and is keen to explore multi-criteria optimization (MCO), a clinical decision support tool added to the Eclipse treatment planning system in version 15.5. MCO allows clinicians to explore what happens when they alter different clinical criteria. By combining MCO and RapidPlan machine learning, clinicians can optimize each treatment plan based on the uniqueness of each patient and their condition.
"We have already done some preliminary work with MCO and we have discovered it is efficient in some very critical situations where the target and organs at risk overlap," Khamphan says. "We're planning a clinical evaluation, recognizing that the combination of MCO and RapidPlan could be another important step forward for us."
Discover more about the machine learning features in RapidPlan knowledge-based planning.
The information captured herein represents the genuine experience of the attributed individuals and may not necessarily represent the views of Varian or the above referenced institution. Individuals were not compensated for their participation. Radiation treatment may not be appropriate for all cancers. Individual results may vary.