The Radiation Oncology Department at the Oswaldo Cruz German Hospital in São Paulo, Brazil, was built in the 1960s, and like so many centers of the time, initially housed Cobalt-60 equipment. On June 11th, 1971, it replaced its Cobalt system with the first linear accelerator in Brazil.  It was a Varian machine.
Dick Levy, the Varian representative responsible for the Oswaldo Cruz account at the time, recalled that Stanford's chief of radiation oncology, Malcolm Bagshaw, MD, introduced him to Marcos Lederman, MD, the radiation oncologist at Oswaldo Cruz.  The three men met together in Brazil to plan for the installation of a Clinac® 4.  According to Levy, who later went on to become CEO of Varian, funding for such technology was almost impossible to get in those days in Brazil, so Lederman paid for it out of his personal account.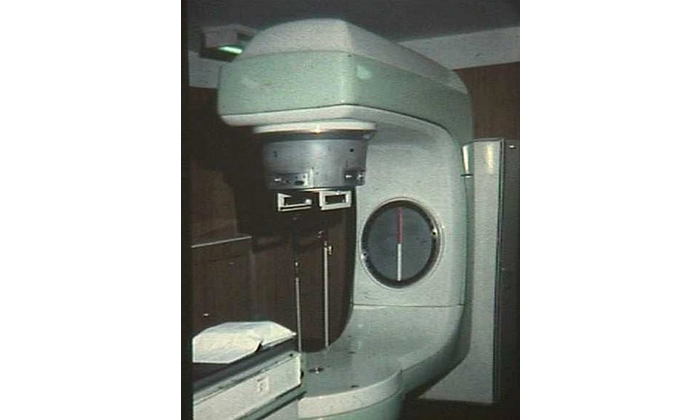 "Once the Clinac 4 was installed, they built up to a patient load of almost 100 treatments per day, far more than any other site we knew of," Levy recalled.   
Now, some 46 years later, Oswaldo Cruz has become a major radiotherapy center, with two linac bunkers where patients receive IMRT/IGRT/VMAT, single-dose and fractionated frameless radiosurgery, SBRT, and respiratory gating.  The team of five physicians, three physicists, one dosimetrist, 11 therapists and four nursing professionals treat approximately 700 patients per year, with a mean of 15 fractions per patient.
First Halcyon System in Brazil
In September 2018, the first Halcyon™ system in Brazil was installed in the same bunker that received that original linac back in 1971--and without modifications to the bunker's structure. Newer regulations can require structural modifications to older bunkers.  The Halcyon system's self-shielded design can reduce the scope of vault construction and the requirement for concrete.
"This system met so many of our requirements, including being viable in our old-style bunker with no major, or even moderate, structural modifications," said Dr. Rodrigo Hanriot, radiation oncologist and head of Radiation Oncology Department at Oswaldo Cruz German Hospital.  "It also met our needs for minimal downtime during the switch-out of old technology for new, fast operation and high patient throughput, and the capacity for advanced image-guided VMAT and IMRT."
Fast Installation, Fast Treatments
According to Dr. Hanriot, the Halcyon installation took only a week.*  In November 2018, Oswaldo Cruz received authorization from CNEN, Brazil's National Nuclear Commission; the first patient received treatment in December.
"Regardless of whether we're delivering IMRT, VMAT, or SBRT, the maximum time in the room is 10 minutes," said Dr. Hanriot.  "The average treatment has been taking less than eight minutes, and this was true even at the outset when the operators were just getting to know the system."
This level of efficiency was not what Dr. Hanriot expected.  "The literature suggests that, when introducing a new technique or machine, treatment slots should be doubled or even tripled for a period of months until the team gains confidence and agility with the process," he said.  "So, we initially programmed two slots per patient in the first month, but within a week the team was treating patients in less than one timeslot. The process just flows.  It's extremely simple and easy. For the first time, I can run a treatment myself just by 'following the blue,'" he added, referring to the 'follow the light' workflow that was first introduced on Varian's TrueBeam® platform and later built into the Halcyon system.
Halcyon QA processes require less time than older systems, Dr. Hanriot noted.  "We follow the international protocols, but there are fewer testing requirements due to the characteristics of the system, and the automated tests provide a high level of daily control over linac performance."
Increasing Access to Care
Dr. Hanriot feels that the Halcyon system is poised to make a big difference for cancer patients in Brazil.  "In this country, we usually treat four to six patients per hour with IMRT or a 3-D technique," he said.  "But we have resource limitations for the construction of more bunkers or for purchasing linacs.  So, there's a certain waiting time for access to treatment.  A Halcyon system, with a trained team, can treat up to eight patients per hour, and it can allow the use of older bunkers that could not have been equipped with traditional linacs.  Under current regulations these bunkers would have to be abandoned or demolished.  Halcyon systems could increase the availability of treatment without huge cost impacts.  That's what we've been able to accomplish at Oswaldo Cruz."
*Installation times vary in different geographic areas; check with your Varian representative.
_______________________________________________________
The information captured herein represents the genuine experience of the attributed individuals and may not necessarily represent the views of Varian or the above-referenced institution. Individuals were not compensated for their participation. Radiation treatment may not be appropriate for all cancers. Individual results may vary.