Noncoplanar SRS treatments completed within 15-20 minute time slots, even for multiple mets
In 2017, Varian's HyperArc™ high-definition radiotherapy was used for the first time to treat patients with brain metastases. This new technology for delivering noncoplanar stereotactic radiosurgery (SRS) has been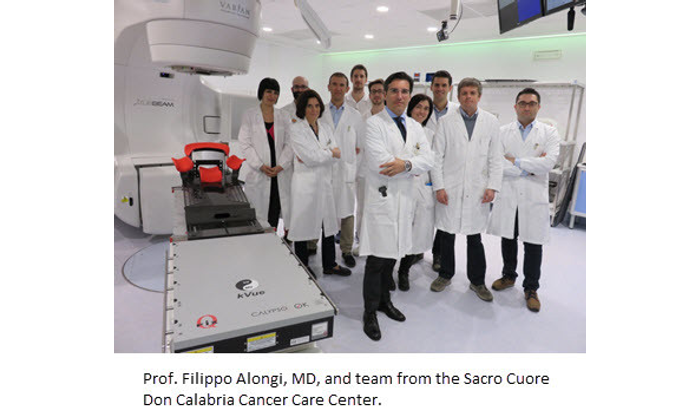 deployed at Sacro Cuore Don Calabria Cancer Care Center in Negrar, near Verona, Italy; University of Alabama at Birmingham in the U.S.A..; and at The Beatson West of Scotland Cancer Center in Glasgow, U.K.
These early adopters found that HyperArc enhances their radiosurgery programs by facilitating and simplifying delivery of complex radiosurgery treatments. Using HyperArc, clinicians are delivering non-coplanar SRS treatments within the 15-20-minute time slot normally allocated for conventional radiotherapy treatments.
Noncoplanar SRS offers dosimetric advantages over conventional SRS in terms of target conformity and dose gradients. The use of noncoplanar SRS, however, has been constrained by its complexity, the high levels of expertise involved, and the need for time-consuming setups and verifications. HyperArc removes these barriers by simplifying and automating much of the process, enabling clinicians to treat even multiple metastases without re-entering the vault to rotate the couch.
HyperArc treatments are planned using the latest version of the Eclipse™ treatment planning system. It capitalizes on the unique capabilities of Varian's TrueBeam® and Edge™ platform, and utilizes a simple "one-click" workflow that automates the process, including optional intrafraction imaging and couch rotations.
Treating a Complex Case of Multiple Metastases at Sacro Cuore
In August of 2017, the Sacro Cuore Don Calabria Cancer Care Center in Negrar, Italy, became the first site in the world to use HyperArc to treat a patient with a complex case of multiple intracranial metastases. 
Prof. Filippo Alongi, MD, Director of Radiation Oncology at Sacro Cuore Don Calabria Cancer Care Center and Associate Professor of Radiation Oncology at Brescia University, and his team adopted HyperArc for its simplified planning approach for the simultaneous treatment of multiple cranial lesions, as well as for its enhanced target conformity and steepness of dose gradients around the targets.
"HyperArc has allowed us to overcome barriers to performing noncoplanar SRS treatments. It provides a machine performance check or virtual dry run that shows us the treatment delivery sequence during treatment planning at each couch rotation, automates verifications, and drastically reduces the overall treatment time," says Alongi.
Since August 2017, Alongi and his team have used HyperArc technology to deliver single isocenter noncoplanar SRS in the treatment of some 50 patients with multiple brain mets—patients who might otherwise not have had a viable treatment option, Alongi points out. "We are currently treating approximately two new multiple brain met cases per week," he notes.
Alongi describes a case where HyperArc made a difference for a young woman with 20 brain lesions from primary partially controlled metastatic breast cancer who had refused whole brain irradiation.
"In this clinical situation, focal intracranial treatment is not typically considered the standard of choice," Alongi says. "In cases like this, whole brain irradiation is usually recommended. However, in light of the patient's decision, we proposed using HyperArc to control the intracranial disease." After a discussion of the risks and possible benefits of this kind of noncoplanar SRS, Alongi's patient decided to be treated.
"She underwent a single session of HyperArc radiosurgery for all 20 lesions without anesthesia and with frameless immobilization. After two months, the lesions were evaluated using MRI and most showed a complete or partial response to the HyperArc treatment; she is currently continuing chemotherapy treatment for extracranial disease," he says.
"HyperArc's one-isocenter approach in cases like this one means that the preliminary image-guidance for setup correction using CBCT is performed only once, whereas it had to be repeated as many times as the number of isocenters in our previous one-isocenter-per-lesion RapidArc® approach," Alongi said. "Treating a patient with 20 metastases using multiple isocenters would have required about 100 minutes for set-up correction, in addition to treatment time. You can imagine how much HyperArc has improved our efficiency with respect to our previous multiple-isocenters approach."2
HyperArc has also simplified the treatment planning for complex cases. "Manually planning single-isocenter treatment for multiple lesions is difficult unless you are a very experienced user," adds Alongi. "HyperArc automates the treatment planning by using several algorithms that allow planners, regardless of their level of experience, to devise an optimized plan for treating multiple brain metastases. HyperArc radiosurgery is a smart, user-friendly solution for clinicians treating patients with multiple brain metastases. It has enabled us to even consider retreating patients with intracranial local failures, which we were often unable to retreat in the past."
From Gamma Knife to RapidArc to HyperArc at the University of Alabama, Birmingham (UAB)
In October 2017, John Fiveash, M.D. and his team were the first in the U.S.A. to treat a patient using HyperArc at the UAB Comprehensive Cancer Center. At the time of this writing, they had treated 23 patients in 59 procedures using HyperArc.
"Our radiosurgery program treats more than 300 patients per year and has evolved to treat metastatic disease. HyperArc planning automates much of the radiosurgery treatment planning strategies that we have implemented at UAB by offering standardized treatment planning and delivery that leads to greater efficiency and higher quality with a decreased dependence on the expertise of the planner," notes Fiveash, Professor and Vice Chair for Academic Programs in the Department of Radiation Oncology at UAB.3
When the team began developing a single isocenter noncoplanar technique using Varian technology, they had long been performing brain radiosurgery on a Gamma Knife® system. "RapidArc single isocenter radiosurgery as performed at UAB is comparable to the Gamma Knife in terms of conformity, but has a dose delivery rate that is at least six times faster so that it can be completed in 20 minutes or less--a comparable Gamma Knife treatment might take between one and five hours, depending on the number of metastases. RapidArc also offers frameless immobilization."4
As they developed and improved their single isocenter approach, Fiveash and his colleagues found that they were using their Gamma Knife system less and less. "Over the last five years, our radiosurgery plan quality has improved to equal or exceed what was possible with our Gamma Knife.5 Physicians and patients prefer the frameless and highly efficient delivery on our TrueBeam and Edge systems. Our Gamma Knife was decommissioned June 2017, after only one patient was treated on the system in the calendar year of 2017. Our single isocenter approach using RapidArc has now evolved into HyperArc, which should enable more clinics to perform higher quality radiosurgery for more patients."

Once the HyperArc solution received clearance from the U.S. Food and Drug Administration, the UAB team switched to HyperArc radiosurgery because of its treatment planning and delivery advantages. Fiveash recounts a case where HyperArc enhanced the efficiency of treatment planning and delivery for a patient with one skull-based metastasis and four parenchymal tumors. "We needed to target five different areas. We used HyperArc, delivering 16 Gy to the cavernous sinus and 20 Gy to the other lesion using a single isocenter and one fraction. Her treatment would have been much longer if we had used the Gamma Knife, and much more difficult to plan using RapidArc because we would have to manually devise the plan."
The Beatson West of Scotland Cancer Centre
In October of 2017, clinicians at The Beatson West of Scotland Cancer Centre in Glasgow, U.K., began using HyperArc for radiosurgery to treat brain metastases.
"We began our radiosurgery program in 2005, and adopted the UAB manual single-isocenter noncoplanar technique with RapidArc in 2010. However, we've since found that the collimator angle optimizer with HyperArc spares more normal tissue in the brain by optimizing each rotation individually," notes Suzanne Currie, MSc, MSc PgDip, medical physicist & clinical scientific lead at Beatson. "For instance, we found that when we were using HyperArc--with the exact same beam arrangement and energy as the manual method--the volume of brain receiving 4 Gy was reduced by 28.7% because HyperArc helps reduce dose bridging in tumors."
Currie recalls a recent case where the HyperArc collimator angle optimizer made a significant difference to a 62-year-old woman with primary lung disease and two very distal metastases: One of the tumors was overlapping her brain stem. "Historically, we would have treated a tumor overlapping the brain stem using RapidArc to deliver 12 Gy. With HyperArc, we were able to increase the dose to 14 Gy while meeting the brain stem tolerance values, and deliver 16 Gy to the other metastasis. HyperArc enabled us to increase the dose to the tumors while simultaneously reducing the dose to normal tissues."6
Currie continues: "HyperArc streamlines the process of treatment planning and helps the planner produce high-quality plans quickly by automating features such as the normal tissue objectives and isocenter positioning. We are treating radiosurgery patients in about 14 minutes, and that's impressive," remarks Currie. "The higher plan quality offered by HyperArc also means that patients can be retreated."
Perhaps most importantly, HyperArc is making a difference in the lives of the youngest patients—children. Currie and her team treated a young child who had already received 19 fractions in phase one: 36 Gy to the target and 20 Gy to the surrounding bone to support consistent bone development. In phase 2, they delivered 19.8 Gy to the post fossa, which is the area they wanted to boost. "This patient was still in the growth development phase, and we were concerned that too much radiation might cause damage to the facial bones. Using HyperArc, we developed a boost treatment plan that delivered less than 10 Gy, which significantly reduced the risks of facial deformity due to radiation exposure."7
At Beatson, some 60 patients receive radiosurgery each year, and that number is steadily increasing due to the advantages of HyperArc. In the future, Currie and her team hope to complete planning and treatment in a single day for even greater patient convenience.
References
1. MacDonald RL, Thomas CG. Dynamic trajectory-based couch motion for improvement of radiation therapy trajectories in cranial SRT. Med Phys. 2015 May;42(5):2317-25. doi: 10.1118/1.4917165.
2. Ruggieri R, Naccarato S, Mazzola R, Ricchetti F, Corradini S, Fiorentino A, Alongi F. Linac-based VMAT radiosurgery for multiple brain lesions: comparison between a conventional multi-isocenter approach and a new dedicated mono-isocenter technique. Radiat Oncol 2018.
3. Thomas EM, Popple RA, Wu X, Clark GM, Markert JM, et al. Comparison of Plan Quality and Delivery Time between Volumetric Arc Therapy (RapidArc) and Gamma Knife Radiosurgery for Multiple Cranial Metastases. Neurosurgery. 2014 October; 75(4): 409–418. doi:10.1227/NEU.0000000000000448.
4. Ibid.
5. Ibid.
6. Data from internal studies at The Beatson West of Scotland Cancer Centre.
7. Ibid.
_____________________________________________________
Note: The quotes contained herein are the genuine experience of the attributed individuals.  No compensation was provided for this content.  Individual results may vary.