Adoption Has Accelerated Since Introduction in 2010
In late August 2019, Varian shipped the 3000th TrueBeam® radiotherapy system, representing a major milestone. Production of the unit began in late July, followed by quality control testing in early August. The 3000th TrueBeam was purchased by SUM Ultimate Medicare, a healthcare initiative of Siksha 'O' Anusandhan University, in the city of Bhubaneswar, Odisha, India. The unit arrived onsite in early November.  It is slated to be operational, after rigging and installation, in January 2020.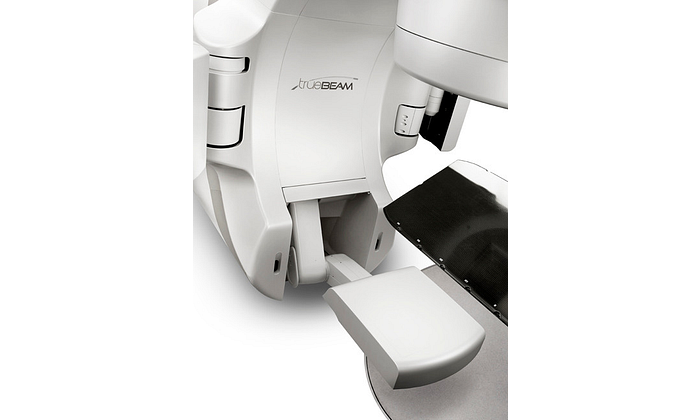 "We, at SUM Ultimate Medicare, are excited to have the new TrueBeam linear accelerator on our premises," said Dr Chira Ranjan Khadanga, consultant radiation oncologist. "We are thrilled to know it is the 3000th TrueBeam and feel lucky to have it, as it will be a valuable addition to our comprehensive radiation oncology program."
Adoption of the TrueBeam platform by cancer treatment centers worldwide has been accelerating. After its introduction in April 2010, TrueBeam orders reached 1000 by January 2015; 2000 by February 2018; and 3000 by August of 2019 —meaning the time to reach the next 1000th order decreased from 5 to 3 to 1.5 years.
To date, TrueBeam has received regulatory clearance in 141 countries, and has been installed in 90 nations.  Varian estimates that, around the world, some 1.5 million patients per year are receiving treatment on a TrueBeam linear accelerator (LINAC), reflecting the global impact of Varian technology.
"The TrueBeam system will enable us to treat patient after patient, year after year, with utmost accuracy at an affordable cost," noted Dr. Khadanga. "It will definitely bridge a big resources gap in terms of the availability of high-end radiotherapy services in the underserved resource-constrained state of Odisha, India."
TrueBeam, Varian's most advanced LINAC, was designed based on clinician feedback regarding how to advance the treatment of lung, breast, prostate, head and neck, and other types of cancer. The TrueBeam system incorporates a multitude of technical innovations to intuitively and dynamically synchronize imaging, patient positioning, motion management, and treatment delivery. TrueBeam uses intelligent automation to simplify workflow, with prompts, messages, and an amplified safety system that guide therapists step-by-step through each treatment.
"We chose TrueBeam among the LINACs available, because it a most versatile machine capable of treating a wide range of cancers with high accuracy and high precision," noted Dr. Khadanga, "What this means for patients is accuracy, speed, and comfort. What it means for medical professionals is the ability to treat many different and complex cancer cases."

About Siksha 'O' Anusandhan University
Under the leadership and guidance of Prof.(Dr) Manoj Ranjan Nayak, founder and president, SOA University has come to be recognized among the top universities of India.  The University's commitment to excellence is reflected in the fact that it has been ranked among the top 25 universities of India for the last four consecutive years, by the
National Institutional Ranking Framework (NIRF) of the Ministry of Human
Resource Development (HRD), Government of India.
The information captured herein represents the genuine experience of the attributed individuals and may not necessarily represent the views of Varian or the above referenced institution. Individuals were not compensated for their participation. Radiation treatment may not be appropriate for all cancers. Individual results may vary.  
---
Sidebar Article
The TrueBeam™ System Continues to Evolve
Alongside increasing demand worldwide, the TrueBeam platform has undergone continual innovation and advancement. The latest TrueBeam system, version 2.7, includes new tools, such as: HyperArc™ high-definition stereotactic radiosurgery; improved soft-tissue visualization via iterative cone-beam computed tomography (iCBCT); and enhancements to intrafraction motion management techniques. Automated gated CBCT reduces motion artifacts for easier soft tissue visualization and 4D online CBCT visualization and improved breath-hold workflows manage motion for high quality treatments — giving clinicians confidence that TrueBeam systems deliver treatments that are precise, accurate, and conformal.
Find out more about the TrueBeam radiotherapy system.