Many in the healthcare industry today regard the promise of data analytics as still largely unrealized: that is, extracting insights from large troves of data to improve decision-making.
There are manifold challenges that help explain this, including:
Data quality issues – whether from poor data capture, complicated or inconsistently-followed workflows, etc.
Data silos – data spread across various walled-off applications that don't talk to each other
A dearth of analysts with profound knowledge across clinical and data sciences
Lack of easy-to-use analytics tools
And yet, for those cancer centers and oncology professionals motivated to ask more of their data, there are near-endless opportunities for realizing powerful insights and becoming more data-driven once equipped with the right tools.
When Zack Smith of Baton Rouge Pennington General Medical Center first learned about InSightive™ analytics, his clinic was already in the midst of converting from its long-time EMR to Varian's ARIA® oncology information system. With radiation oncology being so heavily process-driven, the promise of extracting data from ARIA in real-time was enormously appealing.
"Suddenly we could put real numbers—live data—to the friction points we were seeing throughout the process of moving patients from consultation into treatment," said Smith, the center's director of radiation oncology and respiratory care.
Previously, the processing power required to run those huge data sets on the live server could have interrupted treatment. But with InSightive, it's now possible for Smith to create very anchored, intricate and detailed analyses — often in mere minutes — without tying up production resources.
"My boss, the COO, will text me from a meeting, asking about the referral trend for lung cancer cases. And I can text him back in five minutes. He really appreciates that we can synthesize data, analyze it and ship it out so fast.
"Without InSightive, that same data extraction and analysis might have taken weeks, even months," says Smith.
Being able to conduct an "on-the-fly" analysis and get a quantitative answer to an operational or clinical question means, for example, Smith can discover relatively quickly which initiatives are not yielding results and, if need be, switch tactics.
"We can invest in things that are working and stop pouring money down the drain," he says.
A prime example: Using an InSightive dashboard to analyze prostate cancer patients receiving external beam radiation therapy.
"InSightive showed me that volumetric modulated arc therapy (VMAT) treatment using Varian's TrueBeam® system takes seven or eight minutes," says Smith. "Whereas a similar treatment using our Siemens step-and-shoot system takes about 28 minutes. So I can do some quick back-of-napkin cost averaging and see, wow, how much is this saving us? That's what we need to invest in."
Surfacing such actionable insights ultimately translates to a more productive and efficient center—"a huge operational advantage," says Smith.
Another clinical process that benefitted from InSightive data mining was the center's IMRT planning, which, depending on the physician or clinic, was taking up to ten business days.
"I was able to pull data from InSightive showing where the bottlenecks were. And then, working with the stakeholders — dosimetrists, physicists, physicians, therapists — we could ask, 'What process changes could improve planning capability without sacrificing quality or safety?'"
As a result, the center is now able to reliably and consistently complete IMRT planning in just four days.
"Just imagine, you're a cancer patient who, instead of waiting almost two weeks, can start treatment in four days. That's absolutely huge," says Smith.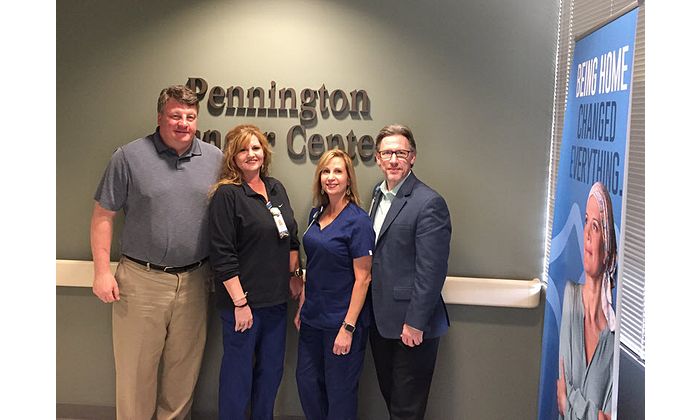 Zack Smith (far right) pictured with his colleagues (L to R): Brad Barhorst, physicist; Katie Fossier, senior therapist; and Tracey McDowell, chief therapist.
_______________________________________________________
The information captured herein represents the genuine experience of the attributed individuals and may not necessarily represent the views of Varian or the above referenced institution. Individuals were not compensated for their participation. Radiation treatment may not be appropriate for all cancers. Individual results may vary.