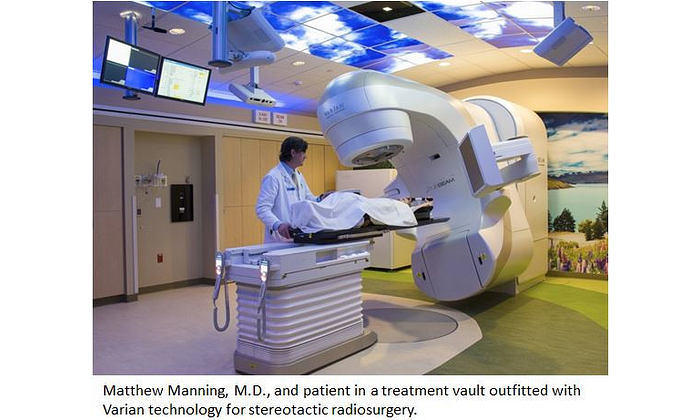 High-Tech Care in the Community Setting
Cone Health in North Carolina has built a stereotactic radiosurgery (SRS) and stereotactic body radiotherapy (SBRT) program that uses Varian's optical surface monitoring system (OSMS) to assess even the slightest motion in real-time. Clinicians there also employ a faceless mask for improved comfort when immobilizing patients for treatments in the head or neck.
"Our cutting-edge technology enables us to treat multiple brain metastases in less than 20 minutes," remarks Benjamin Sintay, PhD, chief physicist at Cone Health. "Treating one of the highest volumes in North Carolina each year, we have a great opportunity to impact a large number of patients, and we don't take that responsibility lightly. We're heavily invested in using the most advanced technology and providing the best service to our patients and community."
Frameless SRS program with optical surface monitoring system (OSMS)
"What makes us unique," says David Wiant, Ph.D., senior physicist, "is that as a community center, we are focused on innovation and change: We spend time on applied research and translating our research from the lab to the patient-care setting."
Before the team started the in-house frameless SRS program in 2010, they spent a year and a half preparing for its launch, performing technical testing, choosing the right technology, and organizing the key players.
"We were looking for a radiosurgery machine that was super high tech and that could handle complicated SRS cases – both intra- and extracranial radiosurgery – as well as quickly and accurately treat other diseases such as prostate cancer," remembers Sintay. "Varian's TrueBeam® STx won in every category and has provided excellent precision and efficiency. We quickly adopted the ARIA® oncology information system and Eclipse™ treatment planning, and everything performed so smoothly that we subsequently standardized using Varian technology across our system. In addition, we are using Varian's RapidPlan™ knowledge-based planning software to create high quality treatment plans for our prostate patients and to develop models for treating lung SBRT, as well as head and neck cancer."

OSMS: non-ionizing real-time surface tracking
"OSMS allows us to manage patient motion, as well as verify and monitor patients in real-time, and Varian equipment offers high dose rate beams and incredible accuracy," states Wiant. "Together, they enable us to perform advanced treatment methods we wouldn't have attempted five years ago."
Fully integrated with Varian technology, the optical surface monitoring system is a 3D tracking solution that consists of three camera units set up around the patient. Instead of localizing patients based on three points in space with lasers and tattoos, OSMS can localize patients by tracking 3,000 points on the surface of the patient's body, without using ionizing radiation, implanting fiducials, or making marks on the skin. If a patient's position changes and is outside the thresholds that have been predefined by the clinical team, the OSMS stops the beam using an automatic beam hold function.
Currently, about 80 to 90 percent of all patients receiving radiotherapy at Cone Health are treated with OSMS, including virtually 100 percent of the SBRT patients. The Cone Health team commonly uses OSMS as a secondary system to cone-beam CT image guidance when monitoring patients because it allows them to see patients' positions in real-time, ensuring that they are in the right position throughout the treatment. According to Wiant, his clinical team is in the process of adopting an OSMS-based process for treating all SRS patients.
Certain patients – such as those being treated for breast cancer, superficial tumors or those who are receiving high dose treatments to areas like the liver, spine, lung and brain – are treated with OSMS for patient verification, setup, and monitoring while all others are generally treated using OSMS for patient verification and monitoring.
"The payoffs for patient care have been huge," notes Wiant. "Not only is it simple and easy to learn and use, but OSMS has greatly reduced gross errors over the past years, decreased the number of images we've had to take, lowered the imaging dose to the patient, and shortened treatment times. We are now confident that our patients are in the correct position, and we have improved the accuracy of care, especially for our breath-hold treatments."
Improving lung SBRT and intracranial SRS
According to Wiant, lung SBRT treatments using OSMS and the TrueBeam system are often completed in just two minutes, once the patient has been set up and verified, greatly reducing the amount of time the patient is immobilized on the treatment couch. Using earlier generations of technology, these treatments often took anywhere from 30 to 60 minutes.
In addition, treatments for multiple brain metastases are often completed in less than 20 minutes. "We really benefit from the flexibility of Varian products, particularly how easily they allow us to innovate. Using the Truebeam STx, Eclipse, and ARIA, we have developed our own methods and algorithms for treating multiple metastases," states Wiant. "The benefits to patients are remarkable. We are able to create high quality plans very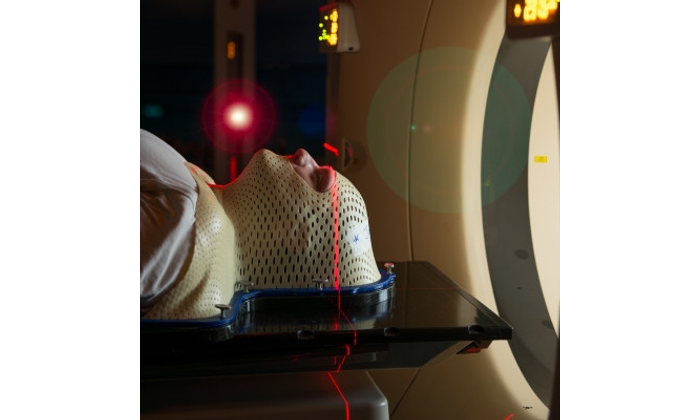 quickly for patients who have many targets. In a traditional treatment paradigm, many of these patients would probably not be offered stereotactic radiosurgery because they couldn't lie on the table long enough to complete the process, which used to take up to three hours."
Another Cone Health innovation is improved immobilization techniques for better patient care. When the team initially started its SRS program, it used a frameless mask that molded to a patient's face and then hardened. However, about three years ago, they helped develop a faceless mask at the Wesley Long campus. "By allowing patients to see and breathe more easily, the faceless mask minimizes patient discomfort and anxiety," notes Wiant, "especially for those patients who are claustrophobic."
Cone Health has two community cancer centers: Cone Health Cancer Center at Wesley Long in Greensboro and Cone Health Cancer Center at Alamance Regional in Burlington. Wesley Long is one of the largest cancer centers in the state. In 2011, Cone Health Cancer Center at Wesley Long was among the first sites in the nation and the first in North Carolina to deploy TrueBeam STx technology.
Combined Varian technology at both cancer centers includes four TrueBeam systems and an older Clinac® machine; five optical surface monitoring systems; ARIA and Eclipse software; and for brachytherapy: two Gammamed™ Plus IX afterloaders, an Acuity™ imager, and VariSeed™ brachytherapy treatment planning software.
Improving the quality and reducing the cost of SRS/SBRT at Cone health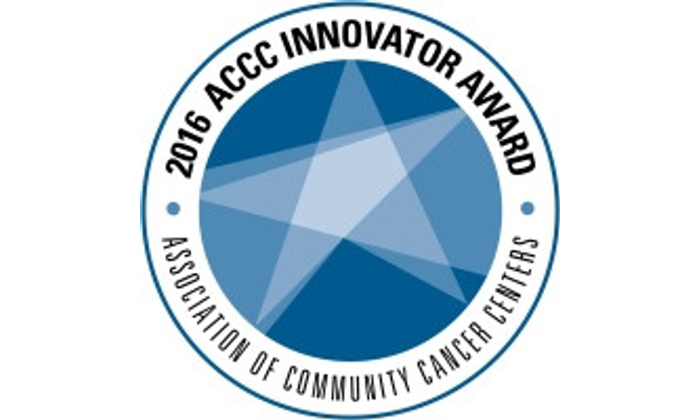 Matthew Manning, MD, radiation oncologist at Cone Health, and his team have developed unique multidisciplinary models of collaboration that are improving the quality of care for SRS/SBRT patients while lowering costs. In recognition of his work, the Association of Community Cancer Centers (ACCC) has awarded Cone Health the 2016 innovator award.
Manning and his team studied Medicare claims data over the course of a year for over 31,000 patients focusing on those diagnosed with cancer and receiving treatment at Cone Health. They identified the top five percent of oncology patients who were spending more than 50 percent of health care dollars.
"We found that five percent of our patient population was not getting the best quality of care because of missed opportunities to treat a health problem before they ended up in the emergency room or intensive care unit," states Manning. "The unifying factor was that all of these patients had a high level of medical illness along with cancer."
To close the gaps in their care, the Cone Health team created unique multidisciplinary models to coordinate oncology care. For instance, they established an oncology-cardiology clinic, to screen breast cancer patients for possible heart damage from their oncology treatments, preventing comorbidities like congestive heart failure. In addition, they established a symptom management clinic and added a nurse practitioner to their brain and spine tumor clinic to provide palliative care. These efforts can cut costs without restricting access to high tech SRS/SBRT treatments.
"We are seeing a convergence of increased financial value, quality of care, and patient satisfaction as we close the gaps in care," says Manning.