In May of this year, Varian introduced a new device for cancer treatment, engineered to revolutionize clinical workflow and enhance virtually every aspect of image-guided volumetric intensity modulated radiotherapy (IMRT). The new Halcyon™ treatment system was unveiled at the 2017 meeting of the European Society for Radiotherapy & Oncology (ESTRO). It is designed to expand the availability of high quality cancer care globally and help save the lives of millions more cancer patients.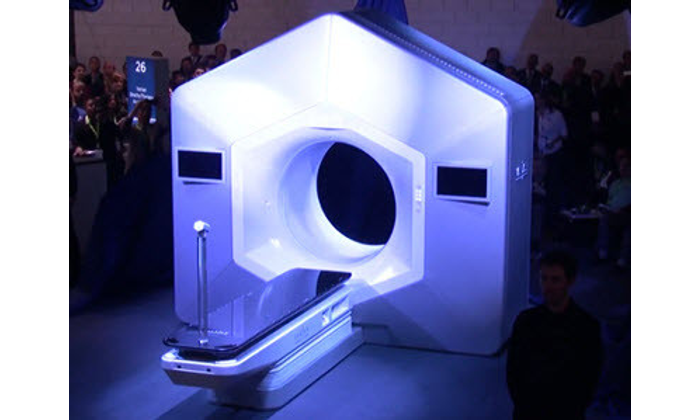 The Halcyon development team, which worked on the project for roughly four and a half years, was challenged to create a human-centered design that would automate, streamline and simplify virtually every aspect of treatment. "We were challenged to create a breakthrough product," recalls Ross Hannibal, a Varian engineer and user interface expert who worked on the project. "So we really pushed in the direction of radical simplicity. Rather than start with a complicated design and then try to take things out, we started with an empty box and carefully put things in—but only if they added significant value. Our consistent goal was to minimize complexity without losing functionality."
The result is an advanced system that is designed to be easier to use and more comfortable for the patient. Other benefits include accelerated installation timeframes, expedited commissioning, and simplified training. Halcyon treatments will require only nine steps from start to finish.
High Quality of Care
Halcyon is designed to achieve high-quality care by optimizing rapid image-guided IMRT and RapidArc® radiotherapy. Every patient will receive treatment characterized by a high level of clinical quality in terms of dose conformality and low dose to organs-at-risk because of three attributes that work synergistically: 
The machine's speed, which enables the use of more fields or arcs within a normal treatment time slot.
A unique dual-layer MLC that enables high modulation with low leakage for every field or arc.
A streamlined workflow whereby 100% of treatments are image-guided.
"The gantry rotates four times faster than a standard linac for fast IMRT treatments," said Mu Young Lee, director of new product solutions at Varian. "Cone-beam CT imaging can be completed in 17 seconds. Since the MV imager is always in the beam's path, you do not waste any time deploying it; and this, too, speeds up treatment. As an extra measure of quality, the MV imaging dose is included in treatment plan optimization."
The New Generation Dual-Layer Multileaf Collimator
Halcyon features a patented dual-layer multi-leaf collimator (MLC) that has been optimized for modulated treatments. It can move twice as fast as traditional MLCs to support the gantry rotation speed and the high dose delivery rate of the system's 6 MV FFF beam, allowing excellent modulation for high-quality treatments. The Halcyon MLC has a "stacked and staggered" design with 100 percent interdigitation, which enables the system to offer sophisticated beam shaping for conforming the dose to the desired treatment targets, and an unprecedented 0.01 percent interleaf leakage.
Fast Delivery of High-Quality IMRT and RapidArc Radiotherapy
The faster gantry rotation speed, MLC speed, and high dose delivery rate—carefully synchronized by Maestro, the system's integrated digital architecture originally developed for the TrueBeam® system—make Halcyon ideal for delivering efficient IMRT and RapidArc® radiotherapy. These capabilities will make it possible to deliver complex IMRT plans in the same timeframe as a typical RapidArc treatment. They will also enable the use of multiple RapidArc trajectories quickly when indicated for treatment quality. Consequently, clinical teams will be able to choose the approach that is best for each patient without impeding throughput or operational efficiency.
"The unique and innovative design of the Halcyon system will allow clinicians to treat patients quickly and minimize intrafraction motion, which is extremely important when treating patients with pelvic tumors such as prostate cancer and cervical cancer," said professor Karin Haustermans, MD, chair of the department of radiation oncology, UZ Leuven. "The short Halcyon treatment times could also eliminate the need for breath holds traditionally required during breast, esophageal and lung cancer treatments. Additionally, the ultrafast imaging and simplified integrated workflow gives us a path to adaptive therapy."
Operational Excellence: Optimized, Simplified, Expedited Care
Many factors contribute to making Halcyon a transformative new system with the potential to impact the overall economics of cancer care. Among them:
A consistent simple workflow. Standard image-guided IMRT or RapidArc treatments are completed in nine intuitive steps.
Reduced physics QA. The TG142 test requirements applicable for Halcyon are about half that of a standard C-arm linac. This frees physicists to focus on complex patient cases, research, or other priorities.
Low electricity consumption. With Halcyon, typical electrical usage is about half that of a standard high-energy linac during beam-on and stand-by modes.
SmartConnect™ remote servicing. Every Halcyon system is SmartConnect enabled, so that Varian personnel can perform diagnostic and support services remotely, via network connection.
IT security. Halcyon ships with security-hardened versions of Eclipse™ treatment planning and the ARIA® oncology information system.
Fast Clinical Deployment
Halcyon was designed to offer a fast path from acquisition to clinical deployment. To assist in the reduction of time and construction costs from installation to first patient treatment, Halcyon comes pre-commissioned, requires less shielding than traditional systems, and it can fit in a vault as small as 5.9 meters (19.68 feet) x 5.539 meters (18.17 feet) x 2.743 meters (8.99 feet) high.
"Halcyon is designed to be installed in two weeks or less," said Lee. "The major components of the system will ship in two crates for easy transport through freight elevators. The gantry bolts directly to the floor and the couch is connected to the gantry frame, so there is no need for a base frame. This minimizes the amount of concrete work needed. Varian can install all of the integrated components—the intercom, the camera, the lasers, the solid state modulator, and the shielding—together as one unit."
The clinical team can master the simplified workflow very quickly. Training will be delivered onsite, and through a multi-media eBook manual including animations, videos, and step-by-step instructions that can be installed on a tablet.
"By simplifying the entire treatment process, the Halcyon system presents the ideal platform for training and upskilling healthcare workers in best practice delivery of radiation oncology," said Mark Middleton, CEO, Icon Group, Australia's largest private cancer care provider, which plans to use Halcyon both domestically and in southeast Asia. "The Halcyon system will amplify our response to the global cancer challenge, by allowing us to support the emergence of a radiation-oncology-competent workforce [that is] able to deliver cutting-edge treatments."
Human-Centered Design: Maximizing Patient Comfort and Clinician Confidence
Halcyon was designed to enhance patient comfort. The couch descends low to the ground for easy loading and unloading. The system features a spacious, 100-centimeter diameter bore with integrated ambient lighting, designed to contribute to patients' comfort and relaxation. The couch and gantry are powered by linear brushless motors so that machine motions are smooth and virtually silent, even during acceleration and deceleration.
The integrated couch-mounted camera travels with the patient, who is always at the center of the large image that appears on the treatment console. A noise cancellation feature on the integrated intercom enables immediate and clear communication between the therapist and the patient.
Patient Safety
Halcyon was designed with a six-point safety system. Patient verification has been integrated into the workflow. An enclosed gantry will prevent any chance of collision with the patient, and collision detection technology will pause treatment or motion in the rare instance when a patient bumps the wall of the bore. An automated daily machine performance check takes only five minutes to verify that all mechanical axes remain within specifications. And all treatments are 100 percent image-guided to reduce uncertainties in patient setup.
Clinical Staff Experience
Halcyon was also designed to improve the experience of the clinical team. Simplified and standardized treatments can be completed in just a few consistent steps that are signaled by a "follow the light" workflow that was first developed for Varian's TrueBeam platform, making the therapists' job easier and freeing them to focus more on the patient. The color-coded workflow steps are presented to the therapist at both the treatment console and on screens within the vault. All of the controls, screens, buttons, and cubbies were designed ergonomically for quick access during treatment.
"The global cancer challenge is enormous," said Kolleen Kennedy, president of Varian's Oncology Systems business. "It is expected that there will be 24.6 million cancer cases diagnosed annually by 2030, and there is an acute shortage of equipment and trained clinicians. With the innovations in this new technology platform, the system will deliver high quality Halcyon treatments that empower clinicians to care for many more patients. We are very excited, with the introduction of Halcyon, to be taking another big step toward advancing cost-effective cancer care worldwide. We expect this system to provide a pathway to adaptive radiotherapy as well as opportunities for research into new treatment protocols."