Perinteinen Naisten Kymppi -liikuntatapahtuma juostiin lauantaina 25. toukokuuta Helsingissä. Tapahtumapaikkana oli uudistuvan Olympiastadionin kupeesta löytyvä Mäntymäen kenttä.
"Lähdimme jo toista kertaa joukolla Naisten Kymppiin. Tapahtuma oli jo viime vuonna niin mukava ja yhteishenkeä kohottava kokemus, että päätimme ilman muuta osallistua tänä vuonna uudelleen. Tästä tulee jokavuotinen perinne!" kertoo Varianin Operational Support Manager Teija Laakkonen. Varian tarttui haasteeseen siis jo toista kertaa ja tällä kertaa mukana oli 20 juoksijaa. Kuten viime vuonnakin, joukkue edusti myös tänä vuonna hyvin Varian Finlandin monikulttuurista ja monimuotoista työntekijäkaartia. Osallistujilla oli taustoja peräti kahdeksasta maasta. Edustettuina olivat tänä vuonna Kiina, Yhdysvallat, Armenia, Bangladesh, Filippiinit, Portugali, Bolivia ja Suomi.
"Yksi Varianin ydinarvoista on kumppanuus ja yhdessä tekeminen – Partner for Life – joka ohjaa tavoitteitamme ja työskentelytapojamme. Oli kiva päästä jatkamaan yhdessä tekemistä kuntoilun ja terveen vapaa-ajanvieton merkeissä, ja samalla luoda positiivista näkyvyyttä", Laakkonen sanoo. Varian Medical Systems Finland sponsoroi osallistujien rekisteröintimaksun. Kuten aiempinakin vuosina, Naisten Kympin tuotot suunnattiin myös tänä vuonna Suomen Urheiluliiton toimesta lasten ja nuorten yleisurheiluharrastuksen tukemiseen.
Varianin juoksijat perustivat viime vuonna oman keräysspotin Suomen Syöpäsäätiön Roosa nauha -keräyksen tukemiseksi ja osallistujat keräsivät rahaa samaan tarkoitukseen myös tänä vuonna. Roosa nauha -keräyksen tavoitteena on edistää naisten syöpien tutkimusta ja vaikuttaa siihen, että yhä useampi syöpä voidaan ehkäistä ja hoitaa, sekä varmistaa että jokainen syöpään sairastunut saisi tarvittavan tuen sairauden eri vaiheissa.
"Naisten Kymppi on hieno tapahtuma, jossa yhdistyvät monet sellaiset piirteet, jotka kuvaavat myös Variania. Me uskomme yhdessä tekemiseen ja paremman, terveemmän maailman puolesta työskentelemiseen niin työpaikalla kuin sen ulkopuolellakin", hymyilee Varian Finlandin toimitusjohtaja Kari Toimela.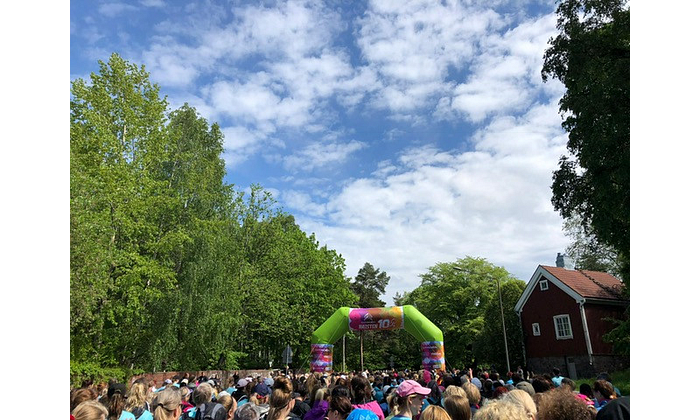 GIRL POWER AT WOMEN'S FUN RUN À LA VARIAN
Finland's biggest women's wellbeing and running event Women's Fun Run took place in Helsinki on Saturday the 25th of May. 10 kilometer route went around the beautiful scenery of Helsinki city center.
"It was already second time Varian were doing the Women's Fun Run together. Since we had such a great time last year so there was no question whether we would participate again this year or not. This is definitely going to be our new tradition!" says Varian Finland's Operational Support Manager Teija Laakkonen. As it did last year, the line-up of Varian's Fun Run team reflected nicely company's Helsinki branch's versatile and multicultural work environment with runners hailing from eight different countries: China, USA, Armenia, Bangladesh, Portugal, Bolivia, Philippines and of course Finland.
"One of Varian's core values is about uniting and doing things together – being "Partner for Life" – which guides our daily work. It was great to be able to keep up the feeling of togetherness again this year, while generating positive visibility for the company," Laakkonen continues. Varian Medical System Finland covered the registration fee for the participants. All the proceeds of the yearly Women's Fun Run are forwarded by the Finnish Athletics Federation to support the track-and-field pastime of Finnish youth and children.
Last year the runners from Varian created their own fundraiser to support the Cancer Society of Finland's Pink Ribbon (Roosa Nauha) charity campaign and the team raised money for the same cause again this year. The Pink Ribbon campaign supports research of women's cancers, as well as the prevention and treatment of cancer in women, and helps to ensure that everyone living with cancer receives the support they need through all stages of the affliction. "Women's Fun Run is a wonderful event that has many similarities with Varian. We believe in team work and working for the better, healthier world both at and outside of the workplace," smiles Varian Finland's Managing Director Kari Toimela.