Since opening its doors in March 2020, Proton International at UAB—a collaboration between the University of Alabama at Birmingham and Proton International—has been a remarkable success story. Its sole gantry is virtually always fully occupied, drawing a steady influx of patients who come seeking state-of-the-art proton therapy.
UAB owes some of that that success to being the only proton therapy facility in the state of Alabama and the surrounding region. But there is another, more compelling explanation: UAB has proven itself a model of coordination and efficiency.  Within a short time—and despite the COVID pandemic—the clinical team was treating up to 40 patients per day and demonstrating  that a single-vault facility—compact, streamlined, and less expensive than a multi-room facility—is indeed a realistic option for centers looking to add this important treatment modality to their armamentarium.
In March 2020, the UAB proton center became the second site in the U.S. to commission a Varian ProBeam® compact proton therapy system. This system incorporates all the functionality of the larger, multi-room ProBeam systems, including a fully rotational gantry and pencil-beam scanning for intensity modulation. 
According to radiation oncologist J.W. Snider, MD, the UAB Proton Center's medical director, the challenge for a single-vault proton therapy center is different from the challenges faced at a multi-room center.  "Multi-room centers have to worry more about bringing in a sufficient volume of patients to meet the center's obligations," he said.  "With the clear need for this technology in Alabama and surrounding states, and with this being the only center in the state, our focus shifts to how efficient we can be so that we can get more patients into treatment during a given time period."
Prioritizing Complex Cases and Establishing Trust with Insurers
From the start, the UAB Radiation Oncology team committed to prioritizing complex cancers and treatment sites—head and neck, base of skull, brain, spine, and others—that most urgently require proton therapy. 
"We decided from the outset that we would focus on the patients for whom there are the clearest data that this therapy significantly improves their outcomes, in terms of improved cure rates and reduced side effects," said Dr. Snider.  The UAB physician, physics, dosimetry, and therapy teams meet twice weekly for "Proton Rounds" to review patient cases and assess appropriateness for this modality.
As a result of UAB's thoughtful case strategy, negotiations with insurance providers and individual case reviews have been more productive and fruitful.  
"We've selected and submitted highly complex, difficult-to-treat cases," said Dr. Snider. "It's much easier to convince a private insurer that, for example, a high-risk base-of-skull or paranasal sinus or nasopharyngeal cancer patient deserves proton therapy as opposed to those with other disease sites for which the data are less clear.  This leads to more approvals based on criteria and evidence that are already in the literature for proton therapy.  Payors are increasingly inclined to approve an initial claim and, in the event of a denial, to more thoughtfully consider the proton center's appeal submissions."
"They [the insurance companies] now tell us that they believe that we are doing our best to pick the right treatments for patients," says Rex Cardan, Ph.D., the center's director of proton physics.
The center advocates aggressively for patients who might not be on the standard indications list but who, in the opinion of its clinical staff, would still benefit meaningfully from proton therapy.
"We are aggressive in our advocacy for any patient that walks through our doors," added Dr. Snider.  "I think our smaller bandwidth in this center affords us the ability to focus our efforts more intensely on each patient and their individual needs – from insurance approval to housing during therapy to treatment planning to treatment delivery to follow-up.  We endeavor to not miss any step or opportunity in the process, and we all end up knowing every patient in the center by name. We will go to any length to provide proton therapy to a patient who will benefit. That's easy to do when you believe in your therapy and know it makes a difference for patients."
Built from the ground up and staffed from within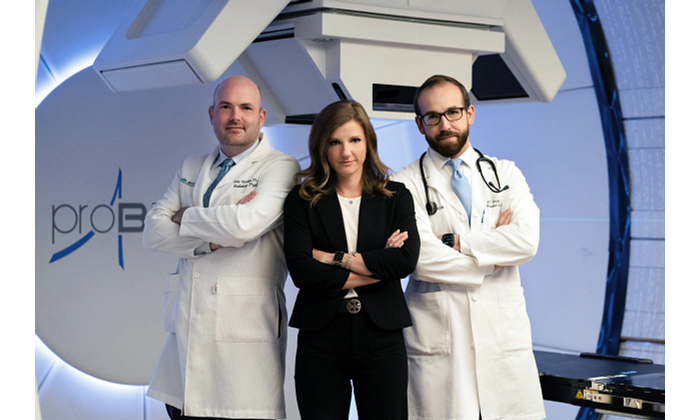 When recruited to UAB, Dr. Snider was one of the few transplants, brought in particularly for his experience and expertise with proton therapy.
The center developers and the UAB Radiation Oncology department went on to staff the center from within the practice. The same radiation oncologists continued to focus on their disease site specialties, only with this new cancer-fighting tool in their toolbox. Members of the same UAB nursing, dosimetry, physics, and ancillary staff teams were transposed to the new center. 
As expected, they quickly adapted. For example, experienced radiation therapists from within the UAB system who, although lacking a background in protons, had been working with Varian technology and quickly acclimated to Varian's proton therapy environment.  The ProBeam system uses the same interface Varian developed for its industry leading TrueBeam® platform.  Clinicians who use Varian technology to plan and deliver conventional radiotherapy can learn to operate the ProBeam system quickly because they can leverage their prior experience with other Varian systems.  
"Plus, we were able to think creatively about issues, going outside how other proton centers typically approach things," said Dr. Snider. "We had those fresh eyes—not necessarily doing it the way it's always been done, but instead asking, 'Why don't we try it this way?' And, in hindsight, I think that's actually been really beneficial." 
Careful planning for efficiency, empowered by ARIA
According to Dr. Snider, the UAB clinical team spent a considerable amount of time thinking about process, long before the center opened.  "We mapped how we were going to select patients, how we would review their cases, how we would handle insurance challenges, how we would accomplish planning and review plans," he said.  "The physicians in our group all understand that our capacity is limited, so they start out being selective about who they refer and present the cases for which they feel proton therapy will offer an exceptional benefit."
Those cases are presented at the twice weekly Proton Rounds.  "No case comes into the system and gets planned for protons without the physician group having jointly determined the patient will benefit from proton therapy in a meaningful way," said Dr. Snider.  "We also have 'slotting' procedures.  We meet once a week, and the physicians talk through the patients that are coming for treatment.  We slot, or assign, each new patient start based on housing, insurance, treatment complexity, time on the machine, patient case urgency, clinical scoring of patient priority, etc. We meet weekly with the dosimetry team so they know which cases to prioritize—the ones that are most urgent to get into treatment."
The staff also relies heavily on the ARIA® oncology information system to assist with resource planning. They sift through patient data and monitor schedules to tease out actionable insights.  Dr. Snider says they "evaluate regularly projections for treatment times and adjust slotting times dynamically throughout the course of treatment to accommodate as many patients as possible."
"It's important to know your data really well," said Dr. Cardan.  "We have harnessed the openness of the ARIA database and created scripts and programs that pull specific data for us.  We can determine things like how long it is taking to treat a particular type of patient on average.  Then we have a script that runs once a week and checks on how efficient we are with our scheduling."
"Maybe the data tell us that a type of treatment is only taking 10 minutes, not 20," added Dr. Snider. "So we try to shorten those appointments and hopefully fit in another patient."
The center schedule also incorporates patient QA conducted on weekends and periodically throughout the week, as well as machine QA run by the Varian engineering team each night after 10pm. 
"We have the machine from 6am to 10pm, and then it is turned over to Varian for overnight maintenance," said Dr. Snider.  "That gives us 16 hours of time on the machine per day, and patient treatments take an average of 15-20 minutes.  It's a limited resource, and that has forced us to think about how to run leaner and faster while still maintaining the highest quality in our planning and delivery."
Promoting the center largely by word of mouth
UAB's early success is especially impressive given that it opened at the same time—almost on the same day, in fact—that COVID-19 was being declared a global pandemic. For that reason, it couldn't engage in the type of physician outreach that typically accompanies the launch of a proton center. 
Still, news of UAB's opening spread quickly among Alabama's clinical community—largely by word of mouth and social media, and within a few short months it was functioning at close to full capacity. 
"We didn't have plans to do a lot of marketing in the first year," said Lindsay Pruett, Proton International at UAB Center administrator.  "We wanted to see what the center would do on its own, drawing from the referring physician sources already sending patients to the UAB Radiation Oncology Department for treatment.  Then, if we needed to invest in some marketing, we would have done that.  I think it speaks volumes that we were able to reach capacity without putting forth a lot of marketing effort," she added. "The center kind of sold itself because there was clearly a need in this state."
"We did reach out to surrounding offices to make sure referral sources knew what we had," Dr. Snider added. "But the arrival of a proton therapy facility, particularly one associated with a national leader in cancer care like the O'Neal Comprehensive Cancer Center at UAB, is pretty big news for the medical community.  We've had patients come from all over the state, and then when they go back to their oncologists for longer-term follow-up, those doctors come to understand what we can do and start calling to ask if this or that patient might be a candidate.  We worked hard to bring our UAB colleagues in multiple disciplines up to speed with this technology quickly, as we wanted to utilize the existing referral patterns in our community and to our physician group.  So, if Dr. X is used to calling Dr. Y at UAB to consult for radiation on a complex case, we invested in making sure Dr. Y knows why and when to say: 'I would recommend proton therapy for this patient.'"
Now that vaccines are widely available and the pandemic appears to be winding down, the center may gradually begin conducting more regional advertising and outreach to physician offices and cancer centers across the state.  "However, patient volume is not a huge issue here," said Dr. Snider.  "Our group of physicians really put in the effort to plan and deliver proton therapy at the highest level from Day 1.  We think the results speak for themselves, and hopefully, will help us to reach patients who can most benefit from access to proton therapy in our center."
---
The information captured herein represents the genuine experience of the attributed individuals and may not necessarily represent the views of Varian or the above-referenced institution. Individuals were not compensated for their participation. Proton therapy may not be appropriate for all cancers. Individual results may vary.  For more information, please visit www.varian.com/safety.