The use of multidisciplinary collaboration through tumor boards leads to changes in diagnosis, treatment, and survival, and it is the best way to deliver the complex care needed by cancer patients, according to recently published long-term research1.   Operationalizing such collaboration can be a challenge, however, according to a panel of experts who came together for a VarianVision webinar on the importance of multidisciplinary cancer care and optimal approaches to working across specialties to help improve patient outcomes.
Panel participants, plus the moderator, Deepak Khuntia, MD, Varian's chief medical officer (pictured above), all agreed that multidisciplinary care is growing in importance as advances in fields, such as increasing use of genomics and radiomics, advances in surgery techniques, increasing use of advanced radiotherapy modalities, and a greater diversity of effective systemic therapy, add to the complexity of patient management decision making. The choice of local therapy in patients not undergoing surgery "used to be simple," said Charles Simone, MD, chief medical officer at the New York Proton Center. "Now, we have many more options, such as conventional radiation, SBRT, ablative procedures … so it's very important to really think through a multidisciplinary approach and what are the best modalities for each individual patient."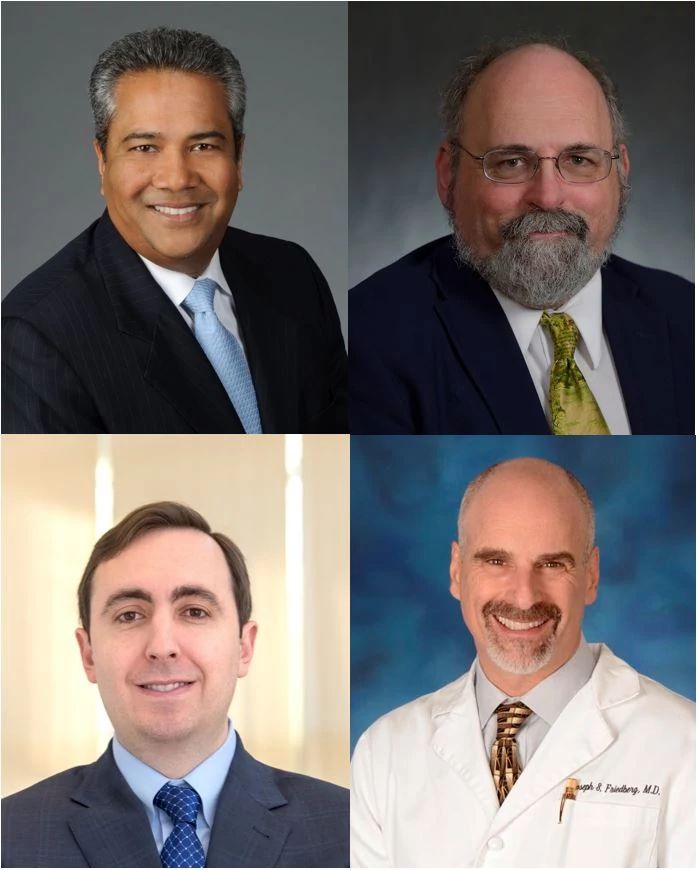 From upper left to lower right: Aravind Arepally, MD; Corey Langer, MD; Charles Simone, MD; Joseph Friedberg, MD
Still, challenges exist to create and manage an effective multidisciplinary team, whether structured by specialty (pediatric sarcomas, for example), or according to patient volume and the skill set of the team. Corey Langer, MD, director of thoracic oncology at the University of Pennsylvania Abramson Cancer Center, stated that having a dedicated coordinator distribute cases early to his tumor board helps everyone prepare and be time efficient. Other tips shared included documenting all decisions made during conferences, maintaining a database of cases that includes treatments and outcomes, and either seeing the patient straightaway or following up within 24 hours of meeting. Some facilities offer free CME credits as an incentive to ease the challenges of scheduling.
All panelists agreed that advances in technology, such as the use of web-based conference tools, online medical record systems, data integration with imaging, tools for accessing clinical trials, and artificial intelligence for best practices and recommendations have an important role to play in the evolution of multidisciplinary conferencing.  "COVID has certainly brought to light how good telemedicine can be in this respect," said Joseph Friedberg, MD, Charles Reid Edwards Professor of Surgery and head of the Division of Thoracic Surgery at the University of Maryland School of Medicine. 
Equally important, the panel agreed, is having all the right specialties and subspecialties with an equal, respected voice at the table—including the referring physician where practical. Dr. Langer's multidisciplinary thoracic tumor board comprises representatives from both medical and radiation oncology, thoracic surgery, interventional pulmonary, radiology, pathology, and nurses and social workers. "Each discipline is absolutely critical to the proper execution of a treatment plan and any missing link will really detract from the final plan," he said.
Aravind Arepally, MD, adjunct professor of radiology and radiological sciences at Vanderbilt University and a practicing interventional radiologist at Piedmont Healthcare, agreed, citing several cases in which he is now actively involved in multidisciplinary tumor boards: "There are now dedicated interventional radiologists that only do oncology, and it's important for them to be involved, too, whether it's for a biopsy or an ablation, or anything else—it's a growing field."
Access a replay of the webinar.
Reference
1  Specchia, M.L., Frisicale, E.M., Carini, E. et al. The impact of tumor board on cancer care: evidence from an umbrella review. BMC Health Serv Res 20, 73 (2020).