Acquired in 2014, Velocity is a technology that enables clinicians to collect, integrate, and share patient imaging and treatment information. With Velocity, clinicians can:
*  Make more informed, data-driven clinical decisions for patients

*  Increase operational efficiency in expanding care networks

*  Improve quality care around the globe
Velocity™ was developed by oncologists to overcome a fundamental obstacle to delivering quality care—the proliferation of disconnected silos of patient data. Velocity unifies patient imaging and treatment information acquired from different systems—at different times and in different positions—to provide a comprehensive view of the patient's clinical history. Having this complete picture helps physicians make more confident clinical decisions for individual patients. Velocity can be used to improve the clinical care workflow and optimize clinical efficiency on a departmental, systemwide, regional, and perhaps even a global scale. In this article, some experienced Velocity users share their perspectives on its value and impact on the frontlines of cancer care.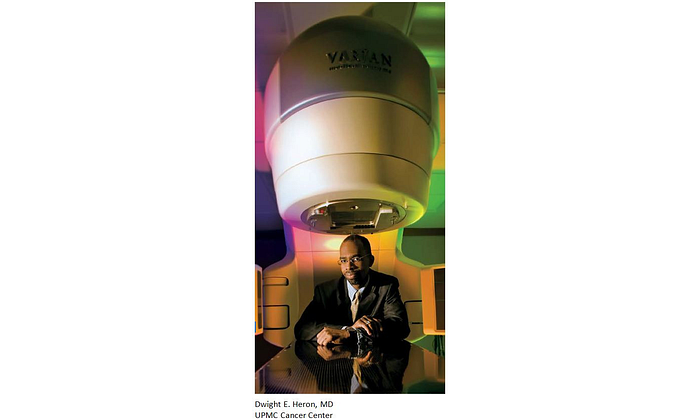 More confidence in tumor assessment
Clinicians at the 24 regional facilities that make up the UPMC CancerCenter use Velocity tools to help take the guesswork out of assessing tumor response and make treatment decisions more confidently. When patients return for follow-up after a course of therapy, diagnostic images often raise troubling questions: Original tumor or recurrence? Inside the treatment field or out? Comparing pre- and post-treatment images side by side doesn't provide the certainty that clinicians need for retreatment decisions. That's where Velocity tools come into play.
"As patients live longer, we may be delivering multiple courses of treatment to the same site or to a proximal site," says Dwight E. Heron, MD, director of radiation oncology at UMPC CancerCenter. "Being able to gather the plan and associated dose information from previous treatments and being able to identify the tumor and say with confidence, 'Yes, this is a new tumor' or 'No, this is the old tumor that you treated before' has proven to be very valuable from a clinical perspective."
Heron provides a case in point. A patient with metastatic colorectal cancer was treated radiosurgically for two lung lesions close to each other in the right upper lobe, with apparent complete response. A year and a half later, she presented again with a lesion in the right upper lobe. By fusing her new PET/CT, the previous CT, and the dose distribution from her treatment plan, Heron was able to see clearly that the lesion was, in fact, a new one and that it was outside the area that received dose during the previous treatment. "We used Velocity to determine that we could treat the tumor without worrying about overlapping the dose from her first radiosurgery," says Heron. "Velocity allows us to assemble images and previous plans into one workspace. The ability to compare a patient's current plan and previous plans helps us minimize the risk of overdosing specific targets." As clinicians gain more experience in the use of Velocity as an evaluation tool, Heron sees new strategies opening up for the retreatment of patients.
Clinicians at Thompson Cancer Survival Center in Tennessee also use Velocity to support retreatment decisions. "For all patients who have been previously treated, we use Velocity to reconstruct the previous radiation doses on the new CT data sets," explains Chester Ramsey, Ph.D., DABMP, chief medical physicist at Thompson. He gives one example of a patient who was considered for retreatment. "This patient had multiple Gamma Knife® and CyberKnife® procedures at different institutions. With Velocity, we were able to sum the doses from all these treatments and determine if he could receive further treatment."
Ultimately, Ramsey says the vision of Velocity is advancing patient care. "The best thing about Velocity is it helps us to take good care of our patients by enabling multimodality image fusion and the reconstruction of prior doses. At the end of the day, that's what it's all about, taking care of the patients." Multimodal image fusion is now part of the treatment planning process for about 60 percent of the patients at Thompson's busiest centers, up from 20 percent before Velocity.
Daily contour rounds
At North Shore-LIJ Health System, the second-largest radiation oncology department in the New York area, all diagnostic images and treatment information are archived using Velocity. But that's not all—Velocity helps clinicians adhere to evidence-based, consensus-driven care pathways. "Velocity has become the platform for assessing our work based on the pathways that the department has developed," says Louis Potters, MD, chair of the Department of Radiation Medicine and co-executive director of the North Shore-LIJ Cancer Institute.
"For these pathways, we've preserved our own segmentation atlas cases in Velocity, and over time, we will be able to assess outcome data associated with them." Physicians contour in Velocity, and then to ensure standardization of care across all clinics, they use Velocity to hold daily rounds to peer review, and then approve all contours before treatment planning begins. "Velocity has been a great tool for us to run that hourly daily teleconference," says Potters. Attending oncologists, residents, and physicists at all clinic locations attend these rounds. Contours are "graded" and those that don't make the grade are edited and brought back to the meeting the subsequent day. According to Potters, this process, facilitated by Velocity, helps ensure the same standard of care throughout the North Shore-LIJ system and avoids a lot of wasted work on the part of the physics staff. "It also allows attending physicians in the department to see what's being done and to help evaluate in the peer review the work of their colleagues," he adds.
More efficiency in operations
At one level, Velocity gives clinicians a complete picture, allowing them to make treatment decisions for individual patients with greater confidence. At another, Velocity is an integration platform that helps clinics operate more efficiently and deliver consistent quality care on a larger scale.
Aurora Health Care, for example, increased operational efficiency and productivity with Velocity. In 2009, Aurora set about integrating its ten radiation oncology centers. These sites had been built at different times with different operating models, different equipment, and separate databases. "We were tasked to integrate, centralize, and standardize to eliminate duplication and maximize efficiency in our clinics," explains Justin Keister, MS, DABR, medical physicist at Aurora. Aurora's growth had resulted in a problem common to large, well-established healthcare systems: silos of data with no connections between them and legacy data from systems no longer in use. "We saw Velocity as the solution for integrating our silos of radiation oncology data and for networking to our enterprise PACS. Velocity is the hub for imaging data, and it provides the clinical tools to make that data useful for clinical decision-making. With Velocity, we can bring data together very easily and move it between systems in a more visual, straightforward fashion. Velocity basically makes us completely integrated," says Keister.
From the IT perspective, Aurora uses the ARIA® oncology information system to manage treatments, but maintains separate but standardized ARIA databases for each clinic or regional cluster of clinics on virtualized servers in its main data center. Velocity enables data, images, and treatment plans to be accessed systemwide. This configuration has substantially aided productivity. "Because we can manage our data more efficiently, I would say we've been able to accommodate a 25 percent increase in patient volume and achieve more complexity in our planning without major additions of staff," says Keister. And Velocity supports Aurora's continued expansion. "Healthcare organizations continue to merge and integrate for operational efficiencies. As we build or acquire new sites, it becomes a seamless process to add them into the network," adds Keister.
From informing local treatment decisions case by case, to streamlining clinical workflow within a department, to standardizing care across a network of clinics, to supporting the expansion of regional integrated healthcare systems, customers are leveraging the flexibility and power of Velocity in many ways. UPMC is taking it a step further by envisioning a global role for Velocity.
Global collaboration and mentoring
With Velocity, physicians anywhere in the world can access the same information and consult with each other more easily. In addition to its centers in Ireland and Italy, UPMC has broken ground on a center in Kazakhstan, an area in need of clinical training and advanced technology. "We plan to train colleagues in Kazakhstan in radiosurgical techniques, which currently aren't available in that country," says Heron. "The Velocity platform is an easy and cost-effective tool to facilitate professional development over vast geographical distances and improve access to care in developing parts of the world."
"Varian's mission is to help save millions of lives every year around the world," says Kolleen Kennedy, president of Varian's Oncology Systems business. "We are delighted when organizations like UPMC, North Shore-LIJ, Aurora Health Care, and Thompson Cancer Survival Center find new ways of leveraging Varian products in the global fight against cancer."
Nancy Heifferon is a freelance healthcare writer.