The Kokilaben Dhirubhai Ambani Hospital (KDAH) in Mumbai, India, was among the first centers in India to launch an SRS/SBRT program in 2009. In 2016, KDAH became the first center on the Indian subcontinent to introduce radiosurgery with Varian's Edge™ system. Today, the center treats some 1200-1400 radiotherapy patients per year; of those, some 250-300 receive some type of radiosurgery.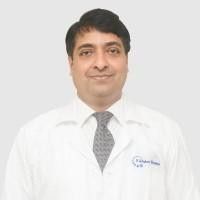 "KDAH specializes in treating early non-small cell lung cancer (NSCLC), oligometastatic lung tumors, brain and liver metastases, and hepatocellular carcinoma," says Kaustav Talapatra, MD, National Head, Radiation Oncology at KDAH. "We have one of the largest patient databases for stereotactic treatment of lung tumors in India. In a country where there are not many centers offering SRS or SBRT, we have now treated about 60 cases of primary or metastatic lung tumors. Most of these patients are still under regular clinical follow-up and have their tumors controlled. We are also the referral center in the country for complex base-of-the-skull tumors. We have one of the highest numbers of patients in the country treated for cancer of  extracranial sites, including liver, bone, and lymph node metastases."
The center also treats rare benign disease. "We were one of the first centers in India to offer image-guided SRS for benign tumors," Dr. Talapatra says. (Image: clinical staff of the Kokilaben Dhirubhai Ambani Hospital).
Managing Lung Motion
"The major challenge in treating our patients is dose-localization and target verification for all these high-end modalities," said Dr. Talapatra. "With Edge, we are able to use the multiple imaging platforms to precisely locate and hit the target while managing motion."
The KDAH protocol for treating primary and metastatic peripheral lung tumors involves delivering 60 Gy in six fractions. For primary and metastatic central lung tumors, the team delivers 48 Gy in five fractions. They use a CIVCO® whole body Vac-Lok™ system for patient immobilization, and respiratory gating plus abdominal compression for motion management during treatment.
Dr. Talapatra described treating a 70-year-old man with cardiac comorbidities and an implantable cardioverter-defibrillator (ICD) device. "The patient had a 2.5-centimeter lung lesion in the right upper lobe. As this patient was at high risk for surgery, and his lesion was small and peripheral, we decided to use SBRT as per the RTOG 0618/0813 protocol. The overall internal target volume (ITV) was created using 4D imaging to encompass the full range of tumor motion. We also contoured the ICD, and with meticulous planning, we were able to keep that dose to under 1 Gy." '
Treating Other Sites on the Edge System
The KDAH protocol for brain tumors and metastases calls for treating between one to three lesions with 30-35 Gy delivered over five fractions. In the case of liver lesions, patients receive 60 Gy in six fractions with the caveat that the plan must allow no more than 700 cubic centimeters of uninvolved liver to receive 15 Gy. For liver treatments, the Calypso 4D tracking system supplies motion management, rather than respiratory gating. For pancreatic tumors, the protocol is 35 Gy in 5 fractions, with specific limits on dose to the duodenum.
"With the Edge system, we are able to use multiple imaging platforms to precisely locate and hit the target," Dr. Talapatra. "Treatments take 20-25 minutes, and outcomes like tumor control, local response, and overall survival rates are in line with expectations."
According to Dr. Talapatra, the Edge system has not only improved his team's ability to manage motion in a variety of different ways, it has also allowed them to treat cases that they wouldn't have attempted before. "We can now treat tumors with significant intrafraction motion, such as upper G.I. tumors," Dr. Talapatra observed. "The benefits of the system are numerous: shorter treatment time, better motion management, better image guidance and precision, real-time monitoring of the target, greater patient comfort, less target motion during treatment."
As the first Edge installation in South East Asia, KDAH is seeking to fill a major gap in trained high-volume SRS centers in the region. "The Edge system was ideal for accomplishing this goal," Dr. Talapatra said. "It suits our needs for delivering high doses of radiation efficiently and with extreme precision. In our attempt to fill this gap we have also partnered with Varian to offer advanced training for technologists. We were the first site in Asia to offer an advanced clinical SRS course for the benefit of radiotherapy professionals across South East Asia."
________________________________________________
Please note:
The information captured herein represents the genuine experience of the attributed individuals and may not necessarily represent the views of Varian or the above-referenced institution. Individuals were not compensated for their testimonials. Radiation treatment may not be appropriate for all cancers. Individual results may vary.
Configurations with the third-party product described herein have not been validated by Varian and have been conducted at the independent discretion and sole risk of the medical practitioner; Varian makes no warranty, representation, or guarantee regarding the suitability, efficacy, or accuracy of such third-party product configurations.