Embozene TANDEM Microspheres (CE)
Precision. Flexibility. Control.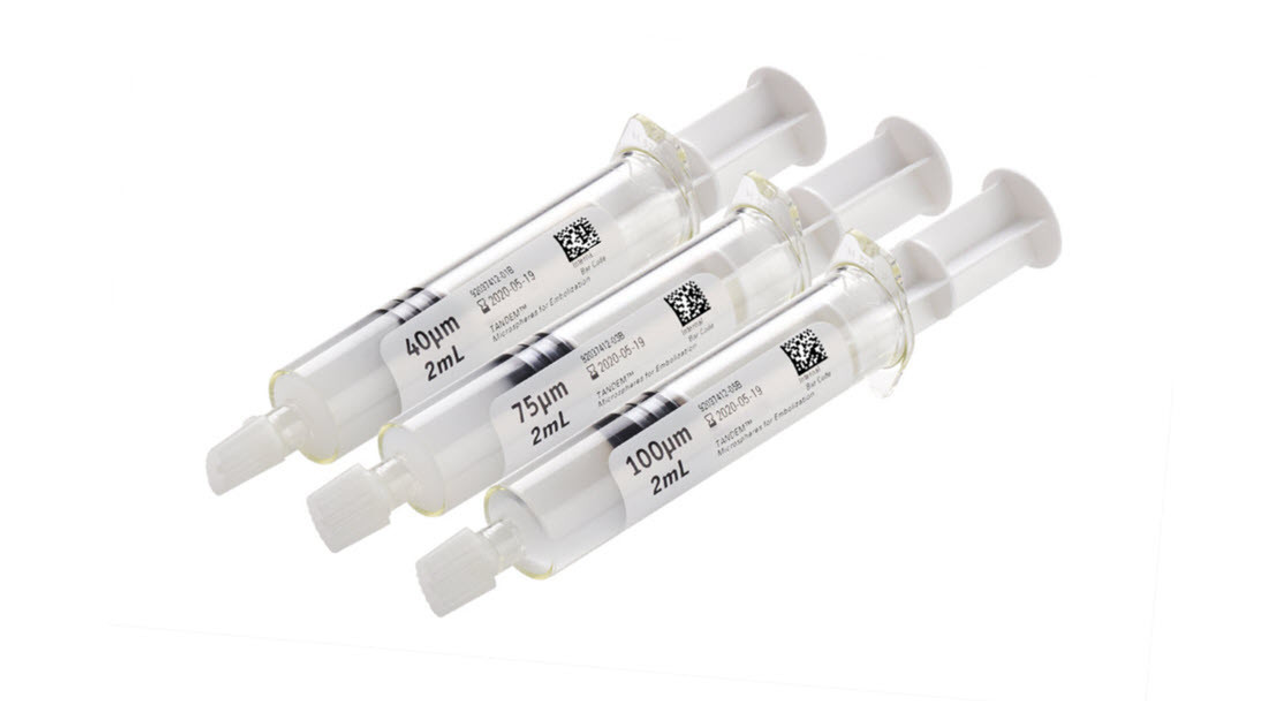 1

Calibration

Tightly calibrated to enable more choices for embolisation

2

Drug Loading

Microsphere sizes remain stable during drug loading and storage; typical size change is less than 5%

3

Fast drug loading times

30-120 minutes depending on prescription

4

Capable of loading up to 50 mg of drug / ml microspheres:

- doxorubicin-HCl powder or solution - irinotecan-HCl

5

Three sizes offered in 2 and 3 mL of product per syringe

From 40 μm to 100 μm

6

Three-year shelf life

From date of manufacture
CE Mark Countries
This information is for healthcare professionals in EUROPE, except those practicing in France as the following pages are intended for all International healthcare professionals and are not in compliance with French Advertising law N°2011-2012 dated 29 December 2011 article 34. Other healthcare professionals should contact Varian at vis.support@varian.com.
Please note that this information is exclusively reserved for healthcare professionals in countries with applicable health authority product registrations. To the extent that this site contains information, reference guides, and databases intended for use by licensed medical professionals, such materials are not intended to offer professional medical advice. Prior to use, please consult device labelling for prescriptive information and operating instructions.
Bibliography
Clinical Trials Evaluating TANDEM and Doxorubicin or Irinotecan
Publication / Study

Treatment

Disease
State &
Staging

Number of Patients

Results

Endpoints
(*=Primary)

Richter et al, 2018¹
MIRACLE I

DEB-TACE with Doxorubicin

HCC
ECOG: 0-2
Child-Pugh: A or B*

25

Freedom From:
30D SAEs: 92%
6M SAEs: 71%
6M tumour progression: 76%
Tumour control: 95%
12M Survival: 56% (w/o ascites 73%)

Safety (30D, 6M), Tumour progression (6M), Time to progression, Local tumour control, Survival (12M)

Mauri et al, 2018²
MIRACLE III

DEB-TACE with Irinotecan

mCRC
ECOG: 0-1**

18

30 Day SAE-Free: 100% (18/18)
3M Tumour Control: 88.9% (17/18)
6M Tumour Control: 41.2% (7/17)
12M Tumour Control: 17.6% (3/17)
12M Survival: 44%

Safety (30D), Tumour control (3M), Secondary: Tumour control (6M, 12M), Survival (12M)
*One study patient 1/25 (4%) treated was Child-Pugh C.
**All study patients 18/18 (100%) treated were ECOG 0.
1 Richter, G., et al., Safety and Feasibility of Chemoembolization with Doxorubicin-Loaded Small Calibrated Microspheres in Patients with Hepatocellular Carcinoma: Results of the MIRACLE I Prospective Multicenter Study. Cardiovasc Intervent Radiol (2018) 41:587–593
2 Mauri, G., et al., Transarterial Embolization with Small-Size Particles Loaded with Irinotecan for the Treatment of Colorectal Liver Metastases: Results of the MIRACLE III Study. Cardiovasc Intervent Radiol (2018) 41:1708–1715.
Randomised Controlled Trials Evaluating Doxorubicin-TACE for Treatment of HCC
Kawai, S., et al., Prospective and randomised clinical trial for the treatment of hepatocellular carcinoma--a comparison of lipiodol-transcatheter arterial embolisation with and without adriamycin (first cooperative study). The Cooperative Study Group for Liver Cancer Treatment of Japan. Cancer Chemother Pharmacol, 1992. 31 Suppl: p. S1-6.

Llovet, J.M., et al., Arterial embolisation or chemoembolisation versus symptomatic treatment in patients with unresectable hepatocellular carcinoma: a randomised controlled trial. Lancet, 2002. 359(9319): p. 1734-9.

Brown, K.T., et al., Randomised Trial of Hepatic Artery Embolisation for Hepatocellular Carcinoma Using Doxorubicin-Eluting Microspheres Compared With Embolisation With Microspheres Alone. J Clin Oncol, 2016. 34(17): p. 2046-53.

Malagari, K., et al., Prospective randomized comparison of chemoembolization with doxorubicin-eluting beads and bland embolization with BeadBlock for hepatocellular carcinoma. Cardiovasc Intervent Radiol, 2010. 33(3): p. 541-51.

Mabed, M., et al., A randomized controlled trial of transcatheter arterial chemoembolization with lipiodol, doxorubicin and cisplatin versus intravenous doxorubicin for patients with unresectable hepatocellular carcinoma. Eur J Cancer Care (Engl), 2009. 18(5): p. 492-9.

Lammer, J., et al., Prospective randomized study of doxorubicin-eluting-bead embolization in the treatment of hepatocellular carcinoma: results of the PRECISION V study. Cardiovasc Intervent Radiol, 2010. 33(1): p. 41-52.

van Malenstein, H., et al., A randomized phase II study of drug-eluting beads versus transarterial chemoembolization for unresectable hepatocellular carcinoma. Onkologie, 2011. 34(7): p. 368-76.

Sacco, R., et al., Conventional versus doxorubicin-eluting bead transarterial chemoembolization for hepatocellular carcinoma. J Vasc Interv Radiol, 2011. 22(11): p. 1545-52.

Golfieri, R., et al., Randomised controlled trial of doxorubicin-eluting beads vs conventional chemoembolisation for hepatocellular carcinoma. British Journal of Cancer, 2014. 111(2): p. 255-264.
Randomized Controlled Trials Evaluating Irinotecan-TACE for Treatment of mCRC
Fiorentini, G., et al., Intra-arterial infusion of irinotecan-loaded drug-eluting beads (DEBIRI) versus intravenous therapy (FOLFIRI) for hepatic metastases from colorectal cancer: final results of a phase III study. Anticancer Res, 2012. 32(4): p. 1387-95.

Martin, R.C., 2nd, et al., Irinotecan drug-eluting beads in the treatment of chemo-naive unresectable colorectal liver metastasis with concomitant systemic fluorouracil and oxaliplatin: results of pharmacokinetics and phase I trial. J Gastrointest Surg, 2012. 16(8): p. 1531-8.

Martin, R.C., 2nd, et al., Randomized controlled trial of irinotecan drug-eluting beads with simultaneous FOLFOX and bevacizumab for patients with unresectable colorectal liver-limited metastasis. Cancer, 2015. 121(20): p. 3649-58.
Ref
CAUTION: The law restricts these devices to sale by, or by order of, a doctor. Indications, contraindications, warnings and instructions for use can be found in the product labelling supplied with each device. Information for use only in countries with applicable health authority registrations. Material not intended for use in France.