Embozene Microspheres (CE Mark Countries)
Precision. Flexibility. Control.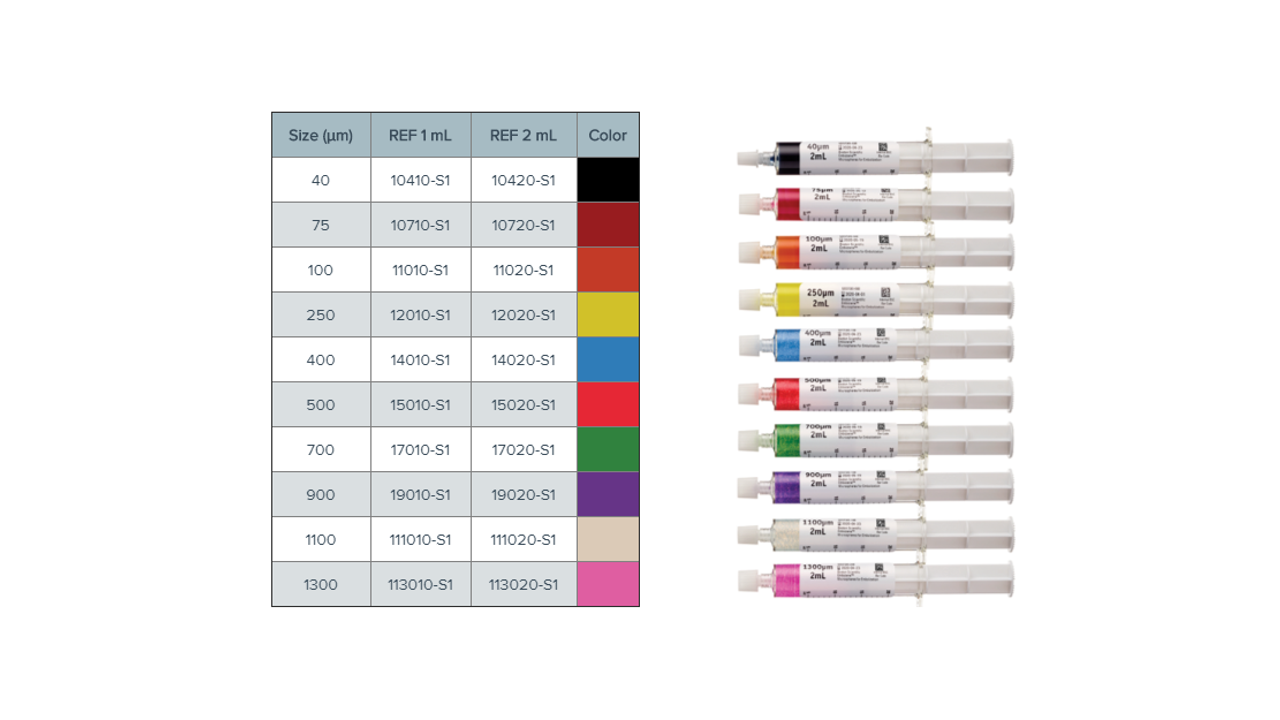 1

Wide range of sizes offered in 1 and 2 mL syringes

From 40 μm to 1300 μm

2

Sold in single syringe units

Colour-coded to enhance visualisation and aid in size recognition

3

Three-year shelf life

From the date of manufacture
CE Mark Countries
This information is for healthcare professionals in EUROPE, except those practicing in France as the following pages are intended for all International healthcare professionals and are not in compliance with French Advertising law N°2011-2012 dated 29 December 2011 article 34. Other healthcare professionals should contact Varian at vis.support@varian.com.
Please note that this information is exclusively reserved for healthcare professionals in countries with applicable health authority product registrations. To the extent that this site contains information, reference guides, and databases intended for use by licensed medical professionals, such materials are not intended to offer professional medical advice. Prior to use, please consult device labelling for prescriptive information and operating instructions.
Precise Calibration
Offered in a broad range of carefully calibrated sizes
95% of microspheres fall within the stated variance
Procedural Control
Individually coloured to enhance visualisation and aid in size recognition
Large array of distinctly-sized microspheres
Sold in single syringe units
Indicated for the embolisation of:
Arteriovenous malformations (A.V.M.)
Hypervascular tumours (H.V.T.), including uterine fibroids and hepatoma
Embolisation of prostatic arteries (PAE) for symptomatic benign prostatic hyperplasia (BPH)