By Julie Ruiz
Varian service contracts ensure the health of a facility's radiation oncology system, so that clinical professionals can provide the highest quality, uninterrupted treatment for their patients while optimizing productivity.
"We've always had a very good working relationship with our Varian service professionals through our service contract," said Nilendu Gupta, Ph.D., chief physicist and associate professor of radiation oncology at The Ohio State University Comprehensive Center—James Cancer Hospital and Solove Research Institute (OSUCCC—James). "Our collaboration with the Varian team has been really crucial to keeping all of our equipment up and running for the best patient care."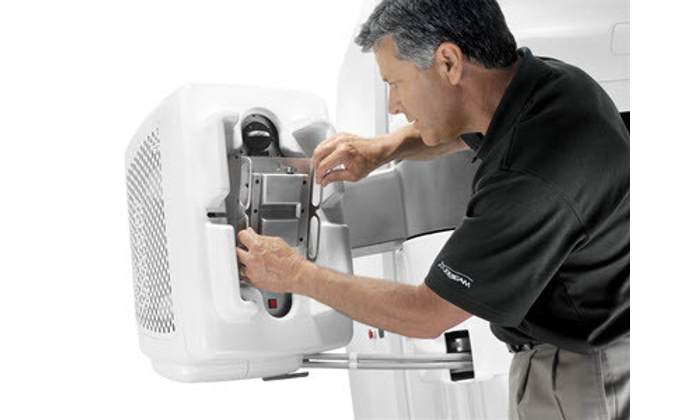 Varian service professionals are specially trained to fix all elements of a system, resolving issues completely so that small problems don't become larger ones. Through the SmartConnect® Plus monitoring service, Varian's team can monitor, diagnose, and repair problems remotely using the most advanced diagnostic tools and without accessing patient data.
Benefits of Varian Service
"We acquired a Varian service contract to cover our hardware and software because we knew that these contracts are well worth the investment. The contract covers our ten TrueBeam® machines; ARIA®, Eclipse™, and Velocity™ software; as well as all of our core equipment and brachytherapy systems," Gupta noted.
Gupta and his team at the OSUCCC—James purchased a full-service contract that includes Varian's Planned Maintenance Program (PMP) and SmartConnect Plus. The PMP keeps a facility's radiation oncology system healthy through regular "tune-ups"; maintenance records are stored online where they can be accessed at any time. Regular software updates prevent obsolescence and minimize cyber threats.
Varian's PMP also identifies and analyzes trends for Gupta and his team by automatically monitoring and aggregating baseline data to measure machine performance over time as well as compare it to that of comparable machines throughout the world.
The service agreement covers Varian equipment at two locations in Columbus: the James Cancer Hospital and Solove Research Institute and the Stefanie Spielman Comprehensive Breast Center. Because Gupta and his team had in-house resources they wanted to use, Varian customized their contract to give them the flexibility they needed. A collaborative component was added to the service agreement allowing the site to use their own in-house staff.
"Between our own in-house professional staff and Varian's service professionals," said Gupta, "we've been able to maximize our productivity. Varian is committed to training our in-house professionals, who perform the first line troubleshooting when there is a problem. When needed, they escalate issues to Varian's team. Varian service professionals can log in remotely and diagnose and repair issues or quickly come onsite if need be. This partnership between our in-house team and the professionals from Varian really has improved our overall uptime."
Their Varian service contract has allowed Gupta and his team to maintain beam matching on all ten TrueBeam machines so that a patient can be treated on any one of them.
"When we have had a machine down," notes Gupta, "it has not compromised our patient care because we are able to move patients around as needed. Our Varian service team has been able to coordinate with us on major service and work at all hours to get the job done. This great service and collaboration between our hardworking in-house professionals and Varian's team have helped us to maintain the highest standard of patient care."
Value of Remote Diagnostics and Onsite Service
Filippo Alongi, MD, associate professor and chief of the Radiation Oncology Department, and his team at the Ospedale Sacro Cuore-Don Calabria, Cancer Care Center Negrar in Verona, Italy, chose a Varian service contract because they needed fast and trustworthy service. Their contract provides comprehensive service and covers all of their Varian hardware and software. Collaboration between Varian's service team and the Center has been essential to optimizing uptime.
"Many of the patients at our center have treatment regimes comprised of extreme hypofractionated schedules with stereotactic body radiotherapy and radiosurgery," said Alongi. "Because of the intense, short schedules of these treatments, we must absolutely avoid any interruption of treatment. For this reason, we decided to purchase a Varian service agreement that covers our two Trilogy® and one TrueBeam treatment machines as well as all of our Varian software."
Remote diagnostics combined with prompt onsite repair service and continuous support from the Varian Help Desk has enabled Alongi and his team to maintain virtually uninterrupted treatment for their patients. Varian service professionals usually arrive on site with the part in hand and ready to service the entire system—hardware and software—not just the machine.
"Our Varian service contract has allowed us to optimize our clinical uptime through remote diagnostics, which identifies key problems while they are small. When we've needed to call for onsite service, Varian service engineers have always come to resolve issues--using original Varian parts--within two to three hours," said Alongi. "Also, we really value the software upgrades; protection from hardware obsolescence; and, perhaps most importantly in our experience, the fast support from the Help Desk on technical and clinical questions."
Alongi also shared that, on many occasions, he noticed the willingness of the Varian service team to go above and beyond by working around the clock to fix any problems that arose. For example, when a software problem occurred, Varian professionals quickly restored connectivity, working after clinical hours to avoid treatment interruption.
"In this case, problem-solving required strict collaboration between Varian and local hospital software engineers," remembered Alongi. "To prevent the delay of patients' treatments, Varian professionals performed the necessary work to fix the problem during the weekend. The availability of Varian service engineers to work during the weekends or into the late evenings to avoid treatment interruption is so important. The dedication of Varian service professionals shows how sensitive they are to the care of our patients and to helping us assure optimal clinical productivity."
Julie Ruiz is a freelance writer who contributes frequently to this publication.
______________________________________
SmartConnect Plus: Resolving Issues Proactively
"What's great about SmartConnect® Plus," said Megan Farrar, director of services, radiation and imaging, New York Oncology Hematology (NYOH), "is that it proactively identifies problem areas before you experience real down-time that might impact your treatment delivery."
SmartConnect Plus remotely identifies problematic situations and sends real-time alerts to the Varian Response Center. The Varian team can then diagnose and fix the problem remotely, or, if needed, go onsite with the necessary parts because troubleshooting has already occurred.
SmartConnect Plus remote monitoring and response service is helping Farrar and her team at NYOH to optimize their clinical availability. "There have been multiple times when SmartConnect Plus and Varian's ability to remotely access our system to troubleshoot an issue has resulted in a much faster resolution and minimal downtime," said Farrar.
SmartConnect Plus also offers trend spotting that enables service personnel to recognize trends in a customer's system and to access a worldwide database of similar patterns and their causes for better — and earlier — problem-solving.
"SmartConnect Plus has helped our local team identify trends in our equipment performance," noted Nilendo Gupta, Ph.D., at Ohio State University Medical Center. "Because we have our own in-house trained professional staff, we have used SmartConnect Plus as part of our checks and balances. Often our own internal diagnostic tools alert us of a situation and, simultaneously, SmartConnect Plus will send similar notifications to Varian regarding early predictive failure of some part of our system. Also, for smaller facilities that don't have in-house resources or local service, I think SmartConnect Plus is a real asset because it gives them access to Varian service engineers."