Advanced patient care and improved outcomes begin with close customer collaboration and accelerated innovation. Varian is working with clinicians, researchers, partners and government leaders around the globe to increase access to the technologies, treatments and programs that will help create a world without fear of cancer. At the same time, we are also making a difference in our communities through our giving and volunteer programs and activities.
Extending Advanced Cancer Care
Cancer is the second leading cause of death worldwide.2 The global cancer rate is increasing and is expected to reach nearly 25 million new cases every year by 2035.3 To address this rising healthcare crisis head-on, the sector must not only develop new treatment technologies, but we also must increase access to care globally..
This means broadening cancer treatment through multiple disciplines to deliver more personalized treatment, more data-driven decision-making, more direct access to care and a new, more unifying, smarter standard of oncology. Putting the patient and clinicians at the center is foundational to Varian's thinking.
Varian's expanded ecosystem of solutions, introduced over the last 25 years, have helped shape cancer care. Each time that advancements are made in radiotherapy treatment techniques, including the latest work in adaptive therapy, we've been at the forefront of innovation, advancing new treatment options and increasing global access to care.
Varian's Intelligent Cancer Care™ is producing solutions that are streamlined, comprehensive, fully integrated and more accessible – bringing people, technology and data together to connect patient and provider at all points of care.
The Intelligent Cancer Care approach rests on three pillars: personalized treatment, access to enhanced standards of care and the use of evidence-based insights in clinical decision-making. Our focus on these areas has led to greater efficiencies in the radiation oncology workflow, facilitated collaboration and supported clinical teams to maximize information and insights. For example: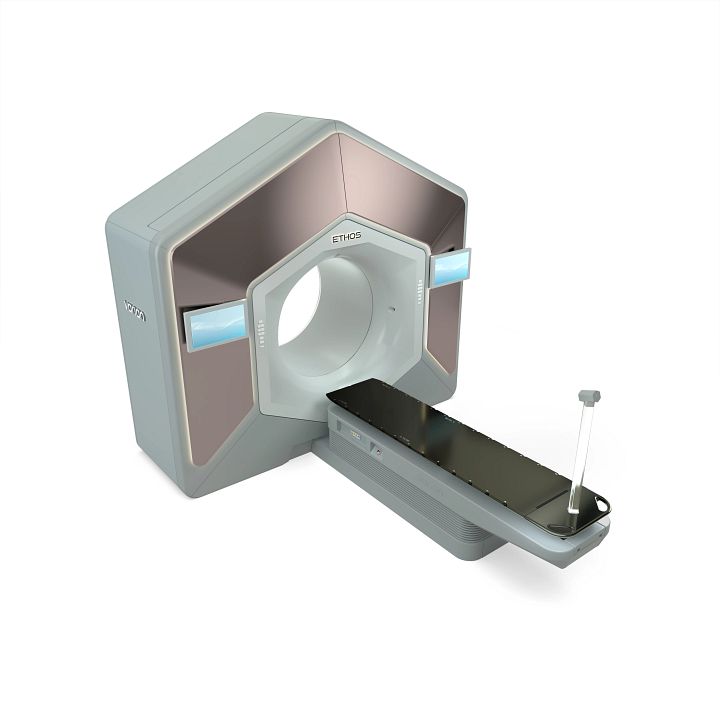 The Future Is Adaptive: Ethos™ Therapy for Patient-Centered Care
Ethos therapy is our artificial intelligence (AI)-driven, holistic solution designed to increase the capability, flexibility and efficiency of radiotherapy. The AI-driven planning and contouring capabilities of Varian's Ethos therapy provide a streamlined workflow, delivering an entire adaptive treatment in a typical 15-minute slot without compromising quality. Importantly, Ethos provides the ability to adapt the treatment daily in response to changes in the patient's anatomy and the tumor's shape and position at the time of treatment. In February 2020, Ethos received FDA 510(k) clearance and global expansion has continued. Most recently, Ethos has been adopted by cancer centers in Australia, Germany and the Netherlands.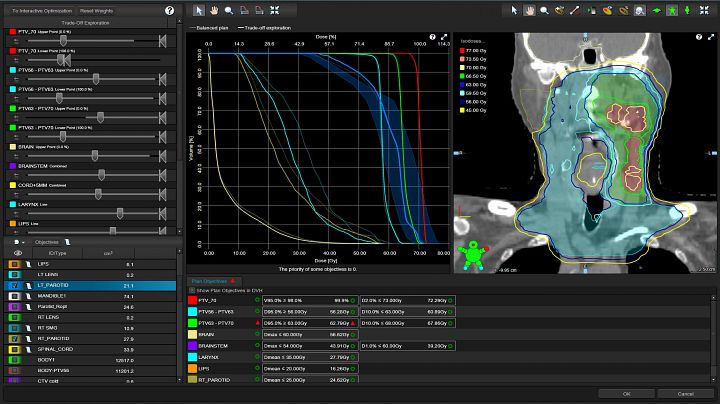 Eclipse™ v16: Leveraging Machine Learning for Collaborative Workspaces
The newest release of our treatment planning system, Eclipse v16, includes intelligent features such as RapidPlan™ PT, the first clinical application of machine learning in proton treatment planning. Eclipse v16 also includes RT Peer Review – a collaborative workspace designed to streamline and accelerate the peer review process for radiotherapy treatment plans. This is designed for the oncology community to seamlessly integrate the review process into their normal clinical workflow by automatically presenting the necessary information that is required for peer review.
Patient-Centered Care: Elevating the Patient Voice
In 2020, we made substantial progress in the deployment of the Noona® software application, which captures patient-reported outcomes to provide the clinical team with the data they need to better manage cancer patients' symptoms. We extended our impact by adding to Noona capabilities and expanding our software patient touches by more than 200 percent through Noona and CCIP. We also increased our Noona customer sites and grew our data lake – which will be the source of knowledge in support of clinical decision making – to more than 118,000 patient records, strengthening our work to provide comprehensive value to our customers.
Growing our Portfolio of Products and Services
In fiscal year 2019, we made significant strides in growing our addressable markets through acquisitions that align with our core. We accomplished this through the acquisitions of Cancer Treatment Centers International (CTSI), our interventional oncology assets and CyberHeart. We acquired CTSI to address the growing global cancer burden and bridge the human capital skills gap. The CTSI acquisition makes a significant contribution toward building a broad global data lake to power new technology-enabled services. In 2020, we directly participated in the treatment of more than 200,000 cancer patients across the globe, including producing nearly 20,000 treatment plans for other providers, and assisted another 750,000 patients through lab diagnostic services.
In 2019, we took the first step in creating a comprehensive interventional solutions platform that leverages Varian's unique software expertise through the acquisitions of EndoCare and Alicon, as well as the asset purchase of the Boston Scientific portfolio of Embozene® and Oncozene® embolization microspheres. These acquisitions position Varian to achieve its aspiration to be the first and only provider with an end-to-end suite of integrated hardware and software solutions in the fast-growing interventional oncology market. In 2020, we launched our first interventional product, CryoCare Touch™ ablation system, to serve the patient in new and impactful ways.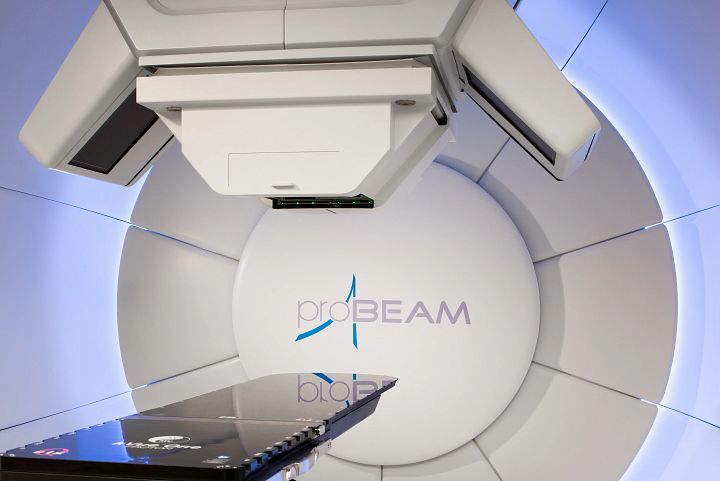 Equipping Treatment Centers with Advanced Technology
Proton therapy has been shown to spare more healthy tissue when compared to conventional treatments, reducing side effects for some cancer patients and improving patient quality of life. Varian's ProBeam®360° single-room compact proton therapy system uses the same high-power cyclotron unit that is used in cancer centers conducting pioneering research.
The multi-room ProBeam 360° system is the smallest multi-room proton therapy system currently available. This system offers an optimized human-centered design, efficient patient workflow, superior total cost of ownership and a viable path to potential next-generation treatments such as Flash therapy. In 2020, we received Investigational Device Exemption (IDE) for our Flash therapy solution, and four patients have now been enrolled and received treatment in the first ever clinical trial evaluating Flash therapy.
Varian's goal is to increase the number of patients worldwide touched with our technology from 4 million to 6 million by 2022.
Expanding Access to Care through our Partnerships
As part of an effort to expand access to cancer care, Varian is actively involved in multiple global non-profit organizations that are dedicated to providing cancer care in low- and middle-income countries (LMICs), such as City Cancer Challenge Foundation (C/Can), Global Access to Cancer Care Foundation (GACCF) and Union for International Cancer Control (UICC).
By partnering with these organizations, Varian is furthering its effort to achieve the goal of growing awareness for and expanding access to cancer care in LMICs in Asia, Africa and South America.
With LMICs carrying a large percentage of the cancer burden, Varian supports C/CAN's effort to find digital health solutions for cancer care, including remote education and training efforts to increase the number of local cancer healthcare professionals who can treat patients. This complements GACCF's work in supporting clinical training programs for cancer care professionals to create a core base of local experts in these areas. UICC's mission is to unite and support the cancer community to reduce the global cancer burden, to promote greater equity and to ensure that cancer control continues to be a priority in the world health and development agenda. UICC provides Varian with advocacy channels and a strategic network of other institutions interested in fighting cancer.
Varian is working with these organizations to build state-of-the-art facilities and train oncologists, medical physicists and therapists in Cali, Colombia; Porto Alegre, Brazil; Asunción, Paraguay; Yangon, Myanmar; Kumasi, Ghana; Kigali, Rwanda; and La Paz, Bolivia. Varian also administers cancer capacity building programs in India, South Africa and Kenya due to these partnerships.
Facts That Must Change
60% of the world's total new cancer cases are diagnosed in developing countries
70% of all global deaths from cancer occur in LMICs
50% of cancer deaths in LMICs are considered "premature"
90% of global deaths from cervical cancer and 60% of breast cancer deaths occur in LMICs
80% of the world's cancer burden has only 5% of the resources needed to control it
Giving Back to Our Communities
Varian's Corporate Giving program aims to further our vision of a world without fear of cancer through strategic partnerships and support of organizations that:
Advance progress in cancer care, advocacy and education.
Embody our cultural beliefs.
Engage and empower our employees to give back to the causes that are important to them.
Building strong communities all around us is core to our belief system. We've dedicated in-kind grants, donations and education to emerging market cancer centers, helping to bridge the skills gap and giving access to care to those who otherwise would not get it.
Employees are encouraged to volunteer, many joining with local non-profit cancer organizations to help raise awareness. In the U.S. alone, employees have logged more than 2,800 volunteer hours. Others donate to their local eligible charities, or funds like the Red Cross for disaster relief efforts. Varian has matched almost $1 million (USD) in employee giving campaigns.
In 2019 and 2020, Varian was named one of the Top 50 Corporate Philanthropists by the Silicon Valley Business Journal; one of the Top 100 Corporate Philanthropists by the San Francisco Business Times; and a Company of Happiness by the China's People's Daily newspaper group.
Varian Volunteers
In February 2019, we launched the Volunteer Time-Off (VTO) program to U.S. employees. This benefit provides employees with 16 hours per year of paid VTO to support the charity or cause of their choice. We are evaluating expansion of the VTO program globally, so that more of us are able to bring to life our value of "Doing Well by Doing the Right Thing."
Through our Volunteer Ambassador program, employees meet regularly to discuss and organize volunteer activities, such as the Season of Giving Back (holiday volunteering) and Varian Has Heart (scheduled around Valentine's Day).
Around the world in 2020, our volunteers supported many other events and initiatives, including:
American Cancer Society's Making Strides Against Breast Cancer Walk in October 2020, with Varian employees from around the world participating in a virtual walk and fundraising events.
More than 70 employees from the Baden and Steinhausen offices joined 5,000 people in the 12th annual Pink Ribbon Charity Walk in Zürich, Switzerland, walking a 2.5-mile trail to help promote women's health and raise awareness for early detection of breast cancer.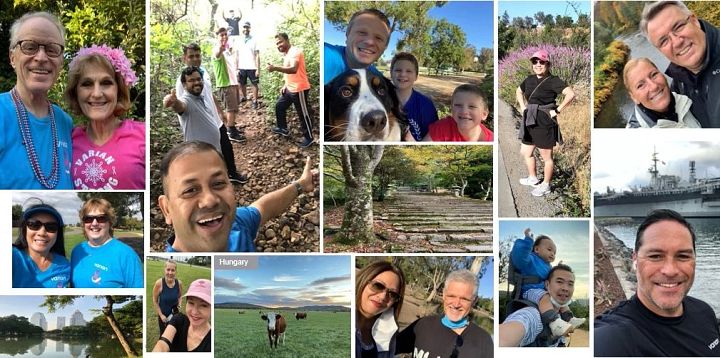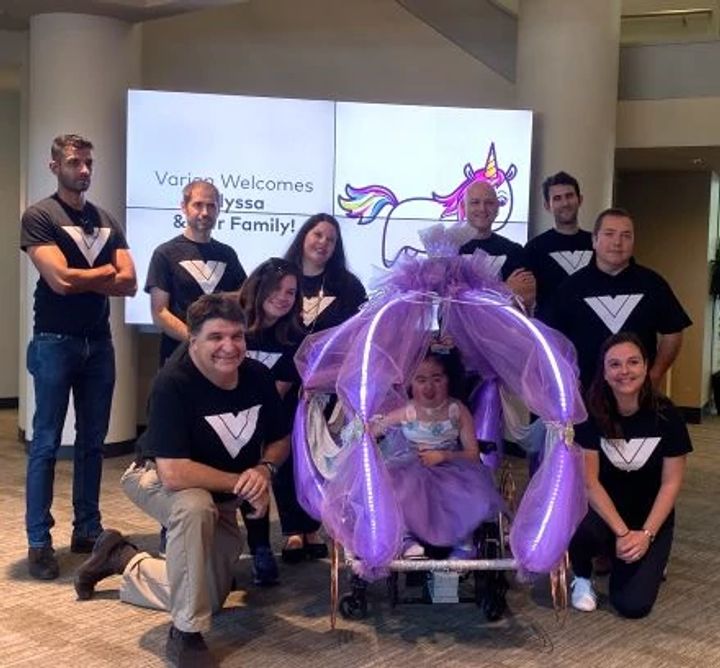 For World Cancer Day on February 4, Varian employees in Palo Alto teamed up with the Second Harvest Food Bank in Silicon Valley to make 1,000 snack bags for the Ronald McDonald House at Stanford, where children and their families stay while receiving treatment at the local hospital.
Working with Magic Wheelchair, a non-profit organization powered by volunteers who build custom costumes for children in wheelchairs, a team of Varian employees designed and built 12-year-old Alyssa a carriage fit for a unicorn princess, just in time for Halloween.
586
employees participated