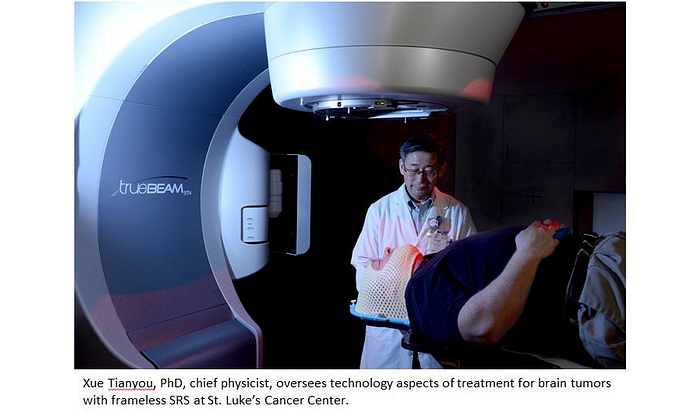 A unique, collaborative partnership between St. Luke's Radiation Oncology and Neurosurgery Departments is enhancing care for patients with brain cancer.
"Our collaborative NeuroOncology Clinic is allowing our patients to enjoy more comprehensive, coordinated care, and we are treating them faster – within two weeks of their initial MRI scan – often with a single fraction – using frameless stereotactic radiosurgery (SRS)" says radiation oncologist Nimisha Deb, MD, chief of radiation oncology, St. Luke's University Hospital Network.
100th frameless SRS patient
St. Luke's recently celebrated the 100th treatment with frameless SRS. Since launching the program in February of 2015, the Radiation Oncology Department in Bethlehem Township, Pennsylvania, has treated over 110 cases using Varian's TrueBeam® STx technology with an optical surface monitoring system (OSMS) to monitor and manage patient motion in real-time.
"Advances in radiosurgery technology have enabled us to treat brain disease so much more effectively, especially multiple metastases," says neurosurgeon Hugh Moulding, MD, PhD, clinical director of the Brain and Spine Tumor Center, St. Luke's University Hospital Network. "Patients are surviving longer – often because they've undergone multiple radiosurgery treatments successfully. We can now integrate previous radiosurgery plans and figure out the total dose for patients who've undergone multiple radiosurgery treatments using Varian's Velocity™ software."
Collaborating for Better Patient Care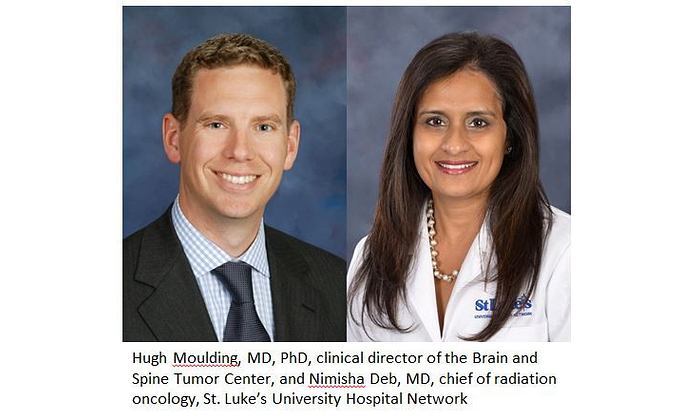 The Radiation Oncology Department has been collaborating with neurosurgery for over five years through their full-day NeuroOncology Clinic, held in the Radiation Oncology Department every Wednesday. Deb and Moulding – along with medical oncologist Neil Belman, DO; the nursing staff; and an oncology nurse navigator – meet with all patients. Together, they work out the best course of treatment for each patient.
If they decide that the best treatment option for a patient is frameless SRS, they perform a CT simulation within a day or two of the Wednesday consultation. Together, the radiation oncologist, neurosurgeon, and physicist generate a treatment plan using Varian's Eclipse™ software, and the patient is treated within a week following the initial Wednesday consult. During the frameless SRS procedure, the radiation oncologist, neurosurgeon, physicist, and therapy staff are all onsite in the treatment area.
"One key factor in the success of our program is that we work really well together with a focus on what will be best for any particular patient. We involve the neurosurgeon in all facets of a patient's radiation oncology care, so that we can afford our patients with an unbiased recommendation," notes Deb. "And we know that if a patient needs surgery, that patient will get the very best care, and we will see him or her in follow-up in the Radiation Oncology Department."
"We all very collegial: No one has turf to protect," adds Moulding. "We are all working for the greatest benefit to our patients, whether that's radiosurgery, surgery, chemotherapy, or another treatment."
According to Deb, the close proximity of the care team – who are all onsite from consult, to treatment planning, to managing side effects – greatly enhances patient care.
"Patients really appreciate our full-day clinic where we consult in real-time. Onsite collaboration in our clinic means that patients don't have to go to three different appointments at different locations – they are seen simultaneously by a neurosurgeon, radiation oncologist, and medical oncologist. In addition, our collaboration combined with our advanced cancer-fighting technologies is allowing us to greatly reduce treatment times," states Deb. "With frameless SRS, we are now treating patients with multiple metastases, sometimes using a single isocenter and a treatment time lasting about 30 minutes. Consequently, we are able to treat four radiosurgery patients a day, in addition to those receiving conventional radiotherapy, which is twice as many patients as in the past."
Keeping on track through nurse navigators
One of the challenges of a dynamic program like the NeuroOncology Clinic is making sure that everyone is kept abreast of developments in a patient's care. Deb and her team have a nurse navigator who can keep track of which practitioner needs to see which patient. Also, the nurse navigator can manage some of the posttreatment side effects, so that patients can get the help they need early, keeping them from developing problems that may necessitate inpatient care.
"It's wonderful that our patients have a 'go-to-person' like the nurse navigator, who can help coordinate their care," remarks Deb. The NeuroOncology Clinic has been such a successful multidisciplinary model of collaboration that other specialties at St. Luke's are building similar programs.