Approximately 20 percent of newly diagnosed cancer patients will develop brain metastases.1 For many, stereotactic radiosurgery (SRS) is recommended as a primary treatment option.2
"SRS has made it possible for us to treat brain metastases very aggressively," observed Aidnag Diaz, MD, medical director at Rush Radiosurgery in Chicago, Illinois. "Whether the primary cancer was in the lung, breast, or elsewhere, we're often able to control brain metastases. I tell my oncology colleagues: 'If you can take care of the body, I can take care of the brain.'"
According to Diaz, many patients live a relatively long time after treatment for a brain lesion. "If they develop a new brain met, we can often do radiosurgery again; I have patients who have been treated two or three times who are doing well and functioning at a high level as measured by Karnofsky performance scores."
At Varian, the idea of turning cancer into a manageable, rather than fatal disease, has been galvanizing. "If we can enable the very precise, ablative treatment of brain metastases while sparing healthy brain tissue to make retreatment feasible if needed, we will have really moved the needle in terms of extending life, and helping to create a world without fear of cancer," said Agam Sharda, director, strategic marketing. "HyperArc high-definition radiotherapy takes a very big step in that direction."
HyperArc addresses concerns about complexity, patient safety, cost, and human resources that can make SRS inaccessible for many patients and unfeasible for many institutions. It automates and simplifies the planning and delivery of high-quality non-coplanar radiosurgery treatments for single and multiple metastatic targets in the brain.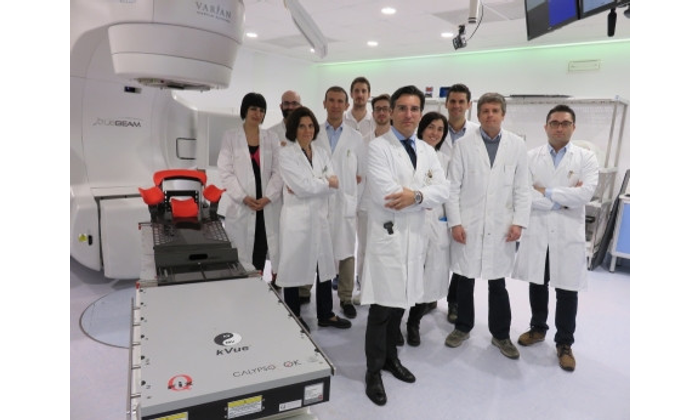 Filippo Alongi, MD, director of radiation oncology at Sacro Cuore Don Calabria Cancer Care Center (Negrar-Verona, Italy) and associate professor of radiation oncology at Brescia University, recently became the first clinician to use HyperArc in the treatment of brain lesions and metastases. In August of this year, Alongi and his colleagues completed HyperArc treatments for seven patients. Five had isolated intracranial lesions and two were dealing with multiple metastases.
"We were expecting to see better dose distributions with HyperArc plans as compared with conventional RapidArc radiosurgery in the cases involving multiple lesions," Alongi said. "Surprisingly, we saw that also in cases of isolated brain lesions, particularly in terms of the conformity and gradient indexes."
Technological advances benefit planning and safety
HyperArc high-definition radiotherapy (HDRT) is an end-to-end class solution for frameless, MLC-based intracranial radiosurgery. Everything needed for establishing an SRS program for treatment of both simple and complex intracranial cases is included. A prescriptive workflow is one of the key elements making HyperArc simple to deliver. It includes simulation guidelines, patient immobilization, treatment planning, patient setup, intra-fraction imaging and a pre-determined delivery sequence. HyperArc is designed to enable consistent, high quality planning and seamless one-click delivery.
HyperArc treatment plans automatically specify the specific arcs and couch positions compatible with patients' clearance to the machine. "HyperArc addresses patient safety through the fully-automated execution of treatment fields, plus the fact that all of the hardware—the linac head as well as the patient immobilization device—are digitally modeled in the treatment planning system to ensure that each field is safely deliverable," Alongi pointed out.
A HyperArc treatment can be completed within a typical 20-minute timeslot, making it a time-efficient approach compared to other radiosurgery techniques that treat each target individually or separately. According to Alongi, the HyperArc treatments he delivered increased deliver time by no more than 8-10 minutes compared with conventional RapidArc, and broke down as follows:
3 minutes for patient setup
5-7 minutes for cone-beam CT image guidance
8-10 minutes beam-on time (for multiple non-coplanar arcs and the couch rotations needed between them)
Hope for brain-related and multiple metastases
Treating multiple intracranial metastases together involves some special challenges, Alongi pointed out. As is often the case, these patients' lesions were distributed throughout the brain, with some close to other sensitive organs. "Typically, these procedures use non-coplanar fields, making them very time-consuming, as dry runs are necessary before each treatment field," Alongi said. "With HyperArc, multiple metastases can be treated in a single session taking less than 10 minutes (beam-on time), without the need to manually reposition patients."
In one case, the treatment encompassed more than 10 intracranial lesions. "This was an unusual situation, in that the young patient refused palliative whole brain irradiation, so we offered an alternative approach that probably would not have been possible without HyperArc," Alongi said. "HyperArc HDRT allows us to deliver state-of-the-art radiosurgery for highly complex cases efficiently and with a very high degree of dose compactness and conformity." 
1DeSantis CE, Cancer treatment and survivorship statistics, 2014.  CA Cancer J Clin. 2014 Jul-Aug;64(4):252-71.
2Nabors LB et al.  Central nervous system cancers, Version 1.2015.  J Natl Compr Canc Netw. 2015 Oct;13(10):1191-202.