Mobius3D
Comprehensive platform for patient quality assurance.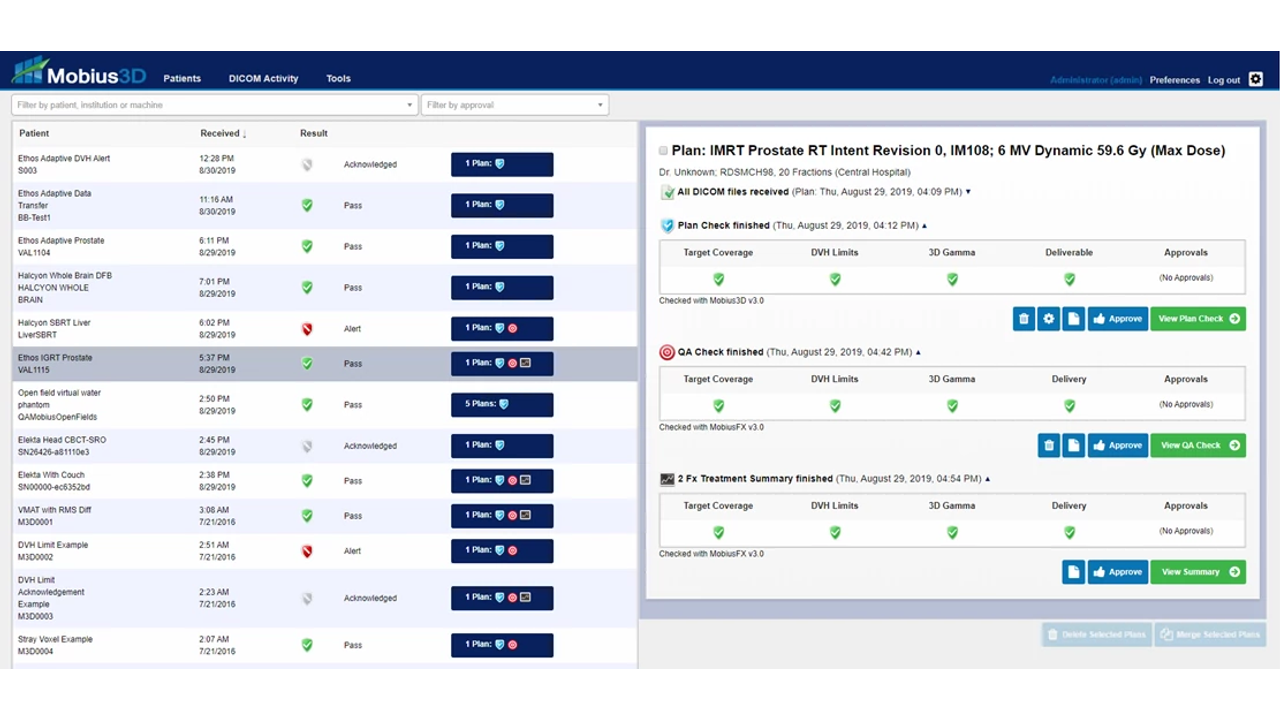 1

Wide coverage

One Mobius server can handle up to 10 linacs and 20,000 patients.

2

Comprehensive QA

The Mobius3D platform provides six layers of error detection.

3

QA for 3D treatment plans

Automatic plan recalculation in patient CT alerts you if issues are detected in target dose, DVH limits, 3D gamma, and deliverability.

4

QA for IMRT/VMAT and daily treatment

MobiusFX automatically captures measurements and interprets 3D delivered dose in the patient.

5

QA for CBCT

MobiusCB automatically retrieves the CBCT/registration and displays patient positioning information.
Fully Integrated
Platform includes modules for QA of all patient plans, delivery, and CBCT.
Efficient workflow
Measurements are generated during treatments and automatically analysed with no external hardware requirements.
Easy to use
Mobius3D receives all treatment plans through DICOM-RT and generates results using an intuitive web interface.
MobiusCalc
3D treatment plan QA
A simple TPS export triggers MobiusCalc's automatic 3D plan re-calculation in the patient CT using independently verified beam models and a GPU-accelerated collapsed-cone dose algorithm. In minutes, an email alerts you if any issues are detected in the four verified areas: Target Dose, DVH Limits, 3D Gamma, and Deliverability.
Target Coverage
MobiusCalc automatically identifies target structures and verifies that their mean dose and coverage agree with the TPS dose. Users can also incorporate target objectives and isolate contouring errors with the automatic stray voxel check.
DVH Limits
MobiusCalc arrives pre-built with RTOG Conventional Fractionation and TG-101 SRS/ SBRT protocols and automatically assigns relevant DVH limits to each treatment plan based on structure names. Users can also customise the DVH limits in MobiusCalc according to their own site-specific or physician-specific protocols to verify that both the TPS dose and the MobiusCalc dose meet all relevant constraints.
3D Gamma
MobiusCalc displays a global 3D gamma comparison between the TPS dose and the Mobius dose in the patient CT. Users can view gamma and isodose differences at isocenter in the transverse, coronal, and sagittal planes or use the 3D slice viewer to scroll throughout the complete patient CT to evaluate differences.
Deliverability
In addition to verifying dose, MobiusCalc also performs a virtual delivery of each plan to verify that the plan is within machine delivery parameters and provides sufficient gantry clearance.
MobiusFX
3D IMRT/VMAT QA and daily treatment QA
MobiusFX automatically captures measurements of each delivery via machine-measured log files, determines the delivered fluence distribution from those measurements, and uses a GPU-accelerated collapsed-cone dose algorithm to interpret 3D delivered dose in the patient.
3D results
MobiusFX automatically compares its delivered dose to the original TPS dose in a 3D "apples to apples" comparison. 3D comparison metrics, including Target Coverage, DVH Limits, and 3D Gamma, specifically identify clinically relevant errors.
Machine evaluation
MobiusFX provides a root-mean-square error analysis of every moving delivery component, segregating and isolating machine performance errors for the user.
End-to-end data transfer check
MobiusFX checks the machine starting positions against the TPS plan to verify complete and accurate plan data transfer. If the data transfer is incomplete or beam delivery parameters are somehow changed, MobiusFX will immediately alert the user to those discrepancies.
3D daily treatment QA
MobiusFX works in the background to verify every treatment fraction for every patient. Each daily check will automatically associate with the patient treatment summary, and users will receive immediate email alerts if machine performance or data transfer errors are detected.
Integrated gold standard verification
The MVP phantom integrates seamlessly with MobiusFX to provide external absolute dose verification at the user's discretion. This water-equivalent phantom features seven chamber positions and a film plane. The MVP CT is integrated into the Mobius3D platform, so users are not required to CT the phantom or create phantom QA plans if they want to perform additional measurements. The user only needs to physically obtain the absolute dose measurement to verify that the MobiusFX log file dose agrees with the gold standard.
MobiusCB
Patient CBCT QA
Once a patient's CBCT and registration is saved by the therapist, MobiusCB automatically retrieves the CBCT/registration via R&V DICOM query/retrieval, performs a quantitative comparison between the planning CT and CBCT, and calculates the plan dose in the CBCT.
Positioning Error Detection
MobiusCB checks the CBCT against the planning CT with a density gamma comparison designed to highlight gross errors in patient positioning and significant changes in patient anatomy. The density gamma result lets users visualise changes in the patient while also providing a quantitative metric for evaluation.
Additional Patient Shifts
Mobius 3D's automatic registration module determined that applying additional shifts to the final patient setup increases the gamma passing rate. All directions assume you are standing at the foot of the couch, looking at the gantry. Always verify patient shifts before treatment.
Registration feedback