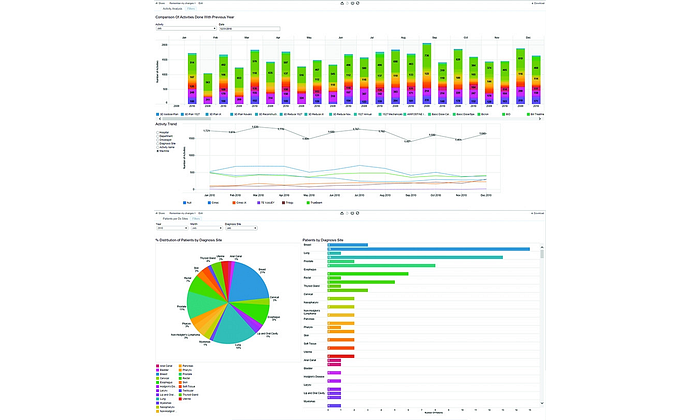 InSightive™ analytics is a new interactive dashboard and data visualization tool that enables users of the ARIA® oncology information system to quickly access, organize, and analyze data captured during clinical and administrative operations to help drive better clinical decision making and outcomes.
Prebuilt templates within the tool allow quick organization and display of key healthcare metrics across the hospital, clinic, or network. Data can be collected on payer mix, referral sources, patient zip codes, operational performance, patient volume, case mix per treatment unit, physician volumes, and more.
"Many customers use ARIA to become paperless clinics, so all the information that once went into paper charts is now entered into the ARIA system," says Sukhveer Singh, vice president of Varian's Oncology Continuum Solutions group. "ARIA also offers many interfaces for importing data from other hospital information systems, resulting in a very rich resource that, up to now, was difficult to mine for actionable knowledge."
InSightive analytics will enable users to discover important patterns and trends quickly, so they can make more informed data-driven decisions. "Insightive analytics allow us to take an analytics-driven approach to proactively identify benchmarks for continuous performance improvement in clinical care across multiple disease sites," said Andrew Kennedy, MD, physician in chief, Radiation Oncology for Sarah Cannon, the global cancer enterprise of Hospital Corporation of America (HCA). "By using real-time analytical tools, we can help ensure that new processes implemented enhance safety, quality, and outcomes for patients."
"We know that today's cancer care professionals, like all medical practitioners, are under pressure to control healthcare costs while improving coordination and quality outcomes. Having access to the right information at the right time has never been more essential," says Kolleen Kennedy, president of Varian's Oncology Systems business.