The ingenuity, resilience and steadfast commitment of our employees are our greatest assets as we work together for new victories in cancer care. In a time of global pandemic challenges, it has never been more important to support our employees to thrive by protecting their safety and well-being, by recognizing their achievements and by fostering an inclusive environment that mirrors the diversity of the customers and patients we serve.
Our Cultural Beliefs
At Varian, our cultural beliefs guide our decisions, interactions and behavior. They define who we are, what we do and what makes us exceptional.
Beat Cancer
I find new ways to expand Varian's role in helping people beat cancer.
Inspire People
I am passionate about our mission, which inspires me to develop myself and those around me.
Act as One
I build partnerships across organizations and geographies to deliver Varian's key results.
Count on Me
I take accountability to achieve Varian's key results and understand what I need to do.
Engage Now
I listen actively, speak fearlessly and include diverse perspectives to make better decisions.
Varian's Inclusive Culture
By creating a work environment where each of our employees feels a sense of belonging and can bring their full selves to work, we truly unlock the power of a diverse, resilient, and inclusive culture. Our diversity, inclusion, and belonging mission is supported by a diverse Board of Directors – four out of our nine independent directors are women – that encourages our continuous improvement. Our orientation process features diversity, inclusion, and belonging information, and employees are encouraged from day one to bring diverse perspectives and ideas to their work.
Attracting Female Talent
Through our global program, we aim to attract, hire and support female employees and ensure greater representation. In 2019, we successfully appointed women to six critical senior leadership roles in our Americas, Asia Pacific and Japan (APJ), and Europe, Middle East, and Africa (EMEA) regions.
Rebecca Cortiula, Senior Managing Director, Australasia
Michelle Cook, Vice President Field Operations, Europe, Russia, CIS
Roshni Datta, Director of Marketing, Asia Pacific and Japan
Valerie Wehner, Head of Government Affairs & Market Development, Europe, Russia, CIS
Stephanie Foster, Senior Vice President, Global Supply Chain Operations
Kathy Conner, Vice President, Global Marketing and Communications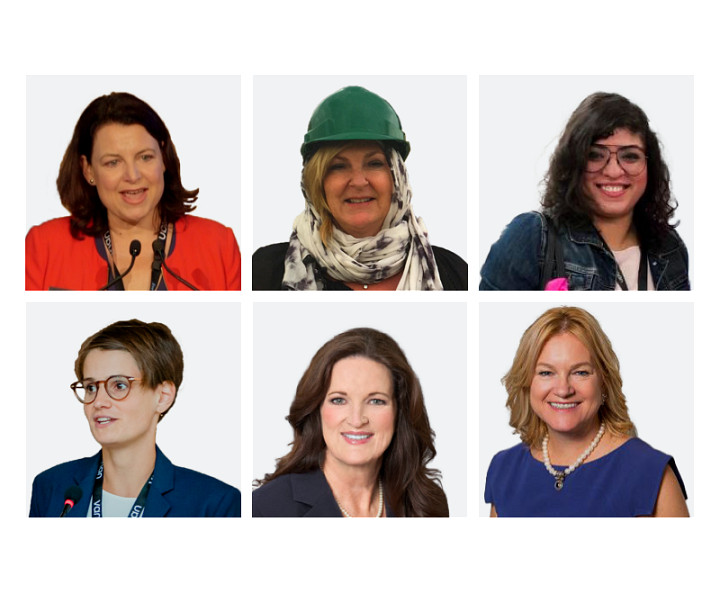 We continue to increase our female representation. Overall, this stands at 30.0% in 2020 (up from 28.0% in 2019) and 20.1% in VP/SVP roles (up from 18.7%). Four of the nine independent members of our Board of Directors are women.
Advancing Diversity and Inclusion Across Varian
We take a systemic approach by driving diversity, inclusion and belonging through focusing on these initiatives:
Prioritizing the representation of under-represented groups

Showcasing employees in different roles throughout the company through a "Women of Varian" social media campaign
Creating a Diversity, Inclusion and Belonging dashboard that is shared with our top leaders to inform, educate and take action.
Keeping the conversation going with our employees

Hosting employee seminars to break the stigma of mental illness and support employees' mental health
Facilitating authentic discussions about a diversity, inclusion and belonging through global panel discussions attended by more than 800 employees globally
Completing a global listening tour to better understand our employees' experience of diversity, inclusion and belonging, and incorporate their vision into the future at Varian
Building inclusive behaviors in our leaders and employees

Embedding inclusion into our talent management processes by incorporating bias mitigation tactics in manager training
Building skills and capabilities through leadership development experiences to help ensure Varian leaders prioritize a culture of inclusion
Partnering to Drive Positive Impact
Expanding our participation in women-focused development forums, Varian is a proud partner of AnitaB.org, which organizes the Grace Hopper Conference in the U.S., attended by 112 Varian women in September 2019. We also participated in the European Women in Tech Conference, [external link] with one Varian keynote speaker and 11 female colleagues attending, and sponsored the health and wellness pavilion and a booth at the Watermark Conference in February 2020, with three keynote speakers and 50 Varian women attending.
We continue to collaborate with academic institutions to develop female talent, including partnering with the University of St. Gallen, Switzerland, on its Women Back to Business program.
In 2020, we continue our efforts to give our employees a sense of inclusion and belonging, while attending numerous events virtually.
"It is so empowering to see women excel at what they're good at and that gender differences are set aside. I love how engaged our executive leadership team is at events such as the Grace Hopper Conference. It truly speaks for the kind of company Varian is."
Recognizing and Rewarding Our Employees' Success
We pride ourselves on recognizing and rewarding innovation and offering comprehensive benefits that meet the diverse needs of our employees.
Our competitive benefits program includes holiday pay, pensions, an employee incentive plan and educational reimbursement. We also enhanced our health and welfare benefits and paid parental leave in the U.S., created a new, employer-paid, long-term disability benefit and enhanced our life insurance coverage to support employees in times of need.
Our Employee Assistance Program (EAP) provides confidential, professional counseling, education and referral services for employees around the globe.