At Varian, we recognize that health and safety come down to what people do – the actions people take to care for themselves and for one another. Therefore, our ongoing focus is driving communication, engagement and responsibility for environmental, health and safety (EHS) matters across all areas of our organization.
Responding to the COVID-19 Pandemic
Varian's employees are our greatest asset. In response to the onset of the COVID-19 pandemic, Varian took decisive action in early 2020 to protect employees and customers. We closely followed Centers for Disease Control and Prevention (CDC) and other governmental bodies' guidelines about workplace precautions, protocols and safety measures. We closed our offices and manufacturing sites as soon as guidance directed, and at the time of this report have a limited number of employees on site in a few locations to perform essential functions.
Varian's global Government Affairs team was able to offer assistance to hundreds of Varian employees as our "essential workers" were required to travel during the height of the pandemic to maintain uninterrupted patient treatments at cancer care facilities worldwide. Direct engagement with governments was necessary to ensure our employees were able to cross regional and international borders safely, and a continuous review of a patchwork of COVID-regulations was handled by the Varian GA team throughout 2020.
In order to ensure the safety of our employees and others when at our customer sites, we established a global distribution network for Personal Protective Equipment (PPE). Employees who are not able to access required PPE through our customers are ensured that items such as N95 masks, surgical masks and face shields are available for their use. Our sales and service employees continue to safely provide support to our customers so that they can treat their patients.
We continue to closely monitor all local and country recommendations and laws. As part of our recovery efforts following initial response, we established a command center composed of the management team for key decisions. We also created focused teams to cover business continuity, employee support and workplace readiness. Our business continuity program helped address challenges presented by the impact of the virus on our workforce; employee support ranged from financial support to a work-from-home policy, and multiple resiliency and mental health programs designed to support employees as they navigated the new environment during the pandemic. We created a nine-point plan for re-opening offices based on external benchmarks and guidance and keeping our workplaces safe. We have a robust protocol in place to evaluate the possibility of reopening sites when these guidelines are met, and we are committed to operating in a manner that helps to ensure the health and safety of our employees.
Driving Health and Safety Excellence
Key milestones in 2019 included a new library of safety training videos in local languages for manufacturing and field employees. We also reviewed and updated our global policy documentation, ensuring it accurately describes our approach and processes.
Varian's various EHS programs – including the California Injury and Illness Prevention Program, Nevada Written Workplace Safety Program and Washington Accident Prevention Program – were combined into a single, global document that describes Varian's approach to managing EHS issues.
We continue to create and update our comprehensive training and tools. Over the last year, these included:
Product-specific electrical safety courses for Oncology Systems field personnel and aligned safety training for OS installation and field employees globally.
Equipment-specific lockout/tagout procedures for the ProBeam® system at Varian Proton Solutions customer sites.
Incident Report that was introduced to collect injury, ergonomic and near-miss incidents and ensure EHS is notified quickly when incidents occur.
An EHS assessment for the EndoCare acquisition and integration of its site into Varian's EHS program.
2019 Injury and Illness Rates
We are proud of Varian's health and safety performance. In 2020, our global Occupational Safety and Health Administration (OSHA) Recordable Rate4 was the lowest in company history, and the global Days Away, Restricted or Transferred (DART) Rate5 the second lowest. Both were better than the industry benchmark rates.
We achieved an OSHA recordable rate of 0.32, down from 0.42 in 2019, and recorded a DART rate of 0.26, an improvement from 0.32 in 2019.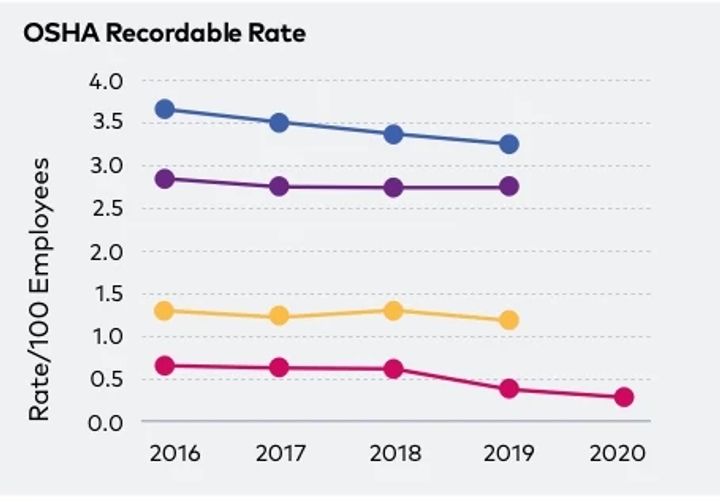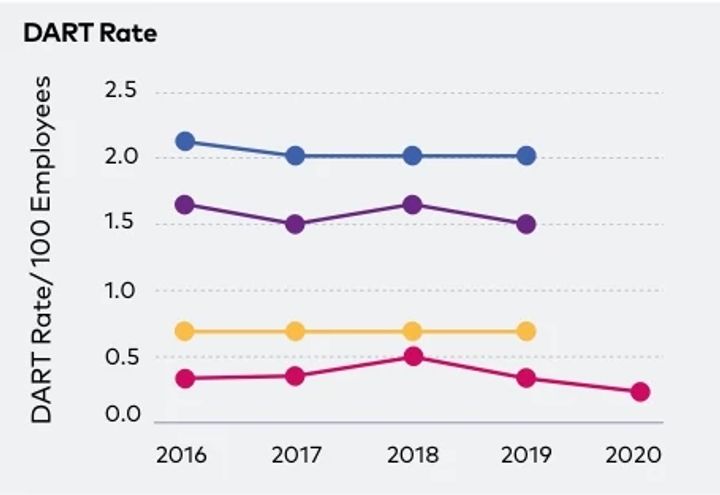 Chart Key
U.S. Manufacturing
U.S. Industry
Similar Industries
Varian
4The number of employees per 100 who had a work-related injury or illness that required medical treatment beyond simple first aid.
5The number of employees per 100 who had a work-related injury or illness that resulted in missing time at work, requiring restricted duties or transferring to a job with less strenuous requirements.
Reporting Our Progress
Access our previous sustainability reports, indexes and other documents.
Vist report archive
Cybersecurity
To protect the privacy and safety of patient, customer and employee information in our care, data security is a top priority for Varian, for others in the healthcare sector and for all other responsible businesses.
Our Cybersecurity Strategy
Sustainability at Varian
Sustainability is at the heart of everything we do.
Learn More